"Pat, the Snowman Made Out of Butter" — Alton's After-Show
Alton decked the Cutthroat Kitchen halls during the latest holiday-themed episode, and he dished on the seasonal challenges with judge Simon on the After-Show.
We're sorry, there seems to be an issue playing this video. Please refresh the page or try again in a moment. If you continue to have issues, please contact us here.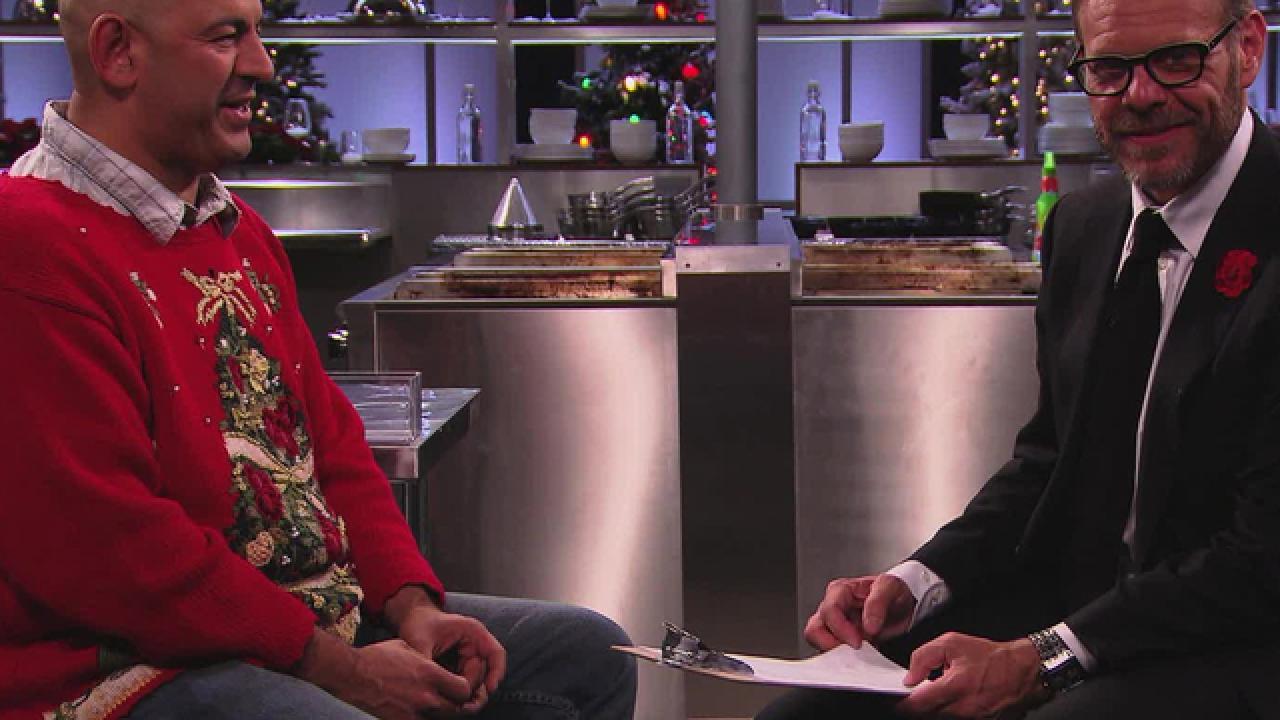 Just in time for the holidays, Alton Brown decked the Cutthroat Kitchen halls on tonight's all-new episode with a series of seasonal challenges — and even a Christmas tree-adorned sweater worn by judge Simon Majumdar. In true evilicious fashion, Alton didn't shy away from punny sabotages inspired by the traditional holiday meals or activities, as the challenge dishes included a ham dinner, cocktail party fare and holiday cookies. And in Round 1 the chefs played a not-so-merry game of gift swap.
In the final round's cookie challenge, Alton doled out the ultimate in seasonal sweets — a gingerbread house — but this one wasn't exactly a treat. Complete with shortening, sugar, flour and leavening agents, plus various candies and decorations, this "gingerbread diorama," as Alton called it, contained everything needed to make a cookie, and Chef Keith could use only the given ingredients to prepare his dish. While the contestant used nearly everything in Alton's "majestic scene" in preparing his ultimately doomed cookies, only one element remained: a triple-decker butter figure shaped like a snowman. "Is he called Pat?" Simon jokingly asked Alton on the host's After-Show, and Alton simply replied with a smile, "Yes, Pat, the Snowman Made Out of Butter."
Click the play button on the video above to hear more from Alton and Simon on the After-Show, and see Simon's themed holiday sweater up close, plus the remains of "Pat the Snowman."