The More Bizarre the Baskets, the Better — Chopped After Hours
Watch as Chris, Alex and Geoffrey take on the entree round from the Chopped Bizarre Baskets episode in an all-new After Hours.
We're sorry, there seems to be an issue playing this video. Please refresh the page or try again in a moment. If you continue to have issues, please contact us here.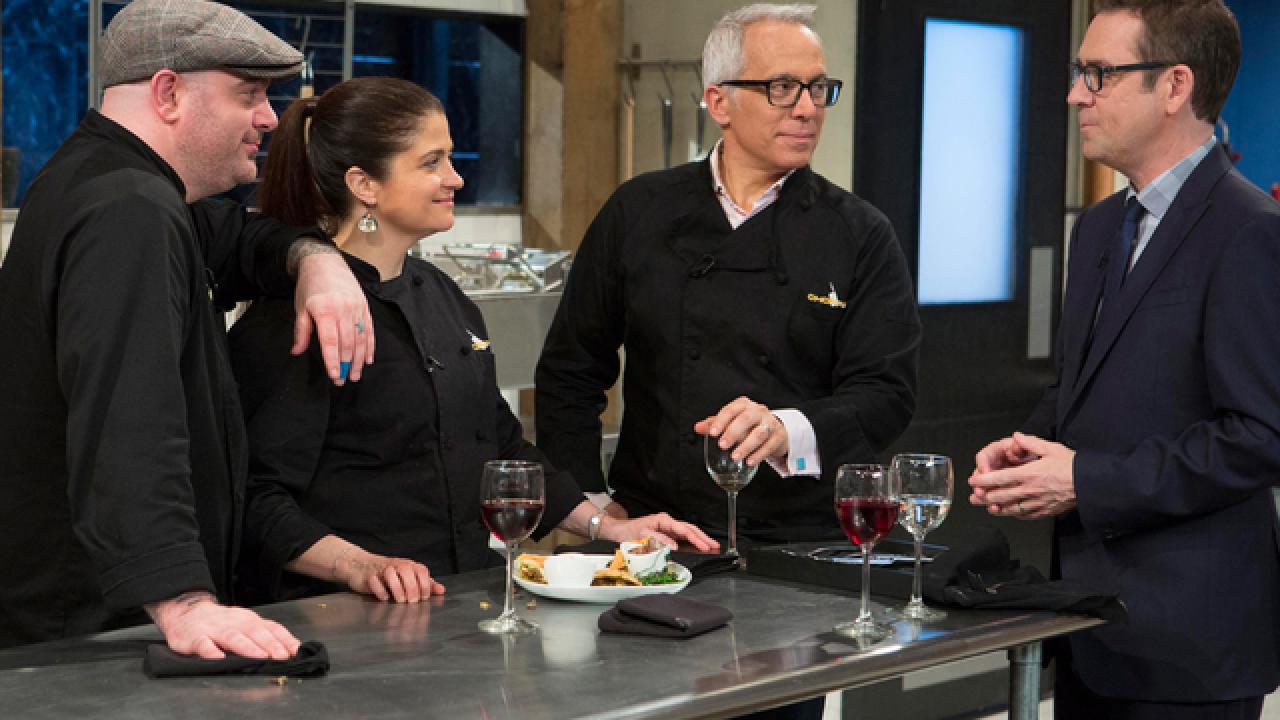 For the Chopped judges, there is no such thing as too bizarre a basket. They're willing and able to take on even the weirdest one of all. And the entree round from tonight's Chopped episode was pretty odd, to say the least, containing goat heads, flaming shiso, blue foot mushrooms and kholodets. Judges Chris Santos, Alex Guarnaschelli and Geoffrey Zakarian were excited to get their hands on these ingredients without any aversions — except for maybe Chris, who thinks, of all the ingredients, the kholodets, a Russian jellied meat dish, looks the least appetizing.
Ted Allen wonders if they have any ideas for these unusual ingredients. "I'm quite certain based on history we're going to come up with three wildly different ideas," Chris tells Ted about the possibilities that the basket presents. "I think this is a great basket to showcase using ingredients we might not otherwise think are going to become anything," says Alex. With just 30 minutes on the clock, the judges get right to cooking. "It's so serious in here," says Ted. "You guys do know that no one is getting chopped, right?"
"Poor little delicious goat," says Chris as he breaks down the head to reveal "how much meat is really inside," says Ted. Chris will be using it in his pressed sandwiches. Alex is also "taking this wonderful gelatinous cheek meat" for her meatballs, which will include chopped kholodets. She serves them up in a carrot broth for added freshness. "Goat is a very difficult little animal," says Geoffrey, deciding to turn the meat into a hash with eggs. To break up the richness he tops the dish with an herb salad and fried shiso. "So anybody at home wondering how you could get anything tasty out of that goat head, I mean, look at that," says Ted when he sees the judges' dishes.
Click on the play button on the video above to watch the entire After Hours episode and see the dishes Chris, Alex and Geoffrey created. Then browse behind-the-scenes images for an insider's look at the cooking.
Start a conversation with fellow fans and tell FN Dish in the comments below how you would have approached this basket: What would you make out of goat heads, flaming shiso, blue foot mushrooms and kholodets?
Catch up on past Chopped After Hours episodes by watching all the Web-exclusive battles online.