One-on-One with the Latest Recruit Eliminated from the Blue Team — Worst Cooks in America
Find out which recruit on the Blue Team was eliminated in Episode 2 of Food Network's Worst Cooks in America.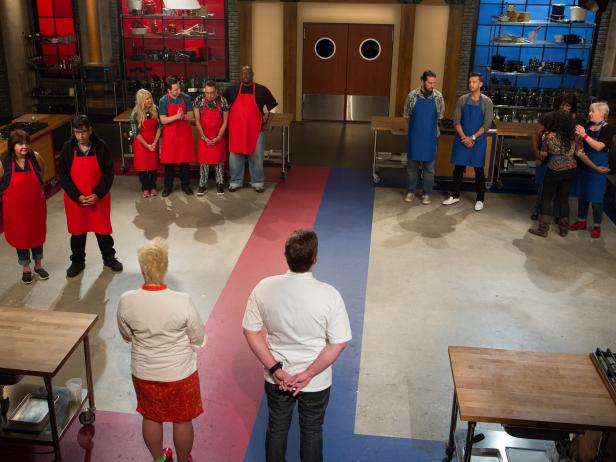 The teams react to hearing that due to Blue Team member Stephanie Streisand being too sick to compete during the challenge she has been sent home and thus neither Sharif and Kortni will be sent home despite their poor performance during the main dish challenge , as seen on Food Network's Worst Cooks in America, season 6.
David Lang, 2014, Television Food Network, G.P. All Rights Reserved
This season on Worst Cooks in America, 14 new helpless home cooks have joined the ranks to be mentored by chefs Tyler Florence and Anne Burrell. Split into the Blue and Red teams, they'll face new cooking challenges every week, honing their skills until just two finalists (one from each team) remain to face off in one final cook-off, the winner of which will walk away with $25,000 in cash, along with bragging rights for his or her mentor. Unfortunately, however, every week the two lowest-scoring recruits will be kicked out of Boot Camp, losing the chance to win the prize money, but leaving with new skills they've learned from their mentors.
Every Sunday night, FN Dish has the exclusive interviews with the eliminated recruits from the Red Team and the Blue Team.
In the second week of Boot Camp, the mentors offered up an advantage to the teams: Play a game of "Family Food" and with every correct answer earn one single step to be demoed by their mentor. However, the Blue Team got only two correct answers, and were left to figure out how to make their cobb salads without complete directions. Stephanie managed to run out of time and ended up microwaving her bacon. Unfortunately, due to an illness, she wasn't able to compete in the Main Dish challenge and was eliminated.
FN Dish: On your first day in Boot Camp you cooked your fried egg dish. The chefs were surprised to find out you eat it every day. What's your story behind that dish?
Stephanie: Because I can't cook, I had two options: spend a lot of money eating unhealthy frozen foods, takeout food, fast food, or figure out what I can have with my limited skill set that's healthy and also takes the least amount of time to make, because I lack patience. … Out of the three things I can do with eggs (boil, scramble, fry), frying takes the least amount of time. I need green in my daily diet, and I happen to really like the taste of spinach, so I just take a large handful of spinach and put salad dressing on it. Unsalted, raw almonds taste good to me, too, and are healthy. Then honey is honey! The meal takes less than 10 minutes to make. Sure, it's bland, but … it's hands down, probably, the healthiest thing I could have been able to make for myself.
Were you happy when Tyler chose you for his team?
I was happy Chef Tyler chose me for his team. I felt during the first day of Boot Camp he was more encouraging. I personally learn and respond well to a nice balance of positive reinforcement and critiques, which was Tyler's approach. I know many would do very well and have done very well under Chef Anne, but this was the better outcome for me.
Upon tasting the romantic foods, you seemed to like the oysters and uni, but were scared of the figs. Why?
I was nervous to eat the fig because I didn't know what the texture of the inside would be, and fruits have been a tossup in the past. I like many fruits, but there are some I just don't like. I ended up being indifferent towards it. I didn't hate it, but it "wasn't my jam."
You seemed to be nervous during the demos and the cooking challenges, spilling your sauce at one point just before time was called. Can you talk about why you were so nervous?
I was nervous during the first demo, especially because it was an elimination challenge. I had almost zero cooking experience … . I wasn't nervous during the challenge itself. There's no time to be. The kitchen is chaotic. There were points I thought I had things under control and then one cook would have my oven door open for no reason, letting all the heat out, or another cook would turn off my burners accidentally … . An hour in that chaos goes so fast. I was lucky to get everything on that plate. I spilled the sauce because I had five seconds to get it on my plate. I have skinny, little arms and that pan/pot was crazy-heavy. I was lucky any sauce ended up in that pitcher.
When making your cobb salad you made some mistakes, but Tyler commended you for thinking on your feet in microwaving the bacon. How did you feel making something you've never made before?
Ha, I should have won that challenge. I made two dumb mistakes: putting the dressing on the plate (instead of the lettuce) and not making the dressing thick enough.
Do you think you could have made it farther in the competition if you hadn't become ill?
I think I would have made it to at least the top six. It's hard to say "Oh, yeah, I totally would have won that," because all us recruits improved with each day. However, I'm confident in saying at least top six because many chefs had to work on breaking bad habits. I was a complete novice — I had zero habits. I think learning and improving was much easier for me than for most of the other contestants because of that.