Alton and Antonia at the Stove for Omelets 101 — Alton's After-Show
Watch as Alton and Antonia prepare their versions of the ultimate omelet, and learn their top 10 tips for mastering the process.
We're sorry, there seems to be an issue playing this video. Please refresh the page or try again in a moment. If you continue to have issues, please contact us here.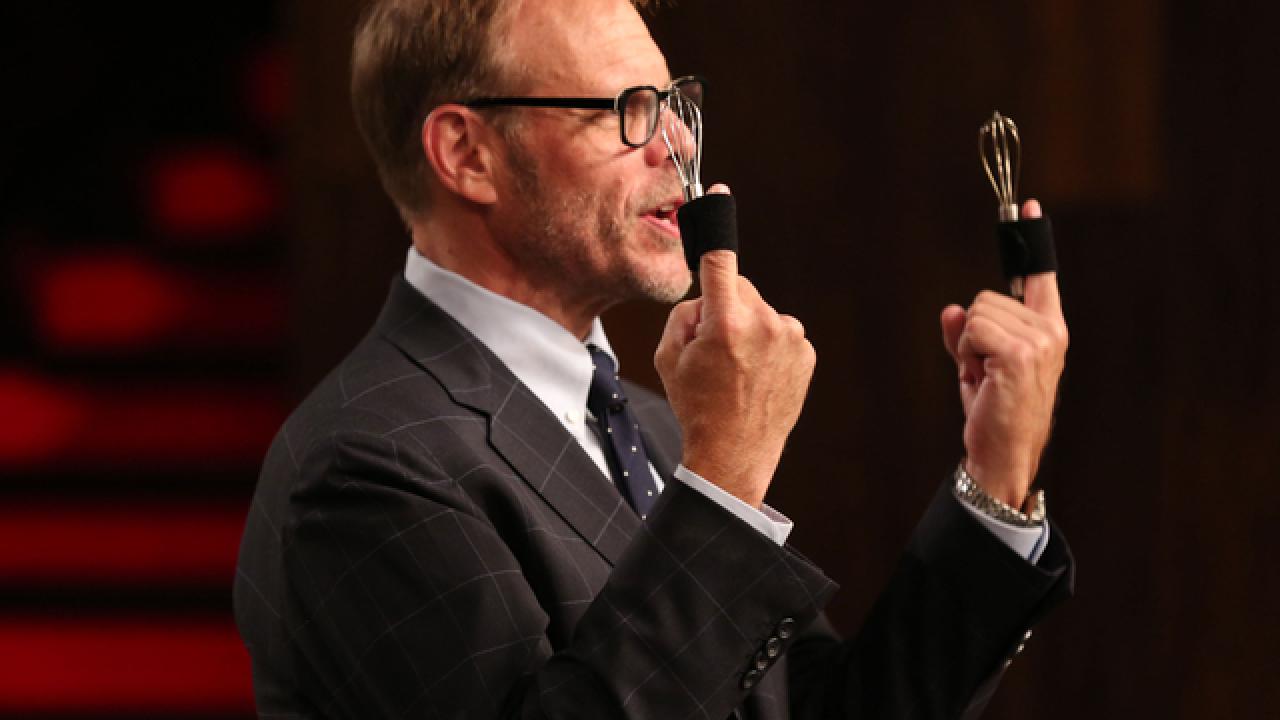 Omelets may seem easy enough to make — after all, it takes just one, maybe two, ingredients to prepare them. But as judge Antonia Lofaso explained to Alton Brown on the host's all-new Alton's After-Show tonight, "maybe people don't actually know what an actual omelet is," as several Cutthroat Kitchen competitors presented her with scrambles instead. Ever the master of Good Eats, Alton took this opportunity to demonstrate the ins and outs of proper omelet technique, and along with Antonia, he dished out a quality omelet offering. Read on below for their top 10 tips to mastering winning omelets every time, then click the play button on the video above to watch their culinary lesson unfold.
1. "I like three eggs for an 8-inch pan," Alton told Antonia, who agreed that's an ideal amount.
2. It's best to start with room-temperature eggs so it doesn't take them as long to warm up, noted Alton.
3. "I don't want to add my salt too early," Antonia explained as she whisked her eggs. "I want to get a fluff first." She told Alton that salt could actually start the cooking process of the egg and thus change its color, so it's best to wait until just before cooking to stir in salt.
4. For both Alton and Antonia, butter is key to making an omelet. "More butter's always good," he told her, and they both liberally coated their pans with butter.
5. "It's all about kind of bringing the egg from the center and then from around," Antonia said of her technique, which involves vigorously running a fork around the eggs immediately after they hit the pan.
6. While Antonia opts for a fork, Alton's all about the spatula. "I like to be able to work the edge," he explained.
7. When it comes to the consistency of her omelet, Antonia said, "It should be ooey and gooey."
8. Both Antonia and Alton opt for a triple-fold technique when plating their omelets, though Alton prefers to serve his on a warmed plate.
9. Butter makes one more appearance just before serving. For Alton, that means buttering the serving plate, while Antonia rubs the butter directly atop the folded omelet.
10. "It should have a little bit of brown on the outside," Antonia admitted, though her omelet wasn't as brown as Alton's. "Actually, the perfect one would be in between yours and mine," Alton told her.