One-on-One with the Chopped All-Stars, Part 3 Winner
Get the exclusive interview with the winner from Part 3 of the Chopped All-Stars tournament.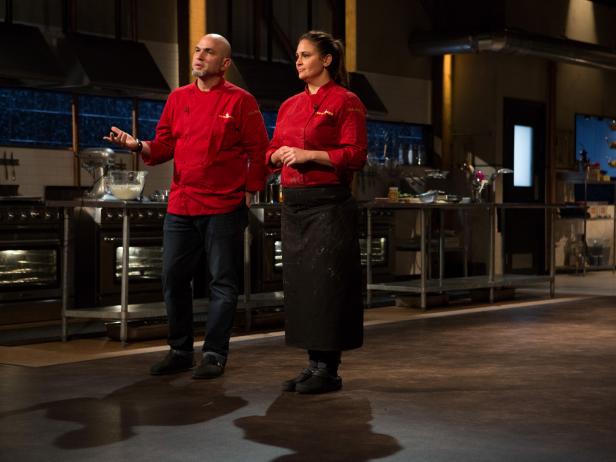 Chefs Antonia Lofaso and Michael Psilakis stand before host Ted Allen and judges: Geoffrey Zakarian, Alex Guarnaschelli and Aaron Sanchez to defend their desserts that must have included: ghee, m'smen, whole walnuts and orange flavored water for Chopped All-Stars $75,000 charity competition, as seen on Food Network's Chopped, Season 24.
David Lang, 2015, Television Food Network, G.P. All Rights Reserved.
Celebrated chefs from around the country have entered Season 4 of the Chopped All-Stars tournament for a chance to walk away victorious. For many it's not their first time setting foot in the hallowed kitchen, but for others it's their first attempt at cooking with and transforming mystery basket ingredients. On the line is the largest prize yet, $75,000 for charity. In Part 3 Antonia Lofaso, Cat Cora, Marcel Vigneron and Michael Psilakis brought their best game to the competition, but in the end it all came down to the one who best dealt with the baskets. FN Dish has the exclusive interview with the Part 3 winner.
Appetizer: baby zucchini, Marcona almonds, mojama, coconut macaroons
Entree: lamb ribs, kumquats, variegated radicchio, cherry spoon fruit
Dessert: ghee, m'smen, walnuts, orange-flavored water
First round: Marcel Vigneron
Final round: Antonia Lofaso
Judges: Aarón Sánchez, Alex Guarnaschelli, Geoffrey Zakarian
Michael Psilakis has made a name for himself as one of the best chefs in New York City, having operated multiple restaurants at a time, but this was his first time in the Chopped kitchen. He mined his Greek heritage and was able to weave together dishes that bared his deep love for food, giving the judges a window into his soul, thought process and life experiences. You wouldn't know from his dishes that he's never attended culinary school, but Michael has a natural way with ingredients, in this case bringing harmony to an incongruent basket. Although dessert gave him some trouble, he's well prepared to compete again in the tournament's finale on May 26.
FN Dish: Did you have any expectations coming into this competition today?
MP: My expectations were really just to not embarrass myself. I'm shocked that I actually won, especially given the competition that was there today. I mean, I have a tremendous amount of respect for everyone that was there. They're, like, seasoned cooks who I know and I've seen cooking before — I've been to their restaurants. So it was just exciting to be part of it. I'm not very familiar with these type of things — I do them every once in a while, but it's not something that is naturally part of my routine.
Being that this was your first time on Chopped, did anything surprise you?
MP: It's hard, man. It really is, you know. I mean, this is coming from a guy that cooks six or seven days a week in a kitchen somewhere. So, you know, it's very different. It's really cooking in a vacuum and sort of cooking outside of your comfort zone. It forces you to look at food in a very, very different way than I typically would look at food. So that, I think, is the most-engaging part of this thing from a chef's perspective. It really allows you to try and morph into something that you're not really familiar with, you know? And I'm that guy that if you tell me to ride on the back of a garbage truck because I've never done it before, I want to do it, you know what I mean? So that's what makes it exciting.
Did you do anything to prepare for the competition?
MP: I'm kind of that guy that just allows things to organically happen. I don't prepare for things — you know, I don't. I do an interview, I don't have notes, I just speak, you know? And most of the time that works for me — it's just something that I'm comfortable with. I enjoy just absorbing and then doing, you know? But with pastry it just doesn't work that way, man. You have to have some sort of foundation or recipe available to really go to, and that for sure today was costly for me.
What was your most-difficult basket today?
MP: Oh dessert by far. I'm just not a dessert guy. It's sort of like the other side of my brain. Pastry has always been one of those things that I do because as a chef you need to do it And, you know, it's not that I don't do it, [because] I do it often. We don't have a pastry chef at the restaurant, so I handle the dessert as well, but it really is something that I have to research and define, you know? Whereas savory food is something that is just naturally who I am — it's the way I think, it's the way I am, it's what my soul says I should be. So, you know, anytime I'm confronted with a challenge that forces me to go way outside of my comfort zone, it definitely sits in pastry. So even before the basket was opened it was already strenuous for me … and it showed. It was obvious that that was a round that I sort of suffered through, but I made it! Thankfully, I was able to really do well in the first two rounds, and I think that sort of pushed me over the edge. The way I saw it I was coming in for a race and I needed to be way ahead after the first and second round, because I knew somebody was going to catch up in the third round.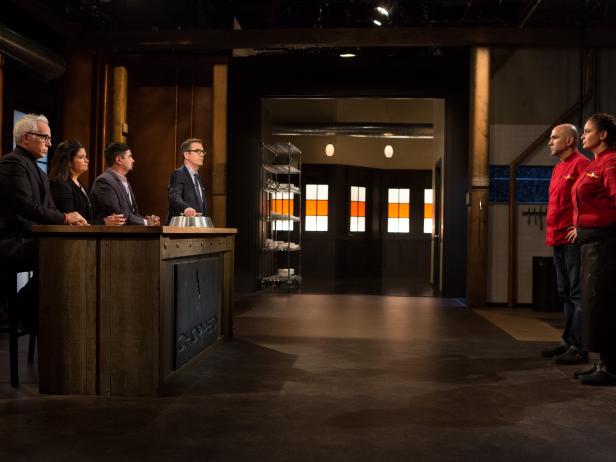 Chefs Antonia Lofaso and Michael Psilakis stand before host Ted Allen and judges: Geoffrey Zakarian, Alex Guarnaschelli and Aaron Sanchez moments before finding out which one of them will move on to a spot in the $75,000 charity final and which one of them has been Chopped for Chopped All-Stars $75,000 charity competition, as seen on Food Network's Chopped, Season 24.
David Lang, 2015, Television Food Network, G.P. All Rights Reserved.
Who did you feel was your biggest competition?
MP: Well I think all of them have so much more experience in this type of environment and this setting as far as cooking is concerned. So, you know, think about anybody who has been doing something for a long time and then somebody else coming in who has been doing something similar but not exactly that thing. You always feel that that guy is sort of handicapped in a way. So, for me, I honestly felt like I just wanted to come here and represent what I hope would come out, which is "food is important," and it's really important to me.
You mentioned that you switched your culinary point of view from fine dining to rustic cooking. Can you talk about that turning point in your life?
MP: I've had some real big events in my life that change the way the most important thing in my life is treated today, and that's my family. So food used to really ride sort of a pinnacle in my world, and when my father passed away, I started to realize that the value of food was not really an artistic expression as much as it was a vehicle to create a memory. That signaled a change in my life, and it gave me a platform to try to communicate to other people that that simple meal that you sit down to eat with the people that you love, that's what food is really meant for, you know? And that the fact that we don't do it often enough in today's society, especially in the urban environments that we live in — New York City being obviously the largest of the urban environments — I feel like people are starting to realize the value of the simple meal, of time spent with one another, of sharing bread, of breaking bread. … So the real question is, why not take something that we have to do, to survive as human beings, and make it relevant in our lives? Take the time to say that we need to share a meal whether it's in a restaurant or at your house, making time to say that the people that we love have to be part of that experience somehow, so that we can create a memory that — I guarantee you, if you allow to happen — will bloom into a much larger meaning later on in life.
Do you have a strategy going into the finale?
MP: I didn't come here today to win, I came here to raise awareness. And, you know, I think I did that, and I think I was fortunate enough, especially based on the people that were here, to be in a position where maybe I really can help financially; maybe I really can take something beyond just a voice and do something tangible for them. So, you know, that's the goal. I mean, I have one more round that I have to win, and it won't be easy, and it wasn't easy today. … One thing I can assure you is that I'm going to do my best, and that's all I can do.
What would winning mean for you and your charity?
MP: This charity is very close to me. My father passed away, in one way or another, because he lost his kidneys. And the reason why I chose [The Polycystic Kidney Disease Foundation] was because there's no cure for [that disease], you know? It's scary to think that it's a genetic disease, that I'm a carrier, that my children potentially could have the same thing happen to them and that there really is no cure. There has to be some way for us to tell people that. We need to find cures for diseases like this; we need to spend some time thinking about how we can effectively make a commitment to creating a better environment for somebody and saving a life. At the end of the day we're cooking here to have fun, we're cooking here for television and we're cooking here to try to achieve a goal, but you know, what really is a bigger reward than saving a life? I don't think there is one.