One-on-One with the Chopped All-Stars, Part 4 Winner
Read the exclusive interview with the winner of Part 4 of the Chopped All-Stars tournament on Food Network.
Celebrated chefs from around the country have entered Season 4 of the Chopped All-Stars tournament for a chance to walk away victorious. For many it's not their first time setting foot in the hallowed kitchen, but for others it's their first attempt at cooking with and transforming mystery basket ingredients. On the line is the largest prize yet, $75,000 for charity. In Part 4 Fabio Viviani, Jet Tila, Lee Anne Wong and Rocco DiSpirito brought their best game to the competition, but in the end it all came down to the one who best dealt with the baskets. FN Dish has the exclusive interview with the Part 4 winner.
Appetizer: scallops, taro buns, tahini paste, seasoned eggs in soy sauce
Entree: beef shoulder, chickpea curry, finger limes, coffee pods
Dessert: carbonated crystals, fish-shaped pretzels, pistachio cream, dried plums
First round: Lee Anne Wong
Second round: Fabio Viviani
Final round: Rocco DiSpirito
Judges: Aarón Sánchez, Amanda Freitag, Scott Conant
David Lang, 2015, Television Food Network, G.P. All Rights Reserved.
Food Network fans will instantly recognize Jet Tila as a longtime judge on Cutthroat Kitchen. Although he's also served as a Chopped judge on occasion, this is his first time competing in the hallowed kitchen. Despite the disadvantage, he managed to transform three rounds of baskets into dishes that earned him the win. He was inspired to go in an Asian direction with both his appetizer and entree, which showcased his knowledgeable technique in the cuisines. And despite failing at his big plans for dessert, he still put out a final dish that worked harmoniously. After his first go-around on Chopped, he's proved he deserves the fourth place in the tournament's finale on May 26.
FN Dish: Did you have any expectations coming into the competition today?
JT: I had zero expectations, you know. It's an All-Stars battle. [I expected] it was going be a tough day regardless, because we had so many great chefs here today. So, you know, if I finished any round or got something on the plate I was going to be happy.
Now this was your first time competing on Chopped?
JT: First time competing on Chopped — I judged once, but competing on Chopped is a completely different ballgame.
Was anything surprising about it? Did you prepare in any way?
JT: So I didn't do much preparation because I found that ... the basket is the equalizer. I mean, all I could do is maybe, you know, think about what dishes would make sense and just those certain techniques, but I didn't do any major preparation, because I don't think you can prepare for a game like this.
Did you have any rivals today? Were you intimidated in going up against anyone?
JT: You know I was. I was worried about every chef today, but I think I was most worried about Rocco DiSpirito because he is a true veteran and he's a classically trained chef — he's got a phenomenal palate. So I was most worried about Rocco.
David Lang, 2015, Television Food Network, G.P. All Rights Reserved.
What made you go with a Japanese direction for your entree?
JT: So I decided to go Japanese because ... I'm really very comfortable with Asian flavors and it was the basket — the basket told me to go Asian because it was the only way to unify all those really kind of contrasting flavors. I figured Japanese donburi was the way to bring it all together and have it make sense.
What was going through your mind when Scott called it "not as elegant"?
JT: You know it's a tricky dish. I think that if you've never had a dish like donburi it seems like home food, but that's exactly what it's supposed to be. So I executed the dish the way it was supposed to be executed. I just don't know if it was appreciated for what it was supposed to be.
What was the most-difficult round for you?
JT: The most-difficult round was actually the best basket, and it's baking and pastry — [the] dessert round. ... I don't claim to be an expert at all in baking and pastry, so I like that it was an easier basket, but, you know, I almost chopped myself because it took a lot of technique, and baking is definitely not my strongest.
Going into the round, did you have a plan to make ice cream?
JT: Yeah, ice cream was definitely a direction if the ingredients made sense. And the pistachio was like an instant — you know a light went off when I saw that pistachio. So ice cream was the intent, but so was cookies, and that didn't work out.
What plate were you most proud of?
JT: I would say I was most proud of the first basket — the scallop dish. ... I really liked that first basket because I think I paid respect to the ingredients and really brought a lot of great flavor.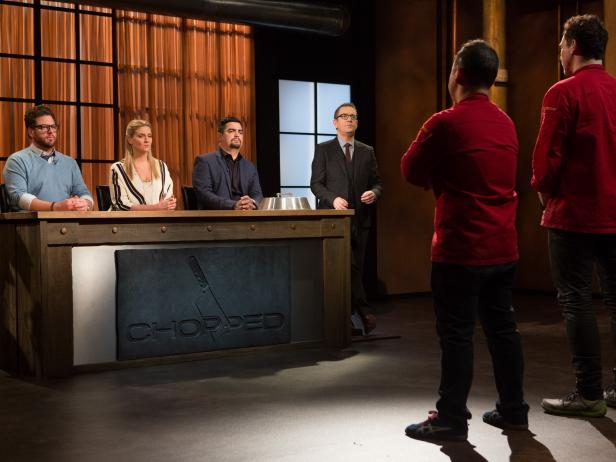 Chefs Rocco Dispirito and Jet Tila stand before host Ted Allen and judges: Scott Conant, Amanda Freitag and Aaron Sanchez moments before finding out which one of them has secured a spot in the $75,000 charity competition and who has been Chopped for Chopped All-Stars $75,000 charity competition, as seen on Food Network's Chopped, Season 24.
David Lang, 2015, Television Food Network, G.P. All Rights Reserved.
Do you think you got to showcase all your strengths the way you wanted to today?
JT: I definitely showcased my competitiveness today. ... I felt like I did very well. I still have a lot of tools in my basket, so I'm glad we're going into the finals.
Do you have any strategy going into the finale?
JT: You know, based on what I've learned today ... I feel like I need to bring even more technique because the level of chefs is so high that it's going to be very, very close either way.
What would winning mean for you and your charity?
JT: You know this money will ... mean instant change. I mean, there's a concrete result: $75,000 will pair 11 dogs with 11 warriors. And I know that it will completely change their lives forever. So I really want this for them.