Bobbing for Doughnuts — Alton's After-Show
Watch as Alton and Jet try their hands at a particularly sweet sabotage from the Evilicious tournament.
We're sorry, there seems to be an issue playing this video. Please refresh the page or try again in a moment. If you continue to have issues, please contact us here.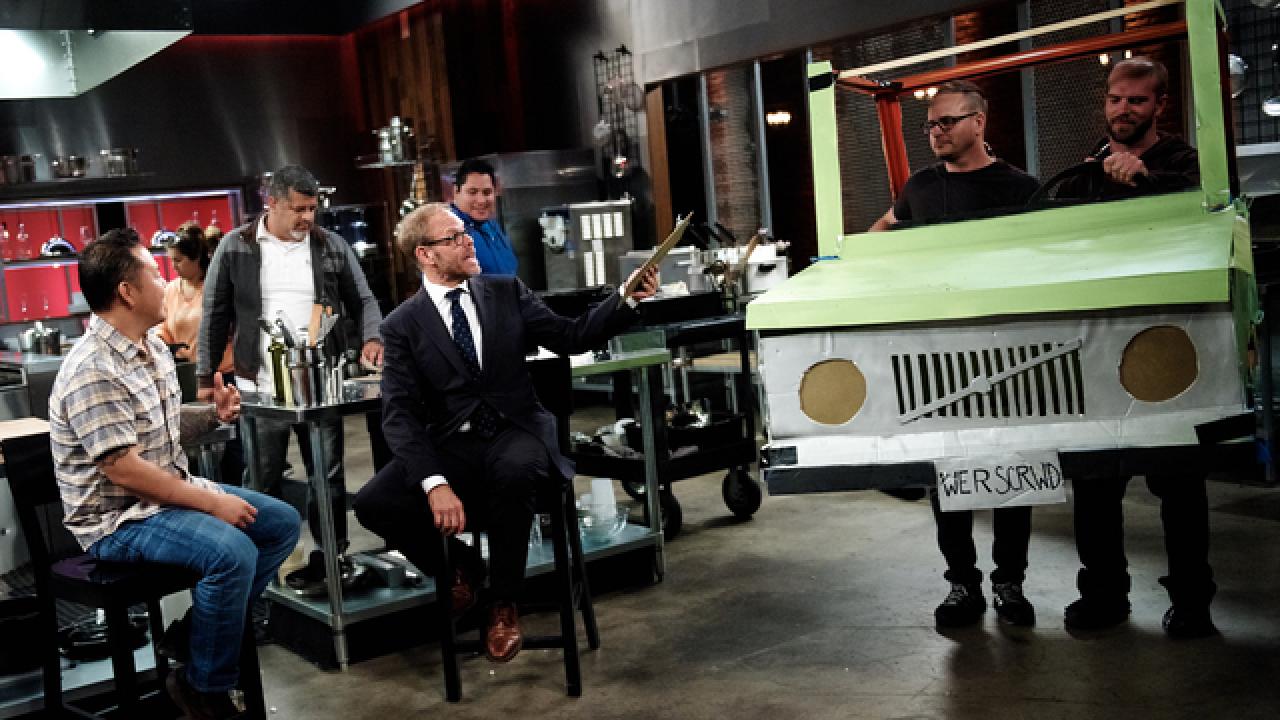 From climbing atop an oversize highchair to donning the now-infamous blueberry suit, Jet Tila will stop at nothing to prove his Cutthroat Kitchen allegiance and attempt to understand what chefs had to endure in the throes of sabotage. On tonight's all-new After-Show, Jet, alongside Alton Brown, took his devotion one step further by trying his hand at a particularly sweet sabotage as they reflected on the challenges to befall the Evilicious tournament chefs.
The name of the game was doughnuts in Round 3, and in true diabolical fashion, Alton auctioned off a timesuck that forced one competitor to use only his mouth to free a row of doughnuts suspended from strings. Upon learning of this sabotage and seeing it for himself, Jet could do little other than laugh in sheer disbelief, though Alton was quick to challenge him to an impromptu attempt. "I'll meet you in the middle," Alton told him. And Jet admitted, "This sucks," after just a few seconds of grabbing at the first doughnut. "I can't do this!" he joked, later taking a light-hearted approach to the game, while Alton used all of his determination to power through the task at hand.
Click the play button on the video above to watch Alton and Jet bob for doughnuts, and hear what they had to say about the latest tests of eviliciousness.
Watch Food Network's Cutthroat Kitchen: Alton's After-Show hosted by Alton Brown.