Grill or Be Grilled on "The Human Rotisserie" — Alton' After-Show
In honor of Cutthroat Kitchen's special grilling-themed episode, Alton introduces Simon to a sabotage that the host calls "the big kahuna for the day."
We're sorry, there seems to be an issue playing this video. Please refresh the page or try again in a moment. If you continue to have issues, please contact us here.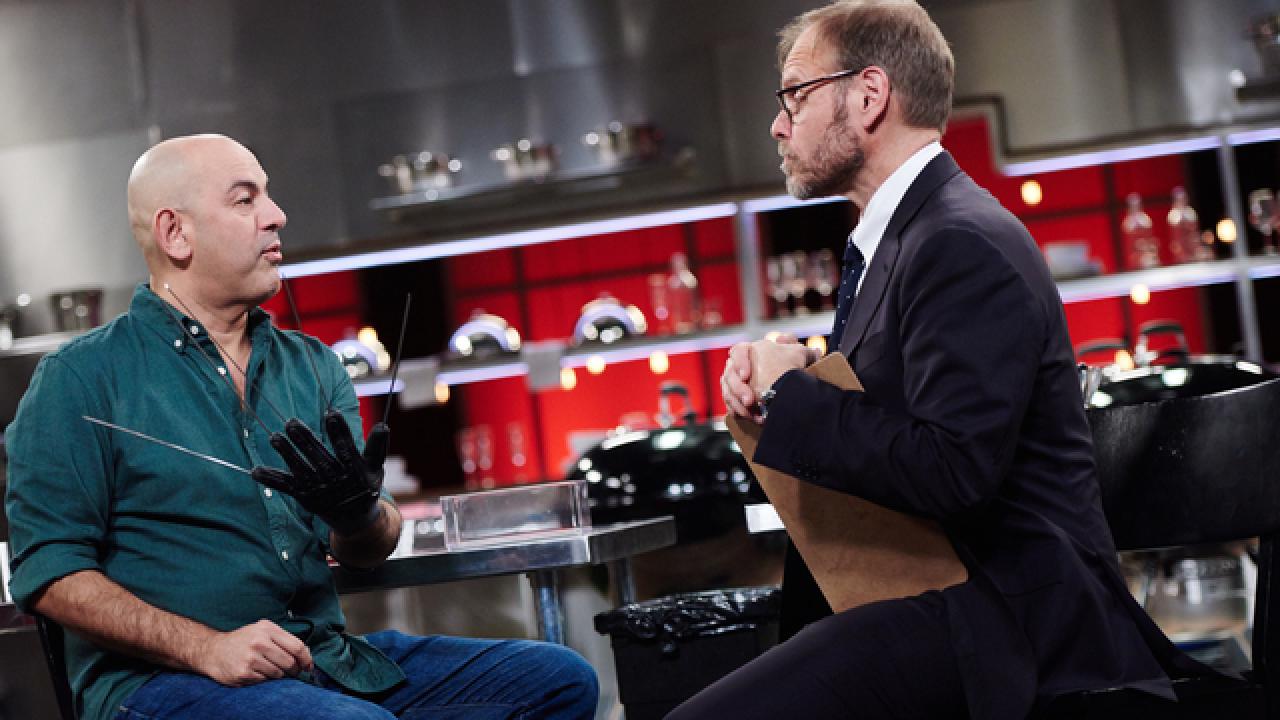 From blueberry suits for a blueberry muffin test to the all-out costumes Alton Brown wears in honor of the special-edition Halloween episode, Cutthroat Kitchen surely appreciates a solid theme, and the team works hard to embrace it fully — and eviliciously. Tonight's all-new episode celebrated the start of the summer season with a Grill or Be Grilled competition, and you can be sure that all three rounds of cooking, as well as the sabotages, celebrated this seasonal event in full.
For fans watching at home and even judge Simon Majumdar, perhaps no other challenge today was as memorable — and downright diabolical — as what Alton deemed "the human rotisserie" for Round 2's skewers test. Telling Simon about this "big kahuna for the day," Alton explained that one chef was tethered to a rotating poll, forced to prep and cook while spinning slowly. "Completely brilliant," Simon said upon learning of the sabotage, laughing at the hilariousness that was this monstrous setup.
Chef Randy was saddled with this doozy of a challenge, and as Alton explained, "He just cooked the meat and kind of quit in a way," noting the competitor's oversize meats on a stick. "It was just so kind of unnerving when you just get a big chop of a skewer," Simon proclaimed, agreeing with the host and explaining why ultimately Chef Randy was forced to say goodbye.
Click the play button on the video above to hear from Alton and Simon, and see the rotisserie up close.