No Sabotages Doesn't Mean No Problems — Alton's After-Show
Sabotage-free cooking doesn't always equal successful dishes.
More Cutthroat Kitchen
Cutthroat After-Show: Carne
04:59
Alton reveals the sabotages for omelets, carne asada and baked apples.
Given the time constraints on the clock and the process of adapting to a brand-new kitchen, cooking in Cutthroat Kitchen can be tricky — and that's not even taking into the consideration having to maneuver sabotages. Add in those unexpected and downright diabolical challenges, and it may seem like all bets are off when it comes to turning out winning food. But that wasn't the case on tonight's all-new episode, when in the first two rounds, the two chefs who did not have any sabotages to contend with were sent home.
In Round 1's French omelet, Chef Craig was gifted by Chef Paul a tightly coiled pan in which he was forced to make his omelet, and he did it — and did it well. But Chef Paul, who had enjoyed a round of sabotage-free cooking, was eliminated, as judge Jet Tila explained, "It was just a weird plate. Nothing about that plate reminded me of an omelet." Host Alton Brown noted that Chef Paul had focused on making an accompaniment for his eggs, and Jet warned against that: "Cook to the expectation of just the dish. Don't go crazy."
Similarly, in Round 2, Chef Clemenza gave Chef Craig the "high steaks" platform, from which he had to cook his carne asada on the prep table below him with the help of very long and unwieldy poles. "Chef Craig just rocked it out," Alton told Jet. Then he revealed that Chef Craig was given another sabotage, this time by Chef Carolina, in this round: the task to dig for ingredients in a jumbo burrito. Chef Clemenza stayed sabotage-free in this round, but despite his seemingly easy battle, he was sent home on account of overcooked beef.
Ultimately, Chef Craig didn't let either of his Round 2 obstacles stop him from turning out winning dishes, as he not only advanced to Round 3 to cook against Chef Carolina, but also ousted her in the final test.
Click the play button on the video above to hear from Alton and Jet, and see what happens when Jet attempts the "high steaks" sabotage for himself.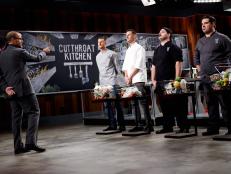 Watch Food Network's Cutthroat Kitchen: Alton's After-Show hosted by Alton Brown.