A Wedding Cake and Dessert Bar Worth $50,000 on Spring Baking Championship — Duff's Finale Recap
Judge Duff Goldman recaps the finale of Spring Baking Championship.
Emile Wamsteker, 2015, Television Food Network, G.P. All Rights Reserved
We had celebrated spring moments like Memorial Day, Mother's Day and pie-packed picnics. We had tasted spring flavors highlighted in numerous ways, and I even picked up a trick or two myself (thanks, bakers!). It's amazing when you think about how many talented bakers left Spring Baking Championship. They were already winners because they beat out thousands of other bakers to get to the Baking Championship kitchen.
But on Sunday three gentlemen remained to compete for the dough (see what I did there?) and title of Spring Baking Champion, and it was a challenge like no other. These guys had to make three desserts for a wedding dessert bar to compete for an advantage in the Main Heat, in which they had to make one of the most-difficult desserts of all — a wedding cake. It's been a crazy ride so far, and these three bakers have been gunning for each other since day one. It's almost like they knew it would come down to this. Let's get into it and review what these cats created.
Time Out: Real Talk on Tiny Desserts
A wedding dessert bar can be deceptively tricky. Making small, bite-sized sweets is a challenge, because making lots of small things can be time-consuming. It's easier to make, say, a pie, than it is to make 20 tiny tarts. Plus, a pie usually looks like a pie. You can dress it up a little bit, but it will always be a pie. Making small, individual pastries also means they require more decoration. Small pastries have a Napoleon complex. They are smaller, so they demand extra attention, and to get it a pastry chef must spend time with each little pastry to make it not only delicious, but also beautiful. Sometimes you'll hear these desserts referred to as "petit fours." Petit fours traditionally are individual little cakes that are layered with cake and filling and adorned with tiny garnishes. Nowadays, people refer to all kinds of small pastries like mini tarts, jellies and things on sticks as petit fours. So, while I don't like it, these terms are becoming interchangeable. Petit fours are my Achilles heel. One of the challenges in making successful petit fours is making them uniform. Let's say you pipe a design on the first one and it looks great. Now you have to replicate that same design 500 times. Any variation ruins the effect of having small, uniform pastries beautifully lined up. Generally speaking, in pastry, the smaller it is, the more difficult it is.
Bakers Take On the Dessert Bar
Dwayne started off strong, baking a bunch of individual bread puddings. This was smart, because he could make his entire bread-pudding base at once and then distribute it among 20 ramekins. The only extra step he had to take was portion it out. He saved himself a bunch of time, and I wouldn't have been surprised if Damiano and Andy both followed suit. Pastry chefs are always looking for ways to cut down on time while maintaining quality. (It's how our brains become rewired when we choose this profession.) He also made a pan of blondies (which are one of my favorite treats in the world, by the way). This, too, he could cut up into small squares and serve. The issue with blondies is that they can sometimes be bumpy with chunks, so when you try to cut them evenly, they tend to tear and not look absolutely perfect.
Andy was totally right when he said that the key to a good dessert bar is variety. If you make a dessert bar and most of it is left over after the party, it can be embarrassing. So we put a variety of items on there. Nobody wants to eat three cream puffs, but if there are three different desserts, people will take one of each. Andy mixed it up with three solid options: a shortbread cookie, a fruit tart and a chocolate cream puff. The general rule of thumb is something fresh, something baked and something chocolate. Andy was a pro. Did you see how he used pastry rings to bake his cookies in to keep the sides straight? Without rings, cookie edges get round. You can bake the cookies without a ring and cut them when they come out of the oven, but when you see cookies with perfect edges that brown all the way around, you know someone baked those cookies with a little extra love. Details like that mean a lot, especially when it's for $50,000. Andy's cream puff made me nervous, though. He put coriander in his chocolate. I hate cilantro, and coriander is cilantro seeds. Why would he want to ruin perfectly good chocolate?
Damiano had a robust dessert bar with a hazelnut mousse, chocolate pistachio biscotti and a gluten-free chocolate cake. His dessert bar had a wide range of textures. I'd probably dip my biscotti into my mousse if I were at that party, but that's just me. Damiano's mousse looked fantastic, but I was really excited to taste his biscotti. If a guy has that kind of accent, I imagine his biscotti are going to be all the way there.
I hope everyone paid close attention to what these bakers did. Dwayne wrapped his creme brulees in plastic wrap before putting them in the oven. He baked these very gently so the steam from the pan made sure they cooked evenly on top and didn't overcook the skin. I could tell the creme brulees were going to be like velvet in my mouth. Andy made cute heart-shaped cookies. He made a solid heart for the base so the filling stayed together and a heart with a hole on top so you could see the filling. Damiano made gluten-free chocolate cakes in jars, like a parfait. Every layer was frozen in place before the next layer was put on.
This is why savory cooks don't trust pastry cooks. They are afraid of our wizardry, which is an obsessive need to be meticulous about everything. We had also asked the bakers to assemble their own tables. When I was the executive pastry chef at a ski resort, a whole team of banquet workers set up our buffets. I looked at the first buffet that they had set out for me, and from that day on I set up my own. It's not that it was bad. I just had a certain look in mind, and it was easier to do it myself than to explain it to somebody else. This is a common practice. Pastry chefs are the artists in the kitchen. Why do you think ice carving usually falls under the responsibility of the pastry chef?
Results: Who Raised the Dessert Bar?
I liked that Dwayne had a vision and a theme for his wedding dessert bar. Having a story to tell when presenting food is always a great way to get people's minds in the right state to enjoy something. I wasn't thrilled about Dwayne's blondie; it felt like a dense cake. Blondies should be very dense, even more so than brownies. Blondies are pure butter with enough flour to hold them together. Dwayne's creme brulee was the bomb, though. It was super smooth and cooked perfectly. That's kind of how it is with a creme brulee; it's either absolutely perfect or utter rubbish. There's no middle ground.
Andy was lucky we couldn't taste the coriander in that chocolate cream. It would have been criminal if it was anything but what it was, which was perfect. Andy's Sable Breton was a huge surprise. It's not a term people hear very often anymore, so it was impressive to see it in a competition. It's a nice way for Andy to tell the judges and competitors that he knows what's up. Sable Breton is from — you guessed it — Brittany, a dairy region on the coast of northern France that also happens to farm some of the world's best sea salt. Besides being beautiful, it's a region famous for baking. A good Sable Breton is always a tad salty on the finish. The lemon curd was, as Lorraine said, outstanding. But the fruit wasn't glazed, and on a fresh fruit tart, it felt unfinished. The pistachio cookie was fantastic but way too rich. It tasted great, but it would take some serious willpower to eat that whole cookie.
Damiano didn't disappoint with that biscotti, man! The dark chocolate with bright green pistachios was beautiful and delicious. I also thought his mousse was fantastic. Nancy wanted more hazelnut flavor, but I thought the flavor was perfect. I'm always worried that hazelnut flavoring will taste too strong, like the gross syrup they put in coffee. His cake could have easily been a standout winner, but the ratios were off. Each individual component was great, but there was too much chocolate on top and not enough cake. Think of a bag of chips and some salsa: The tortilla chips are a vehicle for the salsa. His cake was the vehicle for these two rich creams, except there wasn't enough vehicle. I know it sounds like we were being picky, but for $50,000, didn't you want us to be? It was a close call, and every baker had some hits and misses. In the end, Andy pulled it out, and it's good thing he did. He's gonna need every advantage he can get, because these guys are about to make wedding cakes! And Andy gets to dole out the cake flavor each baker will work with.
Vowing to Bake a Winning Wedding Cake
I loved the looks on the bakers' faces when we told them they had to make wedding cakes. Cakes are the best skill to have when trying to find a job, because hotels and restaurants are full of people who hate making them. When you are the go-to person for cakes, you are very valuable to an executive chef. Even pastry chefs sometimes look upon wedding cakes with horror. Committing to a wedding cake while you are also trying to run a busy pastry kitchen can be very frustrating, so pastry chefs usually find one person good at cakes and hold on to him or her for as long as they can. My biggest problem in every pastry kitchen I ran was that I was also the best at making cakes.
Here's the thing: I've owned a cake shop for almost 14 years. No matter how pretty our cakes are, we wouldn't still be in business if they didn't taste good. The flavor of wedding cakes is so important, and if you don't put effort into the flavor, it can be very disappointing. It's a wedding, so people are going to remember every little detail for years to come. Making a bad wedding cake can have huge consequences.
Dwayne lightened up his cake with a white chocolate mousse. I have a unique perspective when it comes to wedding cakes in that I don't have a seasonal mind for flavor. I'm perfectly fine with a triple chocolate wedding cake in June because so many people get cakes from me and want whatever flavor they want, regardless of the season. Damiano was smart about his flavor. He didn't bake the cake he was using, but he soaked it with limoncello and thus controlled what it tasted like as best he could. I was really excited about Andy's triple vanilla. Vanilla is ubiquitous in pastries, so it doesn't often get to play the star. To go out of your way and highlight vanilla was an awesome way to get our attention.
Before you think about icing a cake, you have to plan out how that cake is going to be decorated. Damiano made an American buttercream that he colored lilac. I was surprised, because Damiano said he had never made a wedding cake before, so his focus should have been on making this cake as delicious as possible. His Italian buttercream was amazing; we had all tasted it. American buttercream is pure butter, very heavy, and can be gritty. Dwayne did a very cool technique with cocoa butter, chocolate, food coloring and acetate. He made a green and yellow pattern to look like sun shining through leaves with colored cocoa butter, then coated it with tempered chocolate ultimately cut into rectangles as decoration. The one comment I would have made to Dwayne was to try gently heating up the chocolate as he put it on the cake, so instead of flat panels that throw shadows you don't want, he would have had curved surfaces that conform to the shape of the cake.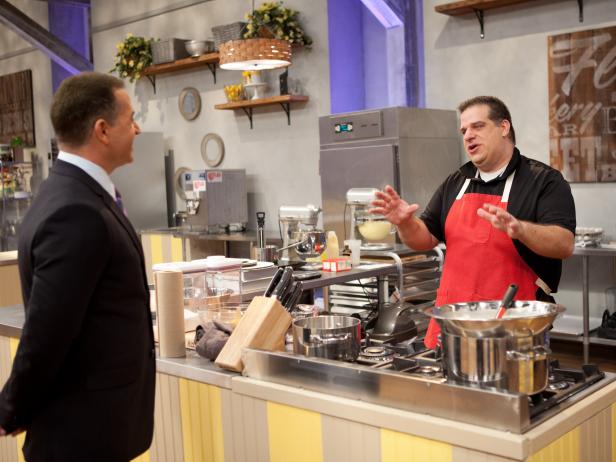 Host Bobby Deen, left, visits with contestant Andy Chlebana during the "Wedding Cakes" main-heat challenge, as seen on Food Network's Spring Baking Championship, Season 1. Chlebana became emotional to the point of crying, saying he wanted to win the competition for his family. He says his work has taken him away from home a lot and that he wants to take them on a family vacation.
Emile Wamsteker, 2015, Television Food Network, G.P. All Rights Reserved
Andy became emotional when Bobby asked him about his vanilla cake. It was beautiful and thought-provoking at the same time. Andy obviously loves his family so much. Every time we asked him about his food, he would always smile and share a story or a detail about his family. I think Andy's sentiment is true for any culinary professional. Being a chef is hard, but it's most difficult for our families. We chose a profession with weird hours and very little vacation time. We don't get to see our families as much as people with 9-to-5 jobs do, and it is hard on us and hard on them. It's also nice to see that food has such a huge impact on people's lives. The emotion that we feel is so often associated with a specific food. Some of our best memories in life revolve around food in some way. Andy really cares about his food, as do all our bakers. The reason we as chefs do what we do is because we love being the catalyst for creating wonderful memories.
The bakers soaked their cakes in either a liquid or an alcohol to keep the cake moist. As the cake sits (usually overnight), the syrup will spread itself evenly throughout the cake through capillary action. The surface tension of the liquid will travel along the strands of protein in the flour and make the cake evenly moist all the way through. (Fancy, huh? I didn't even need to look that up.) I loved watching these guys use fondant. It's not the easiest material to work with, but it makes beautiful cakes if you get it right. Andy chose to ice his cake with just buttercream. Buttercream is very tricky and much less forgiving than fondant. The tiniest bump forces you to re-ice the cake, but if it's done well, it is very impressive. I think Damiano said it best when he looked down at his ruined station and said, "This is war." Those last few minutes had me on the edge of my seat! Damiano got the save of the day. He was having trouble icing his cake and switched to piping rosettes and made his cake look great. Dwayne was doing a very difficult piping technique and totally pulled it off with about five seconds to go. Andy cracked me up. He pulled out some serious sugar and chocolate work that no one saw coming.
Dwayne made a really cool cake. His color choice was bold, but I think he knew that I wouldn't mind wild color. His chocolate decorations were very cool, but I think he should have matched them up so the ones that were heavy on the yellow were next to each other. He got the flavor of the blood orange to stand out, which was great because when using chocolate, it's easy for a citrus flavor to become just that — a citrus flavor, not the flavor of a specific fruit. I understood Dwayne's emotion when he talked about all the hours over the years that he has spent making himself into the fantastic pastry chef that he is today. All chefs carry that emotion. We see what we sacrifice in order to follow our dream, and there are times when we question it, times that we embrace it, and times like this when we want validation for what we have done. You were indeed validated, Dwayne. You have seriously shown the world what you can do in the last six weeks, and it was honor to taste the love in your food.
No two ways about it, Andy's cake was striking. His sugar work was so delicate. When you are working with hot sugar, it takes thick skin (literally) and patience to get your sugar that thin. His flowers added just the right amount of color, and the composition of the offset tiers, the angle of the sugar and his incredible chocolate topper was a pleasure to see. Andy really understands shape, which is important in wedding cakes. Nancy and Lorraine loved the flavor of Andy's cake. I liked it; it wasn't bad at all. I think Andy could have accented the vanilla with something else, like a citric acid. It's like when we put salt on something, we aren't doing it to make something salty. We're bringing out the flavors we'd like to highlight. One minor thing I didn't like about Andy's cake (and this is very nitpicky), but he stuck his sugar pieces directly into the buttercream and probably didn't have enough time to clean up the edges where the buttercream and the sugar met. That's the kind of stuff I see, but cut me some slack. This is what I do every day of my life. I look at a lot of cakes.
I liked that Damiano said his cake wasn't the Tower of Pisa. As a cake decorator, the last thing you ever want to hear from a customer is the word "Pisa." I don't know if you caught it, but I said I was impressed that his lilac didn't turn out gray. Buttercream is not white, it's an off-white, and when you combine off-white with lilac, it tends to turn gray. To get a delicate lilac color, you have to use enough color to overpower the buttercream but not so much that your cake turns purple. Damiano's cake was absolutely delicious, and the lemon cream inside had all three of us losing our minds.
Pronouncing (Triumphant) Man and Cake
These three bakers blew us away, and two guys who don't make many cakes challenged the guy who knows how to put a cake together. Andy made a really fantastic-looking cake, but I personally felt that the vanilla was a bit flat. Damiano and Dwayne both really crushed the flavor of their cakes. All three of these guys are truly at the top of their field. But it was Andy who really had it on lockdown. That cake was too beautiful not to win. Congratulations, Andy! This win was well-deserved, man.
What an honor to get to observe and taste the food of these eight champion bakers. The last six weeks were so eye-opening for me, and I can honestly say that every baker on Spring Baking Championship taught me something. I learned about comfort food from Chicago, tubers from the Philippines, tortas from Italy, baking with mayonnaise from the South, and gluten-free desserts that can really steal the show. This was one of the most diverse and challenging groups I've ever had to judge, and Bobby, Nancy, Lorraine and I are incredibly fortunate to have been able to share this experience with all of you. Thanks for taking this journey with us, and I'll see you soon on the next Baking Championship!