"The Most-Spectacular Thing That We've Ever Done Here" — Alton's After-Show
Check out brand-new photos of the first-ever Cutthroat Kitchen dollhouse, an oversize sabotage with hilariously evilicious components.
We're sorry, there seems to be an issue playing this video. Please refresh the page or try again in a moment. If you continue to have issues, please contact us here.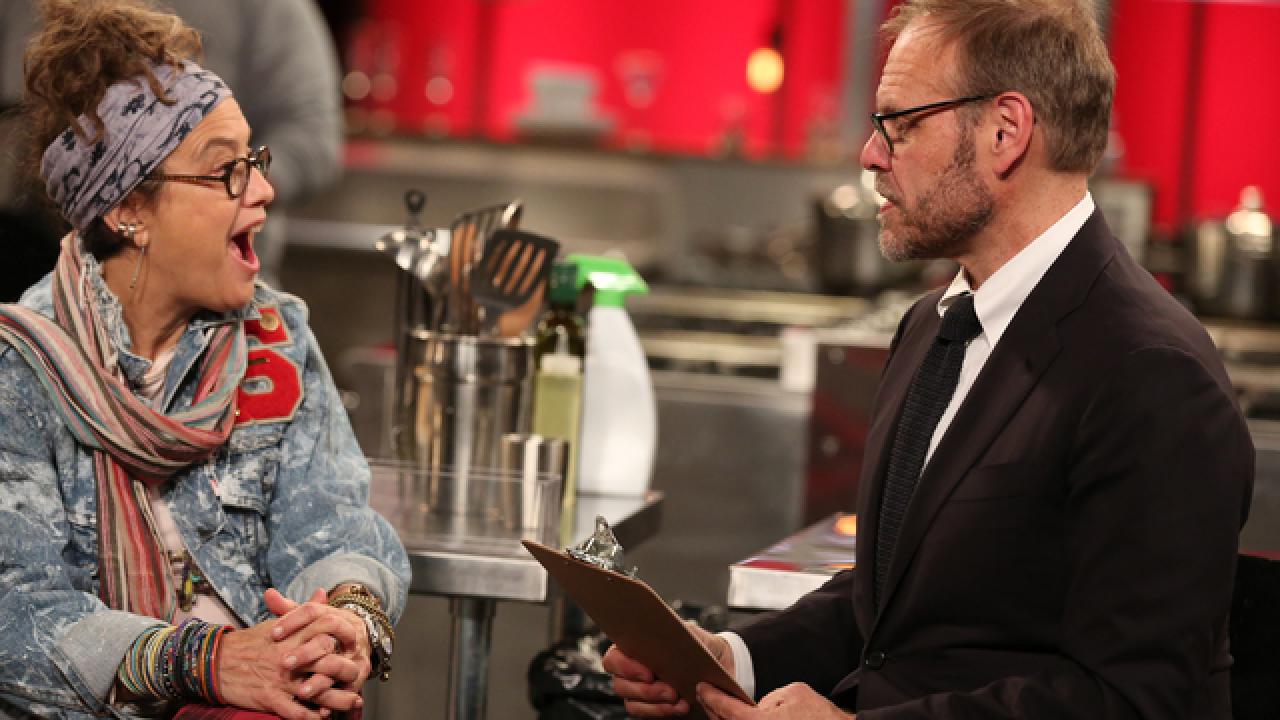 While surely all Cutthroat Kitchen sabotages are designed for a bit of shock-and-awe factor, perhaps no single challenge delivered as much wow-worthy reaction as the brand-new dollhouse that was rolled out — literally — for tonight's Round 3 oatmeal cookie battle. For host Alton Brown, this is quite simply "the most-spectacular thing that we've ever done here on Cutthroat Kitchen," he said to guest judge Susan Feniger during the After-Show.
He explained that in this at once oversize and miniature house, one chef not only had to prep all of the cookie ingredients, but also cook them in there by way of the mini kitchen. "This was like a miniature kitchen dropped into the middle of hell," Alton told Susan, adding that in true evilicious fashion, this sabotage wasn't just what met the eye.
Aubrey, who works on the show's team bringing the sabotages to life, explained that this house featured "some challenging ways for the chef to have to use the kitchen." Think hanging through wall cutouts to reach the kitchen and crawling along stairs to get to the bathroom, where Chef Demarco, who was gifted this unprecedented challenge, chose to use the shower basin as a mixing bowl. "Our Cutthroat Kitchen workshop wasn't big enough to build the whole thing in one piece, so we had to build [the house] in two separate pieces," Aubrey explained, "and then when we rolled it into stage, we could actually put the roof on."
Check out more photos below to see inside the dollhouse and get an up-close look at what this sabotage entailed.
Aubrey revealed that the living room was made intentionally short so the chef would be forced to crawl along the stairs.
Settling right on the couch, Alton wasted no time sitting back and putting up his feet.
The problems didn't stop for Chef Demarco once he made it to the kitchen; he still had to hang out of the cutout in order to reach the rest of his ingredients.
If this kitchen set looks familiar, it's because it's similar to the one used in classic mini-kitchen sabotages.
Consider Alton your friendly next-door neighbor, though he's more likely to drop off a gift of sabotage than a pound cake.