One-on-One with the Chopped Grill Masters, Round 1 Winner
Get the exclusive interview with the winner of Round 1 of Chopped Grill Masters.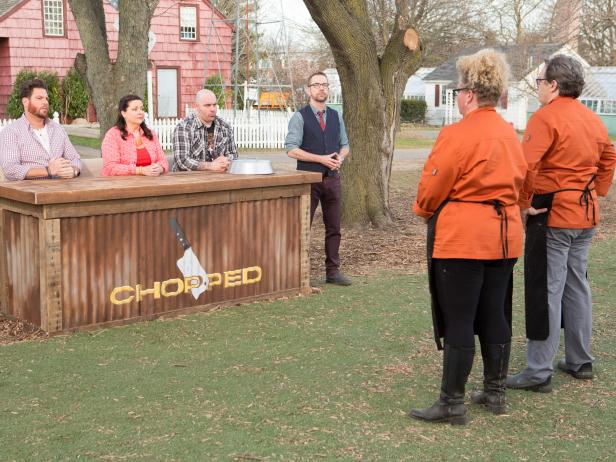 Chefs Chris Hart and Danielle Dimovski stand before Chopped host Ted Allen and judges: Scott Conant, Amy Mills and Chris Santos moments before finding out which chef has been chopped and which chef is a chopped champion and has won a spot in the $50,000 finale, as seen on Food Network's Chopped, Grill Masters Special.
David Lang, 2015, Television Food Network, G.P. All Rights Reserved.
On tonight's episode, Chopped headed outdoors for the premiere of the second installment of the five-part Grill Masters tournament. In each of the four preliminary rounds, four expert grillers, barbecuers and chefs from across the nation compete for a place in the finale and a chance to win the $50,000 cash prize. In the first round, four fierce competitors took up the challenge; in the final round, two who share a history in the barbecue competition circuit faced off. The challenge could have ended in either's favor, but the one who prevailed had the best three courses, earning a finale spot. Hear from the Chopped Champion of tonight's episode.
Appetizer: double-cut pork chops, margarita, avocados, merguez sausage
Entree: artichokes, cherry pie, rye whiskey, cowboy steaks
Dessert: ham steaks, mangoes, cornbread, ricotta cheese
First round: Staci Graves Jett
Second round: Randy Pauly
Final round: Danielle Dimovski
Judges: Scott Conant, Amy Mills, Chris Santos
David Lang, 2015, Television Food Network, G.P. All Rights Reserved.
By the dessert round, the two strongest competitors, Danielle and Chris, remained. The two happened to know one another well, sharing a history of competing. Although Danielle declared she had an edge on dessert, it was the culmination of the three rounds that sealed the judges' decision. Chris was named the Chopped Champion despite forgetting a required ingredient in his dessert dish. Danielle may have won the battle, but Chris won the war. The software developer by week, competitive griller on the weekends proved his passion runs deeper than the surface, and he earned a spot in the Grill Masters finale on Aug. 11.
FN Dish: What did you think of the baskets today? Was there one in particular that was the hardest for you?
Chris Hart: Yeah, the baskets actually were dreamy. The cowboy steak, the pork loin, really gave us the ability to show off our grilling skills. So ... the appetizer and the entree rounds were fantastic. You know, dessert was a little bit more challenging. ... You have some stale cornbread and a mango — you really had to stretch [them] a bit to make those happen. But overall they were fun baskets.
Was there a dish in particular that you were most proud of?
CH: My opening appetizer where I made a merguez sausage salsa. [I] perfectly cooked the pork to a nice, like, medium-rare and then finished it with a margarita vinaigrette. I think all of those elements came together and produced a flawless entry, and it's really probably what carried me today. I had some problems in the entree round and I had a big problem in the dessert round. If I didn't kill that appetizer, I wouldn't be here right now.
Being that the judges thought your appetizer was your strongest dish, how did you feel going into the entree round, knowing that you had the first round under your belt?
CH: Yeah, I mean, I went into the appetizer round with, you know, a bundle of nerves. I haven't been here before and I really wanted to do well — [I] certainly didn't want to go home early. And I kind of just winged it. I didn't know what I was going to do. I just started cooking and was able to pull together and it came out great. So I went into the entree round a little bullish. You know, "OK, I think I got this." I understood what I needed to do here and I got off to a good start, but my hollandaise — you know, making hollandaise in a field in hot weather like that [is] probably not the smartest move and that's a huge part of winning. It's not just how good of a chef you are, it's making good decisions, and with 20, 30 minutes on the clock, you can't afford a bad decision.
Why did you decide to make that hollandaise, especially because it took up so much of the actual cooking time? Do you regret that at all?
CH: Oh, I probably won't go back there. I'll probably veer away from egg-based sauces in the finale. For me ... I think that hollandaise sauce just goes perfectly with two of the ingredients in the basket. It's perfect with an artichoke and it's great with a steak. ... It's just like a classic pairing, so I thought [it] brought those two basket ingredients together nicely. If I had executed a beautiful, fluffy hollandaise sauce, I don't think it would be an issue. Just under the circumstances, in 30 minutes, maybe [it was] not the best use of time.
So onto your dessert. Scott called it kind of soggy because the mango puree soaked into the cornbread. What were you going for there, and do you think that you achieved that?
CH: Yeah, I didn't want it to be soggy. What I was trying to do there was like bread pudding except cooking elements separately so I'd have a little bit more control. I was trying to make a nice pudding. I was trying to make the cornbread grilled and crispy and bring it together at the end as opposed to baking it together, where I knew that cornbread would fall apart in a pure bread pudding. So my goal was to have ... the sauce kind of penetrate the cornbread and have the flavor come in the interior, not make it kind of mushy. I think that, based on the amount of sauce, some of the entries I put the right amount of sauce on and some of the entries maybe I put a little too much sauce on. Maybe on Amy's plate I put a little too much sauce on and it kind of went overboard, whereas another entry was a little bit more spot-on in what I was looking to do.
Can you explain forgetting the ricotta in the dessert round? Did you ever think of combining it into your vanilla pudding? Did that cross your mind?
CH: Yeah, it did. ... The reason I forgot the ricotta was I grabbed mascarpone off of the shelf. I brought the mascarpone back to my cooking station, and I was putting the dish together, and one of the things I was really trying to achieve in all of my categories was make it about grilling, not make it about sauces, and pan sauces and stuff in a blender, and trying to veer away from that a bit and really highlight the grilling. And I felt like I already had the mango puree, I already had the pudding in here. Like, "Oh, I don't need to add another element." ... So when I had the mascarpone in front of me, I kind of pushed that away from me and at the same time I kind of pushed the ricotta away from it. ... The mascarpone obviously was an add-on, and the ricotta was a requirement. And somewhere deep down I knew I had done something wrong, and when the judges alerted me that I missed that one, [I was feeling] shock, anger. ... I wasn't completely surprised that it was something I missed.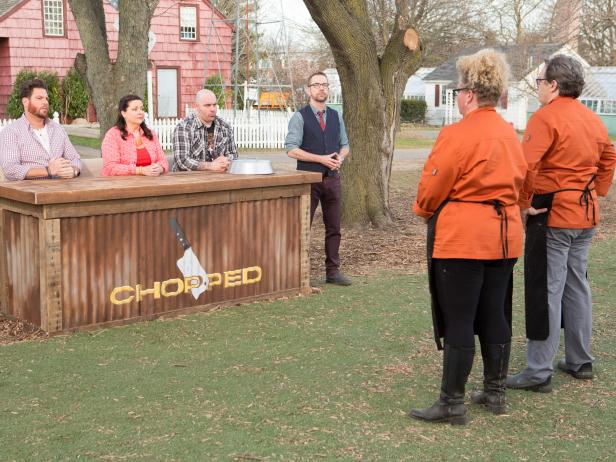 Chefs Chris Hart and Danielle Dimovski stand before Chopped host Ted Allen and judges: Scott Conant, Amy Mills and Chris Santos moments before finding out which chef has been chopped and which chef is a chopped champion and has won a spot in the $50,000 finale, as seen on Food Network's Chopped, Grill Masters Special.
David Lang, 2015, Television Food Network, G.P. All Rights Reserved.
Now you and Danielle have a history of competing against each other, and there's a point she says she's better at dessert and you kind of agreed with that. So now how does it feel to win against her especially on a dish that you messed up on?
CH: Yeah, you know, when I came into the Chopped kitchen and I saw Danielle there, I knew I was in for a battle. I knew Danielle is a fierce competitor. She's really good at what she does and I would have more hoped to see her in the finale. I felt like today was like a mini finale — they had two heavyweights going head to head. [I] wasn't happy seeing her here, other than it was a heck of a lot of fun competing with her in terms of just, my prospects for winning were not as good as they could be with Danielle showing up. She won the dessert and I expected that. Frankly, you know, Randy really almost had her going home. She was going home if Randy didn't put, like, an entire cherry pie on the steak. You know if he had a more restrained application of the cherries on that steak of his (which he cooked very well), Danielle would have been out that second round (in my opinion), and she kind of got a second life and then also going into her strongest category by far. I was not happy about that. I knew it was going to be a problem. And luckily my first two entries just carried it.
What did it mean for you to compete today?
CH: It was a really, you know, it was a big day for me. ... I've competed in a lot of contests, but I haven't won a big contest in some time. And this is one of the biggest contests I've ever competed in. I've competed in about 150 cooking competitions and this is one of the biggest ones I've ever been in. ... I've been in some TV shows a few times and I've come up short on TV a couple times, and I didn't want it to be No. 3. And so I want to show I could do it under the bright lights.
Do you have any strategy going into the finale?
CH: I'm going to change up my sauces. I'm going to stay away from, you know, the egg-based sauces. I'm thinking reductions, salsas, barbecue sauces, dry rubs. I want to get a little bit more on that side. On the meats, I cooked them perfectly, but the seasoning I chose was very simple. I salted the pork loin, I peppered the steak; they were perfectly cooked, but I think in the finale I need to kick it up a notch. I think I need to get some of my competition-style barbecue dry rubs into the mix. I need to get some finishing barbecue sauces into the mix. ... I need to improve on my time management in order to be able to pull off some of those dry rubs and sauces.
If you do end up winning, what will you do with that money?
CH: I'm going to treat my family. You know, the competition cooking is a second career for me. My first career is developing software. And so my family has been very supportive of me going on crazy adventures like cooking on Chopped for a week. My wife and my kids ... support me so much, and so I'm taking the money and we're going to ... go to Paris and have a food adventure of a lifetime.
Tune in next week for Round 2 of Chopped Grill Masters, Tuesdays at 10|9c.