One-on-One with the Chopped Grill Masters, Round 2 Winner
Get the exclusive interview with the winner of Round 2 of Chopped Grill Masters.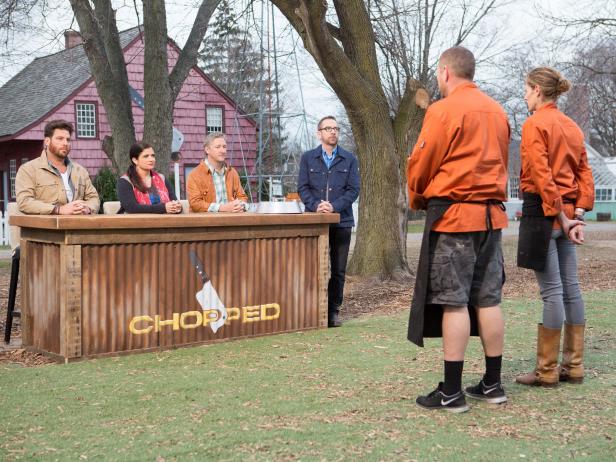 Chefs Stan Hays and Mary Brent Gaylean stand before Chopped host Ted Allen and judges: Scott Conant, Alex Guarnaschelli and Tim Love moments before finding out which chef will be Chopped and which chef will become a Chopped Champion and will secure and place in the $50,000 Grill Masters finale, as seen on Food Network's Chopped, Grill Masters Special.
David Lang, 2015, Television Food Network, G.P. All Rights Reserved.
Tonight Chopped Grill Masters continued with the second episode in the five-part tournament. In each of the four preliminary rounds, four expert grillers, barbecuers and chefs from across the nation compete for a place in the finale and a chance to win the $50,000 cash prize.
In tonight's appetizer round, the competitors soon found their excitement replaced with the anxiety of being defeated. In the final round, two very worthy opponents faced off, creating impressive desserts that made the judges' decision that much more difficult. The one who prevailed in all three courses earned a spot in the finale. Hear from the Chopped Champion of tonight's episode.
Appetizer: hamburger patties, salsa con queso, zucchini, hot dogs
Entree: rack of elk, Worcestershire sauce, deviled eggs, collard greens
Dessert: acorn squash, chocolate cupcakes, bananas, ras el hanout
First round: Candy Sue Weaver
Second round: Matty Melehes
Final round: Mary Brent "MB" Galyean
Judges: Scott Conant, Alex Guarnaschelli, Tim Love
Rookie mistakes seemed to do the chefs in one after another. Incomplete plates led to Candy Sue's chopping in the appetizer round. And in the entree round, it was Matty's obvious mistake of serving raw elk that sent him packing. The dessert round left standing one of the strongest competitors, Stan, and one of the most creative, MB. Her creativity, however, could have been improved by self-editing as judge Scott pointed out. The judges were stuck on one question: Who cooked the better entree dish? In the end they decided that MB's small mistakes in the first two rounds added up to her chopping. Stan produced three courses that did justice to the basket ingredients. This insurance man's barbecue passion and competitive prowess paid off, and he earned a spot in the Grill Masters finale on Aug. 11.
FN Dish: What did you think of the baskets today? Was there one in particular that was the hardest for you?
Stan Hays: You know, the hardest thing for me today, the hardest basket, would have been the dessert. I'm just a meat and potatoes type of a guy, so that thinking on my feet for the dessert — that was a challenge.
What dish were you the most proud of?
SH: The elk. I mean, I don't think I could have cooked it much better. I wish I had a different sauce with it, but the cooking of the elk was — I was very proud of it.
What were you going for with the peanut sauce? What were you hoping to get out of that?
SH: Ah, well, I was hoping to get a little more acid with it. I wanted it sweet and savory. ... I think there was just too much peanut butter in it is what ended up happening. I've only done it one other time and it wasn't with elk. So, I mean, I think if it was a different protein like chicken or something it might have come off quite a bit better.
David Lang, 2015, Television Food Network, G.P. All Rights Reserved.
Alex really loved the collard greens salad. Have you presented collard greens that way before, or were you initially going to do something else?
SH: I first starting thinking of braising it, and then I was like, you know what, I don't know if I can get it tender enough. And then I didn't start cutting it in thin enough ribbons until probably the last three slices, and then probably at that point I thought, man, I probably should have cut those into smaller, finer bits because of it being, you know, collards. But then that's why I grabbed the handful of spinach and a handful of the mixed greens to mix in there with it ... just for the different textures. ... The only thing I could think of with that [deviled eggs] was to use the eggs and the yolk and everything to be part of the vinaigrette. So that totally came out of left field for me, putting something like that together and having somebody like Alex like it that much.
Where did the idea come from for your backyard sundae — and to use the brioche bun like a play on hamburgers?
SH: I wanted to make a crumble, but I couldn't find any oats or anything like that to use as a good base for a crumble, so I thought, OK, brioche can have that sweetness ... and then I thought, OK, I'll grill it and use that as sort of the base. I did it also because I thought if anything gets runny, it will also soak into that and ooze all over the plate — that was the beginning of it. But then I just thought, OK, we will build up layers with it. I probably should have done something ... to the caramel, which was overly sweet for them. ... If I had a do-over again, I would probably switch it up a little bit, but I was pretty proud of it for a guy that doesn't do dessert. ... I can probably count on both hands the number of desserts I've made in life. I was pretty proud of it. I liked the Greek yogurt and I know Scott didn't taste it much, but I thought it gave that sort of a twang ... so it sort of toned down some of the sweetness.
With the acorn squash, you had a great idea to grate it. I think all three of them loved it. Maybe Tim said you could have put it on top so it would have been like a topping.
SH: I just didn't think I was getting it crisp enough. If I could have gotten it crisp enough in that pan without burning it, I probably would have put it on top. ... I was just running out of time and trying to get it crisp enough and manage it without burning it, because if I burned it, I would have been screwed. At that point I was just like, hey, it's soft and when I looked down at the caramel, I was like, man, if I put that in there it was going to look a little bit like a marmalade, and so that was the reason I did it that way.
You said you work in insurance, so barbecue is sort of your side gig. How did you get into it?
SH: So I started backyard barbecuing, probably ... when I graduated from college and got my first job, which was the insurance company ... that I work for today; about, well, two years into them, I moved into a house. It was the first place that wasn't an apartment that I could actually have a grill. So I bought a grill (propane grill), grilled everything, all the time. That just progressed into buying a little smoker. ... And then it gradually increased to wanting a bigger smoker, wanting to do more. Then you start hearing about the competitions. I was in Texas at that point of time and living outside of Austin, and there was a contest right down the road from my house. ... And I go down there and I'm like, "Oh, my wimpy-ass little smoker ain't going to cut it at something like this." You know, these guys have these huge trailers. ... When we moved to Kansas City [there] was a friend of mine who I got to know who was competing, and he invited me to compete with him and his wife to see what it was all about. I went to my first competition ... but I was hooked. I mean, I was exhausted, but I competed with him and his wife on about five or six contests, maybe about three to four contests a year, and then once my kids got old enough, we decided we would start our own team.
David Lang, 2015, Television Food Network, G.P. All Rights Reserved.
What did it mean for you to compete today?
SH: You know, I came here with the intention, for what I do for every contest, and that is to win. I didn't come here just to get Operation Barbecue's name out. It's a great side piece for me that people get to hear about the organization. But as a competitor, somebody that goes out and does that, it meant a lot. ... Not too many people have a badge that says they won a Chopped episode and especially not a Chopped grilling episode. I think this is the second time you guys have done it. ... I mean, I know plenty of people that have won contests and everything, but not with those three kinds of judges.
Do you have any strategy going into the finale?
SH: So my strategy, now, is no matter how much you practice at home with a stopwatch or you know your wife puts a basket of four ingredients, it's not the same as being out here. And I think my time management and fire management on the appetizer round would be greatly changed and my strategy there. The protein, I cooked it. I mean, I saw it, I knew immediately what I was going to do with it — it was going to go in the smoker, try to get some smoke on it. You know, for a little bit. And that I was going to put it in chops, grill it up and get it on the plate. So I can tell you there's not one of these things that was in my head before I opened up the basket, because I watched every episode from the last time you guys did this and my head was swimming with stuff. So I can't even say I pulled anything from that more than just time management. I felt quite frazzled the first round, where I think I was a lot more composed than the second and third round.
What will you do with the winnings if you win?
SH: So if I win, the first thing I'm going to do is obviously I'm going to make a donation to Operation Barbecue. It's something that I spend a lot of time on and there's some things we can use the money for. Next I'm going to take my wife on a little getaway ... down in Mexico on a beach when it's 20 degrees outside in Kansas City, and so I would book a trip probably for January. And then after that, probably look at some stuff for barbecue and probably some little wants that I have.
Tune in next week for Round 3 of Chopped Grill Masters, Tuesday at 10|9c.