Michael Symon's Meaty Secret: Everything in Moderation
FN Dish recently caught up with Michael Symon to chat about his new show Burgers, Brew & 'Que and his favorite topics — which, of course, center around barbecue.
On Food Network's new series Burgers, Brew & 'Que ( Fridays at 10:30|9:30c), Michael Symon takes viewers through his favorite cities, introducing us to his ultimate foodstuffs, i.e., burgers, barbecue and beer, among other meaty and nonmeaty things. However, it's his love for meat that Michael is well known for — that's no secret. But Michael reveals what he really eats seven days a week, which many people might find shocking.
FN Dish recently caught up with Michael at Hill Country Barbecue in New York City to chat about his show and his favorite topics — which, of course, center around barbecue. We also got into some possible cook-off smack talk regarding his friend Bobby Flay. Can Michael Symon Beat Bobby Flay?
On the show you try all kinds of foods, but what food is your No. 1 happy place?
MS: [Laughs] Gosh, you know, it's hard to beat barbecue in my world. "Everything that I love about food is barbecue" really sums it up. It's typically eaten in a group, with a lot of people or a family. You know, the culture of it is that they put meat in the smoker the night before or in the morning, go to church, then come home and have a feast with their friends and family. So, you know, the culture of barbecue I love. And being a meat guy, it really all revolves around the cuts of meat that are a just little more fatty, a little bit more delicious and you have to have patience to make them fantastic. So, I mean, how can't you love a brisket? [Laughs]
Is that your favorite cut?
MS: Oh, my favorite cut is whole hog. The process of cooking the whole hog to me is barbecue's greatest gift. But I love a brisket. [Laughs]
Would you say the pig is your absolute favorite animal to eat?
MS: Uh, yeah, the hog. I mean, it's so versatile. … Other than the oink, the whole animal is edible. You know, I love it, from chicharron to crispy ears to fried pig tails to braised or smoked pork belly to the ribs, to the hams to the shoulders and the butts; I mean the whole animal is just absolutely delicious.
Hypothetically, the doctor tells you "Michael, cut back on the pork" or, worse, "You've got to eliminate it from your diet." What do you do?
MS: I panic. My saving grace (this is … my dirty little secret) is my wife (we've been together for 20-plus years) is a vegan. So at least two, typically three, days a week I eat vegan — not always vegan but vegetarian, because it's easier to cook for us both at home if we eat the same thing. So essentially I binge on meat four days a week, and then she makes sure that three days a week I'm kind of squared off where I'm doing yoga, drinking green juice and eating a lot of vegetables. So that has given me a balance in life where hopefully the doctor would never have to say that to me. [Laughs]
You two make a perfect pair, then.
What would you say is your favorite style of barbecue?
MS: My favorite style is … the vinegar-based sauces that run through the Carolinas, sometimes with mustard and sometimes without. … [For] me it's the best because it really allows you to taste the meat and the vinegar kind of accents it, and the meat's not hiding behind anything else. And then my next favorite would probably be Texas, specifically Austin.
Would you use either of those styles on your whole-hog barbecue?
MS: Um, yeah, for sure. The Carolina style, I think, is the best for whole hog. That eastern section of North Carolina is really where all they do is whole hog. Most of the places that you go into, they'll only be cooking whole hog — that's what they do.
Do you have a favorite wood for barbecuing or smoking?
MS: I like fruit woods better, specifically apple. They're a little less bitter, the smoke is a little bit less forward. So for me, like when I'm smoking, I usually use some post oak to control the heat and then apple wood to control the flavor of the smoke.
How often do you barbecue at home, and what kind of setup do you have?
MS: I barbecue endlessly at home. I have several smokers, some that are big enough to fit entire hogs in. So typically when I entertain, I'm barbecuing. We have some small Green Egg-style smokers for some smaller cuts. But then I have this enormous 10-foot-long steel drum offset Yoder smoker that I'll do larger cuts or whole hogs in.
What were family barbecues like when you were a kid? Do you have any great memories?
MS: You know, when I was a kid it was more grilling out than it was barbecue. I think there's a big difference between the two. Like I think sometimes people think, "I put some burgers, dogs on the grill and I'm barbecuing," where you're more grilling. But, you know, in Cleveland, because we have such a huge Eastern European influence, there was a lot of smoked sausages, kielbasa, stuff like that on the grill. And because my mother's Greek, we did a lot of lambs or goats [roasted] on spits. That's more of a barbecue style … . It was like My Big Fat Greek Wedding at my house.
Coming up as a chef, was there someone in particular who ignited your passion for barbecue?
MS: I would say from a barbecue standpoint the guy that has really inspired me the most is Mike Mills. He has an innate sense about barbecue and where the heat should be. It's almost like he doesn't need to look at a thermometer to check what temperature his meats or his smokers [are] at. He just knows. He just has an innate sense around barbecue. To me he's an incredible inspiration, not only for the way he smokes meat and handles meat but just him as a person. He's an incredible guy. He always does things the right way, and, you know, I don't think there's a better pit guy or barbecue guy in the country.
Now, the show doesn't just leave off at food; it includes beer. Do you have a go-to brand or a local, small-batch brewery that you're really into right now?
MS: There's a brewery out of Cleveland — we're actually doing it on the show – Great Lakes Brewery. They've been around forever. They have a lot of depth, a lot of selection, incredible beers, like any style that you could desire. My current favorite beer that I'm drinking is out of Dexter, Michigan, at Jolly Pumpkin. It's a sour that they age in red wine casks that I think they call La Roja. To me it's the best beer I've ever drank in my life.
Beer bottle or poured into a glass?
MS: Depends on the day. [Laughs] I drink it out of a can sometimes, too. It just depends where I am, you know. If I'm hanging out in the yard and barbecuing with my buddies, I'm drinking out of a bottle or a can — all day long. My wife is a sommelier, so, like, if we're having a fancy dinner and if she's pairing beers with different courses and stuff, you know, then I'll go to the proper glassware.
The show also features some desserts. Do you have a favorite, one you like to enjoy at a barbecue?
MS: I don't have a massive sweet tooth, so I always tend to go toward cobblers or crumbles. Whatever the seasonal fruit is, a nice crunchy topping …, a good scoop of ice cream on top; it's perfect for me.
The other theme of the show is burgers. You're known for your burger restaurants. For someone going to B Spot for the first time, what would you recommend?
MS: I still love the Fat Doug Burger. It's kind of the burger that we built the whole concept around. It's a naturally raised grass-fed beef, grilled, topped with a little bit of crispy pastrami, some coleslaw, some brown Cleveland mustard on those housemade buns. We have these awesome buns that have no high-fructose corn syrup, all the flour is stone-ground. It's just a really simple, special, great burger.
Many people know that you and Bobby Flay are good friends. Since both of you have burger places, would you ever go up against him in a burger cook-off?
MS: Head-to-head like on television? Probably not. But we've both done the Burger Bash in South Beach for five years. I've won four of them. So I guess, yes, we have. [Laughs]
Would you say that yours is better than his?
MS: I would never say that. I let the people decide. [Laughs]
Quickfire (Name what comes to your mind first):
Ice cream: Can never get enough
Wine: Not as good as beer
Vegetables: When I have to
Watch Michael Symon on Burgers, Brew & 'Que on Fridays at 10:30|9:30c.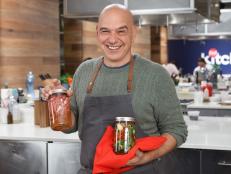 It also happens to be the best way to use up your garden's bounty.