"I Would Buy This at Any Fair" — Testing the Cutthroat Kitchen Sabotages
Watch the Cutthroat Kitchen culinary team attempt a sabotage from tonight's circus-themed episode.
We're sorry, there seems to be an issue playing this video. Please refresh the page or try again in a moment. If you continue to have issues, please contact us here.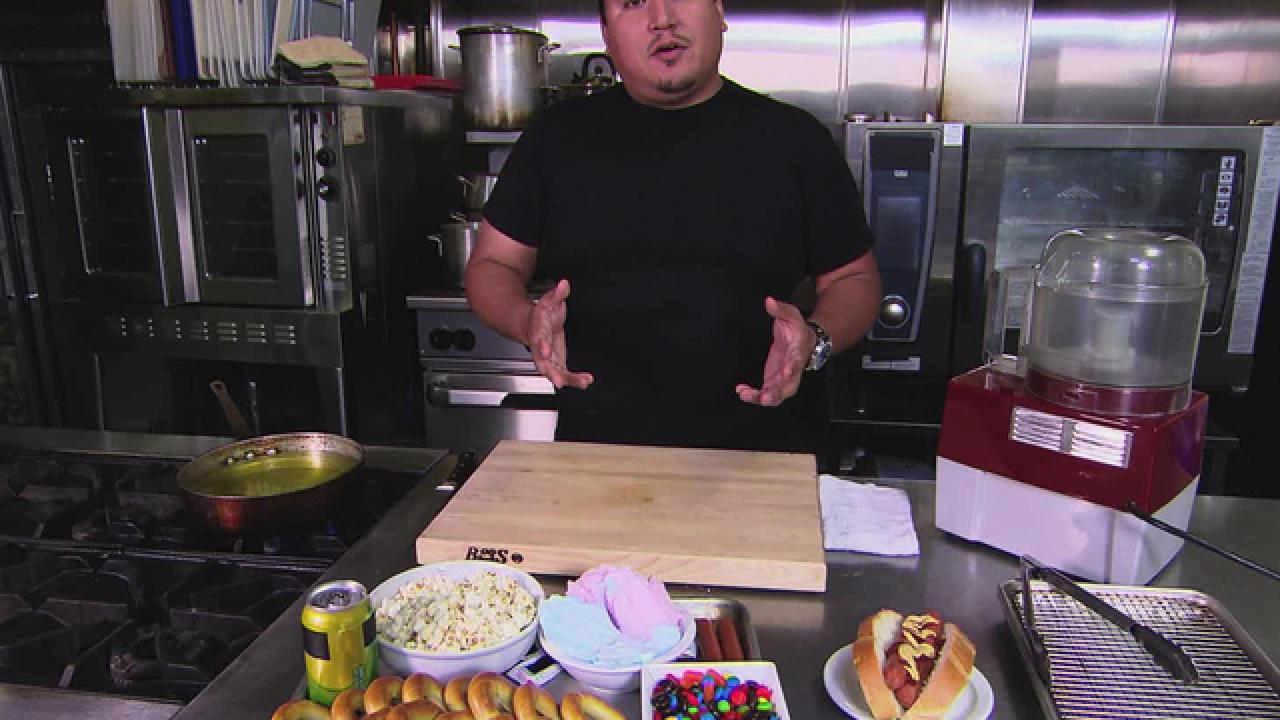 While all rounds of Cutthroat Kitchen are full of hilarious eviliciousness, tonight's all-new episode took the funny to another level when Alton Brown, ever the sabotage ringleader, revealed that the entire show was dedicated to clowning around. From a ring-of-fire sabotage to themed eats like corn dogs and funnel cake to judge Simon Majumdar's over-the-top clown getup —complete with a round red nose, of course — the name of the game was fun at the circus, though perhaps some of the magic of the spectacle was lost on the four chefs who were dealt challenge upon challenge.
In Round 1's corn dog assignment, Alton auctioned off a tray of concession-stand goodies that one chef had to use in order to make the dish. Corn dogs may seem simple, as they're made of just two components — the corn-flavored batter and the hot dog — but with ingredients like candy, popcorn and cotton candy, this corn dog test would prove to be anything but ordinary. That's where the Cutthroat Kitchen culinary crew comes in.
This team tests each sabotage before it's auctioned off, to ensure that it is, after all, fair and doable within the allotted time. When it came to testing the corn dog-concession sabotage, food stylist Abel Gonzalez put one key product to work in his batter: lemon-lime soda. "The sugar is a plus. The carbonation is a plus," Abel explained after pouring in the drink, "so the soda's going to get to some air in there, so it's going to be a lighter, fluffier batter." After frying the corn dog and taking a few tastes, Abel approved this sabotage with a thumbs-up, saying, "I would buy this at any fair."