The Great Food Truck Race Returns for Season 6 with a Road Trip Along Route 66
The Great Food Truck Race returns for Season 6 on Aug. 23 at 9|8c.
The trucks are back! Starting Sunday, Aug. 23 at 9|8c, The Great Food Truck Race will begin its sixth season in Santa Monica as the food truck operators head out for their 2,500-mile journey along America's historic Route 66. They'll be making stops in Arizona, New Mexico, Texas, Oklahoma, Missouri and Illinois before finishing with an action-packed finale in Chicago. Host Tyler Florence will be leading the teams, this time professional food truck operators, through numerous difficult challenges geared at testing their resolve as a mobile business. The winning food truck team will walk away with $50,000 in cash.
This season's competitors are:
Diso's Italian Sandwich Society (Brooklyn)
GD Bro Truck (Orange Country, Calif.)
Pho Nomenal Dumplings (Raleigh, N.C.)
The Guava Tree Truck (Dallas)
Waffle Love (Provo, Utah)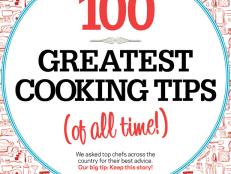 Food Network Magazine asked top chefs across the country for their best advice.