One-on-One with the Chopped Teen Tournament, Part 1 Winner
Find out which competitor earned the first spot in the Chopped Teen Tournament finale, for a chance to win $25,000.
For a second time, Chopped has returned with Teen Tournament, and on tonight's premiere, four teens entered the hallowed kitchen to try their luck at the mystery baskets. Many of them have practiced in advance, even training with their culinary instructors. But nothing could truly prepare them for the pressure and the time constraints. Nevertheless the teens took the competition in stride, and ultimately one of them rose to the top with three courses that earned a place in the finale, where he or she will compete for a chance to win the $25,000.
Appetizer: swordfish, black garlic mayonnaise, lemon leave, bear's head mushrooms
Entree: hanger steak, lollipop kale, apple crisp, spray cheese
Dessert: fruit chew candies, instant yogurt pudding, tortilla chips, blueberries
Judges: Scott Conant, Maneet Chauhan, Amanda Freitag
It was Yazmene who outdid all her competitors in each course and came out the winner. Although she plated up conflicting flavors in her appetizer round, she redeemed herself by being the only competitor to properly cook a steak in the entree round. Going into desserts, she felt very strong about her baking technique, but the pressure may have gotten to her when her custard and sponge cake didn't turn out successfully. Calling up all the lessons she learned in the kitchen from her family and her culinary instructors, along with some great intuition, helped her get through and earn a spot in the finale on Sept. 22.
Congratulations! How did it feel to win today and to know that you're going into the finale?
Yazmene: Thank you. It's very surprising. I definitely think that Anna and I both had good qualities to our plates, but I feel very accomplished and very proud of myself. And I'm very happy to be moving on and excited for the next round.
Did you do any practicing before you came on the show?
Yazmene: Yes, I did tons and tons of practicing. That's why I feel so accomplished, because I feel all the hard work I've done has paid off.
And did you prepare yourself mentally for this?
Yazmene: I believe so. I definitely think fast. I think that's my biggest strength: I'm good with thinking fast and improvising, so that helped me a lot.
You had that photo of your grandfather with you today. Do you think that was helping you a little bit?
Yazmene: I definitely think so. I definitely think he was up there watching me, and he definitely protected me throughout the whole round and his little voice in the back of my head talking to me. ... He helped me focus a lot.
How different was it competing on Chopped than watching it on TV? Was it everything you had imagined?
Yazmene: When you watch TV the 30 minutes seems like forever, but when you're actually competing, 30 minutes feels like 10 minutes and you don't even have time to think — you just have to knock it out of the ballpark.
David Lang, 2015, Television Food Network, G.P. All Rights Reserved.
What was the hardest basket for you today?
Yazmene: Dessert. Having those tortilla chips and the skittles threw me off because they are completely different aspects, but I got through it.
And you had a fire going on your station.
Yazmene: Yeah ... that was nerve-racking. [laughs]
What was going through your mind when the sponge cake wasn't turning out as you had hoped?
Yazmene: I was so frustrated, because I practiced sponge cake so many times, and I was going to be really upset if the sponge cake was what made me lose, because I've practiced it — again — so many times. So I didn't know why I didn't perfect it. But I just wanted to get everything on the plate, so I just did what I could with what I had and put it on the plate.
David Lang, 2015, Television Food Network, G.P. All Rights Reserved.
Scott called your appetizer a contemplated dish — something that made him think a lot. But he seemed caught off-guard by the Southwestern theme and balsamic vinegar you used. Do you think the competing ingredients caught the judges off-guard? What was your intention with using those kinds of ingredients?
Yazmene: Every time I make mushrooms I always, always use balsamic vinegar. I just think it's a good element to the mushrooms, and so I didn't really think, "OK, Southwestern, balsamic." I just said, "Mushrooms, balsamic, fish — I'm going do this Southwestern style." So, I mean, it was good criticism, because now I know, when I do compete in the finale ... that it didn't go well together.
Throughout the round, Scott gave you a lot of pointers, like why not to use raw spices, and after the dessert course he got into the correct way to make a custard. How did you take that feedback from him?
Yazmene: I never made a custard the way he said, but obviously he knows more than I [do] so I definitely took it into consideration, and I am thankful that he did tell me all those [things] because now if I were to make a custard, or I was to dust [the plate using spices], I wouldn't do it, because I know that that's not professional and that's not the way the chefs would do it. So now I've definitely learned from it and it's like making a mistake and learning from it.
During the judging for the entree course you said that you never cooked hanger steak or kale, and that you didn't have much experience cooking quinoa. But that's actually an ingredient you brought to the dish, unlike the other two, which were required ingredients. So what made you take that risk of working with something else you weren't so familiar with?
Yazmene: I've worked with the quinoa once before ... but it was very quick. And my Chopped instructors gave me a secret ingredient basket and they threw it in there, so I had no idea what it was. So [in the pantry] I saw lentils and quinoa and I was like: "You know what, I might as well just go with the quinoa. It's easy to cook." ... [I decided to] just saute it up the way I did the last time and use the first thing that came to mind: "OK, well, I had this ingredient, the lollipop, kale, and so I'm just going to throw it in with the quinoa and saute it up so that the flavor is there instead of it just being plain old quinoa and tasting weird."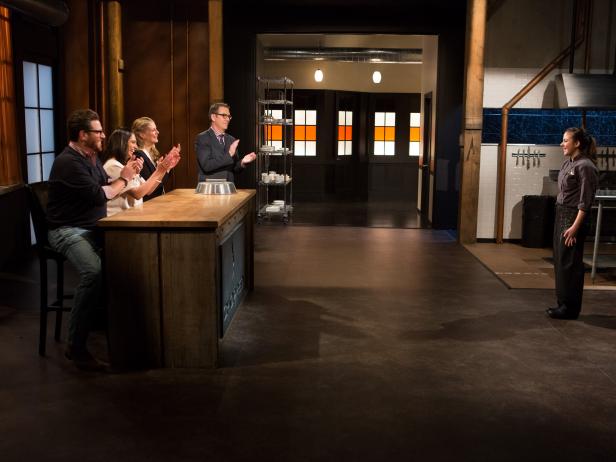 16 year old Yazmene Kaylani stands in front of Chopped host Ted Allen and judges: Scott Conant, Maneet Chauhan and Amanda Freitag moments after finding out she has become a Chopped Champion and will receive the first spot in the $25,000 tournament for Chopped Teen Week $25,000 tournament, as seen on Food Network's Chopped, Season 25.
David Lang, 2015, Television Food Network, G.P. All Rights Reserved.
Do you have any strategy going into the finale? Is there anything you want to practice beforehand?
Yazmene: I definitely want to work on my dessert. I thought I had it, but I guess not so. I need to improve that, bigtime. And using more salt — I definitely want to use more salt next time so that way the flavor is all there.
Did you think you would make it this far in the first round?
Yazmene: I was a little iffy with some of the meals I had made. I was just, you know, "OK, maybe I'll get chopped, maybe I won't." But then I just kept going and once I got to the dessert [round] I was like: "I have to win. I have to win. I can't get this far and not win."
What do you think your friends and family will say when they see this on TV?
Yazmene: I think they are going to be extremely proud of me, extremely happy for me, and I definitely think they're going to be surprised to know that I'm the winner.
You mentioned you really want to be a role model for your little brother. What do you think he'll say when he sees you on TV?
Yazmene: I definitely think he will be very proud of me, and it will make him want to continue in my footsteps and push himself even farther to cook and like to be in the kitchen.
Tune in for Part 2 of the Chopped Teen Tournament on Tuesday at 10|9c.