One-on-One with the Chopped Teen Tournament, Part 4 Winner
Read the interview with the Part 4 winner of Chopped Teen Tournament.
On tonight's fourth installment of the five-part Chopped Teen Tournament, four teens entered the hallowed kitchen to try their luck at the mystery baskets. Many of them have practiced in advance, even training with culinary instructors. But nothing could truly prepare them for the pressure and the time constraints. Nevertheless, the teens took the competition in stride, and ultimately one of them rose to the top with three courses that earned a place in the finale, where he or she will compete for a chance to win the $25,000.
Appetizer: spicy Italian sausage, white asparagus, habanero peppers, soup dumplings
Entree: veal chops, heirloom tomatoes, glazed doughnuts, Swiss chard
Dessert: Flame grapes, peanut-and-caramel candy bars, Greek yogurt, mango nectar
Judges: Scott Conant, Alex Guarnaschelli, Chris Santos
To succeed at Chopped, one must figure out the mysteries of the baskets, much like assembling a puzzle: When everything fits, it's an achievement. It's rare that a competitor can do that, but tonight Veronica put all of the pieces together. In the appetizer round, she saw the potential for a Mexican dish. In the entree round, she saw a classic Italian dish. And in the dessert round, she saw an opportunity to show off her skills by baking and making ice cream — two feats that most professional competitors on Chopped can't achieve. By no means were her dishes flawless, but her three courses proved she has a deft hand at turning disparate ingredients into harmonious plates, and it earned her the final spot in the finale on Sept. 22.
Veronica: It hasn't registered yet, because I was so depressed during the round that I thought I was going to get chopped during the dessert and the entree, but tomorrow morning I'll wake up and be like: "What? Did I — did I actually win?" And then I'll see the show and I'll be like, "That's me on the screen!" It's going to be so overwhelming and so fun.
Did you practice before coming on the show?
Veronica: I practiced a lot. So, I wrote down a bunch of different foods we had in our pantry and fridge on pieces of paper and mixed them up in a bowl — picked four. My mom said "dessert," "entree" or "appetizer." I said, "OK, set the timer" — went. So, that's how I practiced.
Was there anything different about actually competing than what you might have imagined or what you've seen on TV?
Veronica: The studio itself was smaller than I expected. And competing, I thought it was going to be nerve-racking the whole time: that cameramen were going to be in the way, that judges were going to be, like, talking loudly, and it would be intimidating. But, no, I couldn't even hear them talking. And once Ted said, "Go," everything was relaxed and I felt like I was at home — just cooking [by] myself.
What was the hardest basket for you today?
Veronica: Entree, because there were so many setbacks and — no, actually that wasn't hard because I knew exactly what I wanted to do with the veal [and] all of the basket ingredients. And Scott said I mastered it perfectly, but I just went crazy — I got too cocky. I'm like: "This is a great basket. I'm doing well." And I just started throwing salt everywhere and I didn't watch myself, so that's my major setback today.
David Lang, 2015, Television Food Network, G.P. All Rights Reserved.
When it came to your appetizer, the judges loved it, but then the tortilla. How did you decide to come up with the taco, and what prevented you from getting the tortilla warm or toasted?
Veronica: I saw the sausage and the peppers and I immediately thought Mexican, but I didn't hear them say sweet Italian Sausage, because I was so nervous. I wasn't listening, and I was like, "sausage, peppers — taco!" And I made everything: I sauteed some onions and peppers, and then I did the sausage and then I was thinking through the whole thing, I'm like, "I'm going to toast the tortilla in some canola oil and make it nice and toasty." And then I ran out and it was, like, a minute left and I'm like, "What?" Maybe it was 5 minutes, but I couldn't think clearly and I just didn't do it — stupid of me.
In your entree round, the judges loved the tomato sauce, but they did call you out for using canned and Alex thought it was a little too sweet, and, of course, there was the high salt level, which you mentioned earlier. Do you think there was something that you could have done differently?
Veronica: Before I had the idea of doing veal Parmesan, I was going to tenderize the veal in, like, tomato for the acid, so I had already blended up all the heirloom tomatoes, which was stupid. So I'm like, "Oh, I already have all these blended up, so I'm not going to have a chunky sauce; I need some chunky tomatoes." And I didn't have time — or I didn't even register — to, like, cut fresh tomatoes. So I went and got canned, because that's what I make at home ... but it didn't work out too well.
In the dessert round, it looked like you were really upbeat. You were doing a little dance here and there, and you hugged Justin at the end. What was going through your mind after the dessert round?
Veronica: I really thought Justin had it in the bag because he told such a compelling story about his family and the cheesecakes, and the judges [were] like: "I have no comment. This is amazing." And I'm like, "Crap, they have comments about mine and I didn't connect everything well enough." And I really wanted to try the cheesecake. I'm not going to deny it. I wanted to try it so bad.
Scott mentioned that you did two things with your dessert that most competitors don't do, which is you baked and you made an ice cream. But as Alex pointed out, there wasn't a basket ingredient in the ice cream. Do you think that was the wrong move? What was your intention with the ice cream?
Veronica: With the ice cream, I think it was just like: "Oh, I'm on Chopped. I know how to make ice cream. Let's make ice cream." And I wasn't thinking about incorporating it in, and right before I put it in the ice cream machine I added the orange liqueur, because I know if you don't add liquor, it's going get ice crystal-y and it's not going to be smooth. And I'm like, "I'm going to add some mango nectar." But I didn't add enough to make it a prominent flavor, so I should have added more.
How would describe your cooking style? What kind of food do you like to make?
Veronica: I like to make healthy foods. I hate processed foods. So anything I make, I'm going to start from scratch and build it up. Like, I like to make Thanksgiving and holiday meals a lot, and instead of buying the packaged Stove Top or packaged stuff, I will make it from scratch — cut the bread myself, stale it overnight. Either everything homemade or healthy.
How did you first get interested in cooking?
Veronica: My grandma. She's Italian, and she was always cooking in the kitchen — tomato sauce or something. And whenever we were there for holidays, she'd have leftover pie crust, and so she's like, "Here's some pie crust, and you can make something with it." And I'd put cinnamon and sugar and make little cinnamon roll pie crusts, and I felt so honored when they came out of the oven. I'm like: "This is my creation. I made this." And I just loved feeling like I birthed this food. I want to do this more.
You mentioned that you want to go into the performing arts, but are you considering a career as a chef? Would it be a backup plan?
Veronica: I would definitely consider cooking as a backup plan, because I want to double major in musical theater and nutrition, so perhaps I'd incorporate nutrition and dieting with my cooking to be a personal chef for people who need diets or to create a healthy food chain or a healthy food restaurant.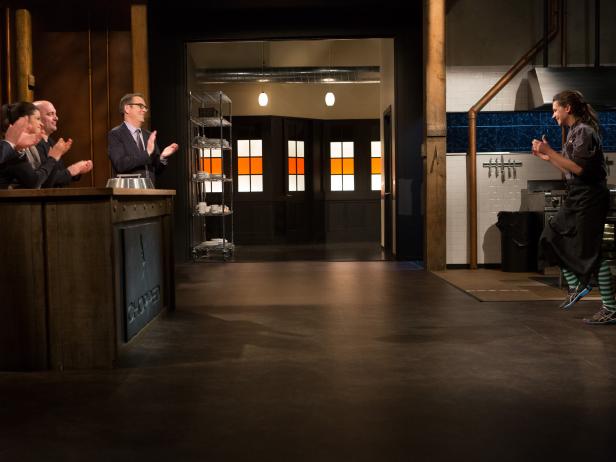 15 year old Veronica Seguin is congratulated by Chopped host Ted Allen and judges: Scott Conant, Alex Guarnaschelli and Chris Santos after becoming a Chopped Champion and won the last spot in the $25000 tournament for Chopped Teen Week $25,000 tournament, as seen on Food Network's Chopped, Season 25.
David Lang, 2015, Television Food Network, G.P. All Rights Reserved.
Thinking of the finale ahead, do you have any strategy or anything that you want to focus on? Maybe a mistake you don't want to make again?
Veronica: My major problem was oversalting and not incorporating all the basket ingredients the last round. So I'll definitely keep that in mind, incorporating everything and tying everything together. And I'm not overseasoning. I'm not getting too caught up in my ideas.
What do you think your friends and family will say when they see you competing on TV?
Veronica: They believed in me, but it's always in the back of people's mind — that doubt — like, "Eh, I don't think she's good enough." But they're going to be so happy, nevertheless. They're going to be like: "You actually won. You actually made it to the dessert round."
Tune in for the finale of Chopped Teen Tournament on Tuesday at 10|9c.