Anne Burrell Has Done It Again: How She Mentored a Worst Cooks Recruit to Red Team Victory
Hear from Anne Burrell, who took home another Red Team win after her recruit Jenni "JWoww" Farley earned victory on Worst Cooks in America.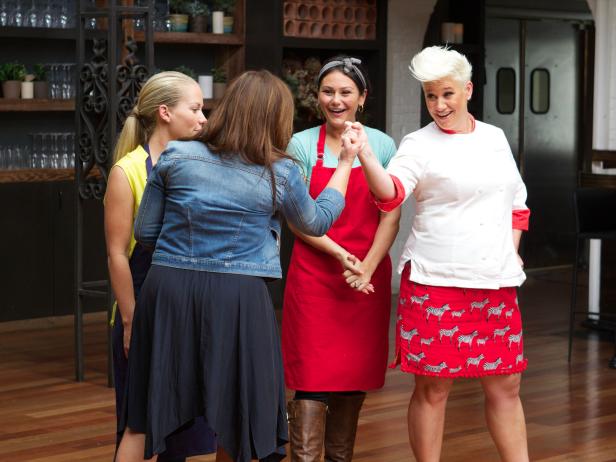 Rachael Ray (L), celebrity-recruit Kendra Wilkinson, celebrity-recruit Jenni Farley and chef Anne Burrell react as Jenni Farley is announced to be the winner as seen on the judging of the final challenge, a three course meal, as seen on Food Network's Worst Cooks In America: Celebrity Edition, Season 7.
Anders Krusberg, 2015, Television Food Network, G.P. All Rights Reserved
Fresh off her Worst Cooks in America, Season 6 win not even one year ago, Anne Burrell has done it again: She successfully mentored a culinary novice from worst to first place. Only this time the victorious recruit wasn't a home cook; she was a bona fide A-lister. As Jenni "JWoww" Farley of The Jersey Shore successfully outcooked her finale rival, Kendra Wilkinson, she not only claimed the title of best of the worst for herself, but she also scored another Red Team victory for her mentor, Anne. FN Dish caught up with Anne recently to look back on what it took to mentor the celebrities and to chat about her secret to success after clinching five wins in just seven seasons of the Worst Cooks franchise.
What was it like competing against and working with Rachael Ray, as opposed to Tyler Florence, your regular Worst Cooks in America co-host?
Anne Burrell: It was a different ball of wax. Tyler is great, but Rachel brought a bit of levity to an already very fun and silly situation. Well, a very fun and silly and serious situation. But Rachael and I got along just so well. It was great working with another girl chef.
Did you have any preconceived notions about what these celebs would be like in the kitchen, since they are so visibly in the public eye?
AB: No, and I was nervous that there was going to be, like, a whole bunch of divas and people being like, "Ah, I'm not going to do that." But we did not have one in the bunch, and everybody really readily embraced the entire thing. It was really delightful.
In your experience, who really is a Worst Cook: a celebrity or the everyday home cooks you get on regular Worst Cooks?
AB: It doesn't matter, you know? People are uneducated cooks equally.
Think back to Day One of Boot Camp when you first saw the recruits' skills. What did you think of Jenni?
AB: Well, I had secretly hoped when I picked her for my team, but that's the way I feel about all my recruits that I pick.
What was your proudest moment as a mentor this season?
AB: Well, I mean, I feel every season the same sort of sense of, like, I feel like a proud Mama every time when I see my recruits do well and blossom. And when it gets to the finale, I'm kind of like, alright, you know, when it's the actual day of I'm kind of like, alright, my work is done. We've gone as far as we can go together; now I tell them just relax and have fun, and that is the most-important thing.
What do you think was Jenni's greatest strength that ultimately led to her win?
AB: She had, like, laser focus when she actually really put her mind to it. She zeroed in on what she wanted to get and she was like a ninja getting it.
Many of the recipes you taught the recruits — the stir-fry, the pasta from scratch — they're not the most-basic, really straightforward recipes. Do you find that helps them learn faster, not babying them, but really challenging them to be better and do more?
AB: I definitely think that when you put a challenge in front of someone, you see what they can do to live up to that challenge. Absolutely. We were right there kind of teaching them the whole way, so it was a very intense culinary education, and I feel like if you give someone something easy or hard, but you're right there with them kind of nurturing them along the way, then they can do it.
Your Red Team is going very strong! What's your secret as a teacher?
AB: I like to think it's just [that] I like to have a really personal connection with my recruits so they know that ultimately I super care about them — and that they learn. To me it's not so much about me winning, because when my recruits learn, whether they win the entire thing or not, if they win and have a good time doing it, and have stuff that they remember and can reproduce at home, then I win.
When Jenni was going to cook lobster in the finale, you allowed her to cook crab instead of lobster. At what point did you think it was time to give in?
AB: I definitely gave in and I'm surprised at myself that I did that. But when I saw how truly upset she was — a lot of people are like: "Eh, eh, no, I can't do it. I can't do it!" But she really, I felt like it was truly in her soul that she couldn't do it. She didn't want to do it. And I didn't want this to be anything traumatic for her. I mean, it's already a stressful enough situation, so I was like, alright, yeah, let's just switch it up and have it be, instead of a terrorizing experience, have it be a really fun one.