What Happens When Princess Leia and Dr. Evil Join Forces — Alton's After-Show
Check out Alton and Simon in their Halloween costumes for tonight's brand-new themed episode of Cutthroat Kitchen.
We're sorry, there seems to be an issue playing this video. Please refresh the page or try again in a moment. If you continue to have issues, please contact us here.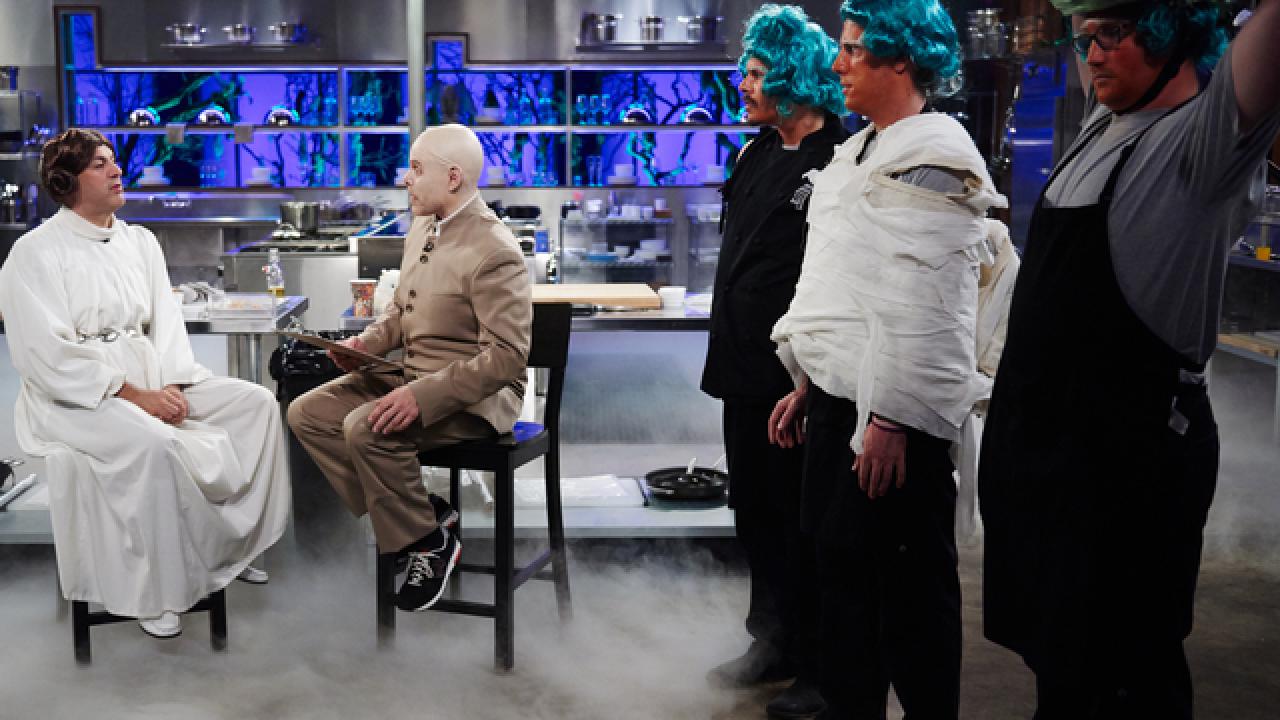 If the over-the-top outdoorsy sabotages that Alton Brown recently unveiled at Camp Cutthroat are any indication, the host's devotion to eviliciousness knows no bounds, and he's not one to shy away from a theme. And it's a good thing that's the case, because on tonight's special Halloween episode of Cutthroat Kitchen, he answered the call of fright-night duty by dressing up as none other than Dr. Evil, complete with a bald cap and a telling facial scar. Simon Majumdar, who — like Alton — will stop at nothing for the betterment of the show, donned a series of getups, including a pink-lipped Princess Leia costume, which he showed off on Alton's After-Show. The duo looked back on the most-haunting Halloween-themed sabotages of the day, from chainsawed sandwich wraps to a time-sucking coffin.
"It was a coffin break, Simon," Alton told the judge of the Round 2 midround challenge as the crew rolled out the coffin. "The Bobs are awakening," Simon noted, looking into the coffin as a wigged Bob waved back at him. But not long after the Bob was revealed did Alton slam the top of the coffin upon him, and Simon learned that Chef Adia was forced to spend a spooky five minutes inside that coffin. No matter her lost time, though, Chef Adia ultimately proved her scary-good sabotage prowess by surviving the challenges and earning evilicious glory.
Click the play button on the video above to see Alton and Simon in costume, and watch as Alton finally tore into his bald camp at the end of filming.