One-on-One with the Runner-Up of Worst Cooks in America: Celebrity Edition
Get the interview with the runner-up celebrity recruit from Season 7 of Worst Cooks in America: Celebrity Edition.
Anders Krusberg, 2015, Television Food Network, G.P. All Rights Reserved
This season on Worst Cooks in America, seven celebrity recruits signed up to be whipped into shape by mentors Anne Burrell and Rachael Ray. But each week one recruit was sent home until only two remained to face off in the final challenge, a three-course restaurant meal presented in front of three culinary experts. The fates of the Blue Team's Kendra and the Red Team's Jenni were left up to those judges, and in the finale, one recruit was announced the winner of $50,000 for charity and declared no longer a worst cook in America. FN Dish has the exclusive interview with the runner-up.
When it came to the final day in Boot Camp, both celebrity recruits had very few issues learning their dishes from their mentors. Kendra, however, had a tougher time grasping the recipes. The following day at The Milling Room in New York City, Jenni was better able to find a groove, whereas Kendra struggled with her time management. At elimination time, all three judges — Madison Cowan, Ross Matthews and Jamie Bissonnette — agreed that it came down to flavor versus level of difficulty, and in the end they chose the Red Team's Jenni as the winner of Worst Cooks in America. Although Kendra didn't win the title, she, too, leaves a better cook than she came in, and she earned $5,000 for her charity, The Oasis Children's Advocacy Center.
How was the practice cook for you yesterday? How were you feeling?
Kendra Wilkinson: Yesterday during the practice cook ... it just seemed like ... my brain [was] in a Crock-Pot ... just melting away mixed with gravy and everything else. ... I felt my head was about to explode with so much information. ... Instead of seeing just the simple picture of what the ... meal was going to be, I [was] looking at every single detail, and every single ingredient, and that's what freaked me out the most and made my head spin.
Is there any one technique in particular that you were having a little trouble with?
KW: With these three-course meals that I put together ... it wasn't hard. It just came down to the timing and the pressure ... being comfortable and having someone telling you how to do things the way they would, and then you doing this on their time. I mean, you just get flustered, and, you know, it's hard to go with your instincts, because you're actually running off someone else's.
This morning before you were getting ready for the final cook, what sort of things were running through your mind? What was your mindset?
KW: Today, before the cook-off, I just pretty much let everything go and just [kind of] breathed and said, "It is what it is." I mean, of course, it's nerve-racking. I'm nervous. ... The main thing is ... I want the money for the charity, but at the end of the day, I want to impress Rachael Ray.
How did the cooking go for you today? Did you feel you had any hang-ups?
KW: There were a couple things that went wrong today during the finals. I got burned by the oil dropping in the veal. And then I think just oversalting something and putting too much lemon in a thing ... . Plating my pasta was probably the miss for me, because it wasn't nicely done.
Did you have any moments where you second-guessed yourself?
KW: There was a big moment where I second-guessed myself. I practiced the second course, which was the pasta, with regular spaghetti noodles, and at the last minute I changed my mind and used a penne pasta that I didn't practice with. So, when I went to taste the penne, it had spice in the pasta, and I wasn't prepared for [that]. ... The reason why I second-guessed myself is because I went to a really fancy place the other night, and I saw that they served penne pasta ... and so [I thought] ... "What am I doing making spaghetti? That's like more of a main course." So I switched it to penne.
What was the dish that you were most proud of?
KW: The dish I was most proud of was definitely the veal. I knocked that one out of the park. That one looked great, had everything on the plate perfectly. And, you know, you can't go wrong with that dish.
Do you think you'd make any of them when you get home?
KW: Oh, I am for sure making all of them. I mean, I'm not a veal person, you know, I am an animal lover, so working with veal was definitely something that will be ... the last time I use that, but, you know, we are meat eaters, so ... I'll definitely be making something similar to that. ... Making fresh pasta is the first thing I'll be doing when I go home, because I have a young daughter, and she'll be able to chew it and [it won't be] .... hard or anything. ... I nailed it with the freshly made pasta, so ... that'll be my go-to at home.
Thinking back on the entire competition, is there something you feel you walk away with, maybe a sense of accomplishment or something you've learned about yourself?
KW: Yeah. I mean before entering this whole competition, I'm like, there's no way. I have zero interest in this cooking world. I think it's all BS. You know, it's a waste of time. You know, I eat on the go. What's the point of cooking when you have screaming kids? ... But coming out of it, I see it completely differently now, because of Rachael and her experience with her mom giving her all these amazing memories. I actually want to do the same for my kids, and give them memories, and give them freshly made food, and provide them with healthy options.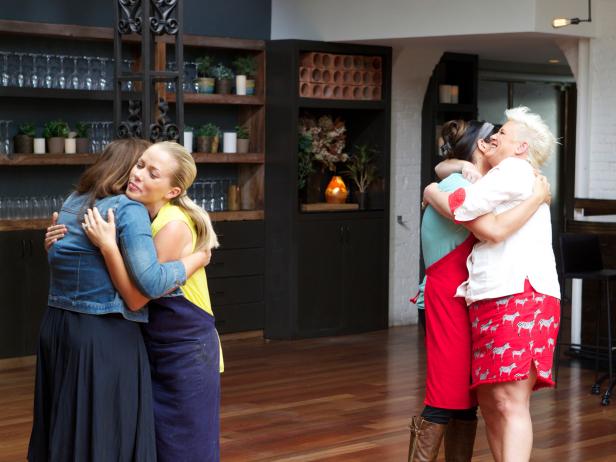 Rachael Ray (L), celebrity-recruit Kendra Wilkinson, celebrity-recruit Jenni Farley and chef Anne Burrell react as Jenni Farley is announced to be the winner as seen on the judging of the final challenge, a three course meal, as seen on Food Network's Worst Cooks In America: Celebrity Edition, Season 7.
Anders Krusberg, 2015, Television Food Network, G.P. All Rights Reserved
It sounds like you had a great experience with Rachael as your mentor. How was it working with her? Do you have a top lesson you learned from her?
KW: Rachael Ray is Rachael Ray. She is a legend. She's an icon. She is an American hero, including mine. Again, I'm not in the cooking world, but I'm a huge fan of hers, and I do watch her, because ... she gives me hope that I could enter that world. So, here I am working face to face with her, one-on-one. ... I mean, she really taught me everything to do with cooking ... everything from holding a knife ... [to] using fresh herbs ... and not going to the jarred garlic all the time. ... [She's] a ball of knowledge, and she definitely taught me everything that I need to know.
What was the camaraderie like working with all of the other celebs? It looks like some of you guys really got close.
KW: I loved working with all the celebrities. ... I'm used to dramatic reality television. So coming into this ... with the other celebrities ... was just the funnest [and] the best reality TV I've done so far. I mean, no drama. It was all fun, and we all got along, laughed a lot. ... It was almost like therapy ... thinking about cooking and not thinking about anything else that's happened in the world.
Do you think you'll be doing more cooking after this?
I will be doing more cooking after this. ... I never let anything go. ... I look at everything like an experience. ... I'm a person that loves to grow and learn. I hate feeling stuck in one place, so this is definitely a skill I'll be taking with me and growing on.
Think back to Day One. Did you ever think you'd make it to the finale and to the runner-up position?
KW: I never thought I would make it to the finale. It was such a long shot for me. I didn't even know how to make a grilled cheese, and here I am at the finale. I learned a lot, and thankfully I just snuck my way on through.