Melts in Your Mouth, Not in Your Hands — Chopped After Hours
Catch an all-new episode of Chopped After Hours, where the judges cook with mystery basket ingredients from the show.
We're sorry, there seems to be an issue playing this video. Please refresh the page or try again in a moment. If you continue to have issues, please contact us here.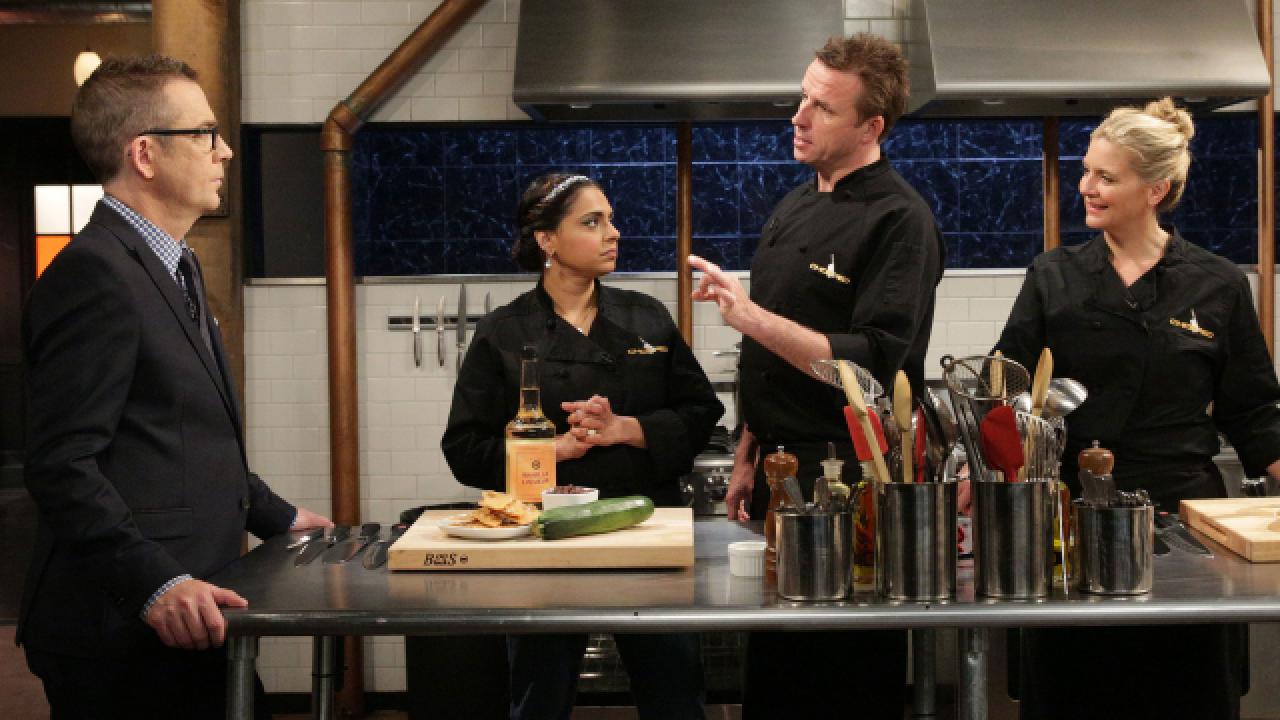 Todd Plitt, 2015, Television Food Network, G.P. All Rights Reserved
The dessert basket in the Cooking with Bass episode of Chopped may seem like a great start to dessert, but judges Amanda Freitag, Maneet Chauhan and Marc Murphy aren't too enthusiastic. On a new Chopped After Hours, they must cook a final course using zucchini, chocolate-covered raisins, peanut brittle and vanilla liqueur. "What's the first initial problem with all of this?" Ted Allen asks. "Too sweet!" the judges reply unanimously.
They all realize the zucchini is going to be their saving grace when it comes to toning down the sweetness. Marc points out that you can make a zucchini cake just as easily as you can make a carrot cake, to which Maneet replies, "You can — 'cause that's exactly what I'm going to do!" They all get off to a quick start, with Marc whisking up a batter for zucchini fritters. Amanda doesn't want to give away her dish, so she just shouts, "I'm making a cake — that's all you need to know!"
With almost half the time gone, Marc comes to a worrying conclusion. "What is this chocolate they make these raisins with?" he asks. "The chocolate covered raisins are coated in a chocolate that's designed not to melt in your hand when you're in the movies," Ted points out. "So I have to put them all in my mouth and baby-bird them onto the plate?" Amanda asks. "Okay, I'm not tasting that!" Maneet says back. A few minutes later, everyone starts noticing that someone has taken all of the plates from the kitchen. Marc stands back unassumingly and says, "I got my plates. I don't know what everybody's screaming about."
Click the play button on the video above to watch the entire After Hours episode and see the dishes Amanda, Maneet and Marc created.
Start a conversation with fellow fans and tell FN Dish in the comments below how you would have approached this basket: What would you make out of zucchini, chocolate-covered raisins, peanut brittle and vanilla liqueur?