When Things Go Up in Smoke, Try, Try Again — Chopped After Hours
Catch an all-new episode of Chopped After Hours, where the judges cook with mystery basket ingredients from the show.
We're sorry, there seems to be an issue playing this video. Please refresh the page or try again in a moment. If you continue to have issues, please contact us here.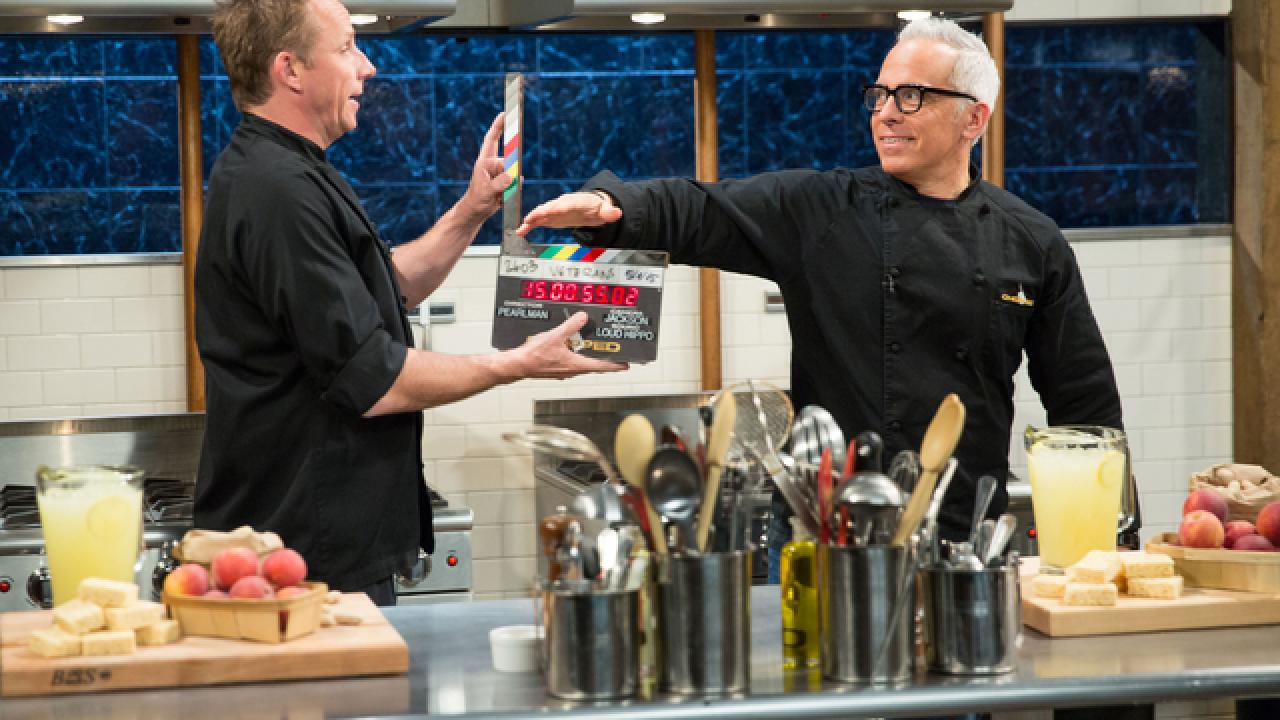 While it's almost always difficult to make a cohesive meal from one of the Chopped mystery baskets, the judges were thankful that this week's ingredients were all usual suspects for a dessert. After a group of talented military vets left the kitchen, judges Alex Guarnaschelli, Geoffrey Zakarian and Marc Murphy attempted to make a third course out of lemonade, ballpark peanuts, marshmallow cereal treats and peaches on an all-new Chopped After Hours.
Alex mentioned that she was glad they left the peanuts in the shell for an extra layer of flavor, but Marc immediately disagreed. "I like the peanuts with the shell, too, but not on Chopped," he said before pointing out how much time they take to shuck. He ended up attempting to make a sort of brittle out of them, which became the source of a fun game of hide-and-seek between Marc and the others. "Somebody evil has hid Marc's, hopefully, peanut brittle from him, and now I'm going to join that game and I'm putting it on a high shelf in the pantry," Ted said.
With less than 10 minutes to go, Alex's plan started to go up in flames. "Literally everything I make is burning," she said as she started over on caramelizing the peaches. Ted noticed something else on her station burning while she was at the fridge, so she essentially started over completely with about five minutes on the clock. Time was of no concern to Marc, though, who was still brainstorming. "I think I might do a little jalapeno-infused lemon," he said. Geoffrey also used every second, creating a cocktail for each of them before time was called.
Click the play button on the video above to watch the entire After Hours episode and see the dishes Marc, Alex and Geoffrey created. Then browse behind-the-scenes images for an insider's look at the cooking.
Start a conversation with fellow fans by telling FN Dish in the comments below how you would have approached this basket: What would you make out of lemonade, ballpark peanuts, marshmallow cereal treats and peaches?
Catch up on past Chopped After Hours episodes by watching all of the Web-exclusive battles online.