"Richard Actually Got All of My Best Sabotages" — Alton's After-Show
Alton and Simon look back at the first round of the Cutthroat Kitchen: Superstar Sabotage tournament with that heat's victor, Richard Blais.
We're sorry, there seems to be an issue playing this video. Please refresh the page or try again in a moment. If you continue to have issues, please contact us here.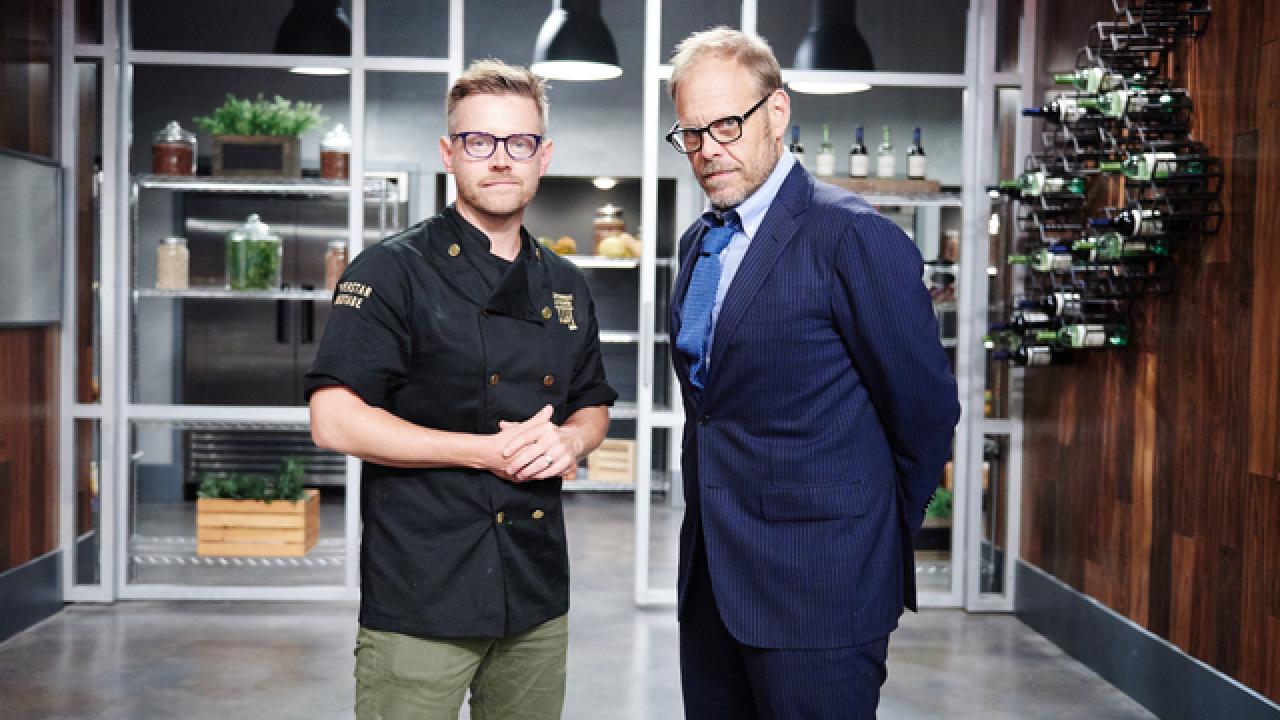 The second-ever Superstar Sabotage tournament kicked off in the Cutthroat Kitchen arena last night, and in true evilicious fashion, host Alton Brown held nothing back in the way of diabolical challenges for the first lot of A-list chefs to do battle. Richard Blais, normally a judge on Guy's Grocery Games, was one of the chefs competing for Cutthroat glory last night — and indeed he achieved it, but not without perhaps more than his share of sabotages. "Richard actually got all of my best sabotages," Alton told Simon Majumdar, who joined the host and Richard on the After-Show for a look back at Richard's road to victory.
Simon, always game to attempt the sabotages himself, walked on set in full body armor so he could begin to understand just what Richard endured in the first round's English-breakfast test. "It gets hot in there," Richard told Simon, who also saw firsthand the limited ingredients available to Richard when he was saddled with yet another English-breakfast sabotage: a mandate to use only the items set up on an English breakfast table. "Very rarely does someone in the first round with two sabotages survive," said Alton to Richard, who agreed that it came down to "absolutely survival."
As the guys looked back on the rest of Richard's evilicious gifts, Simon donned yet another prop, this time the lit halo that Richard wore in Round 3's angel food cake cook-off. Thanks to his clever thinking, Richard avoided much of the challenge of awkwardly whisking atop his head; as he explained, "I made a siphon cake, so I didn't really have to whisk my eggs too much up there." As he's judged countless episodes of Cutthroat Kitchen by now, Simon knows how critical it is to think beyond the sabotage at hand, and he noted of Richard's pick of the siphon, "Not enough people use that tool in the kitchen."
Click the play button on the video above to hear more from Alton, Richard and Simon, and find out how Richard is feeling as he looks ahead to the finale battle.