Potato Pancakes, 2 at a Time — Alton's After-Show
Watch Food Network's Cutthroat Kitchen: Alton's After-Show hosted by Alton Brown.
We're sorry, there seems to be an issue playing this video. Please refresh the page or try again in a moment. If you continue to have issues, please contact us here.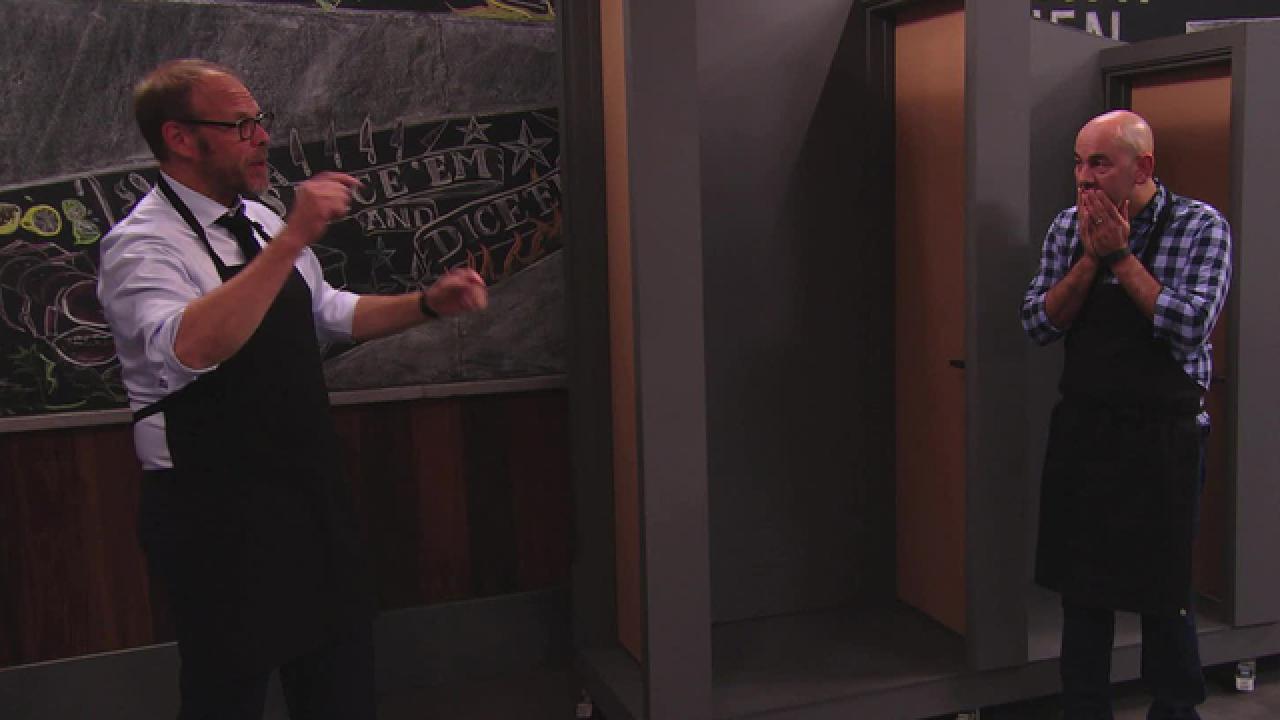 Surviving Cutthroat Kitchen is tricky enough for a chef who's trying to manage his or her own lot of eviliciousness, but when a particularly diabolical challenge requires two chefs to work together in the hopes of surviving, the feelings of doom in the arena only increase. Such a scene unfolded during tonight's all-new episode, and during the After-Show later on, host Alton Brown revealed what he deemed a challenge diabolical enough for the ages. "This is probably [among the] top 10 sabotages of all time," he told Simon Majumdar, the judge of the day, while revealing a pair of wraparound bars that forced chefs Betty and Michael to work in tandem while making tandoori chicken.
"As you dose out the pain of sending people home, I figured that it would be good for you to kind of get an idea of what this felt like," Alton explained to Simon as the guys attempted to settle into this oddball contraption. Though they didn't have to attempt tandoori chicken on the After-Show, Alton and Simon indeed tried their (tied) hands at potato pancake prep work. After a few initial fumbles, the host and judge found their rhythm, and Simon couldn't help but wonder about the chefs who had to endure this sabotage. "We're grating, so that's easy peasy, lemon squeezy," he said. "But what were they doing?" Alton explained that the competitors had a few more tasks at hand, like "trying to cut chicken and make all their seasonings and mix up everything that they needed." As for the host, he could only somewhat describe how such an experience felt as he endured it. "It's kind of like you're being a puppet and not being a puppet," Alton said.
Click the play button on the video above to hear more from Alton and Simon, and watch them attempt this challenge with hilarious results.