Inside Santa's Mischievous Workshop — Alton's After-Show
Watch Food Network's Cutthroat Kitchen: Alton's After-Show hosted by Alton Brown.
We're sorry, there seems to be an issue playing this video. Please refresh the page or try again in a moment. If you continue to have issues, please contact us here.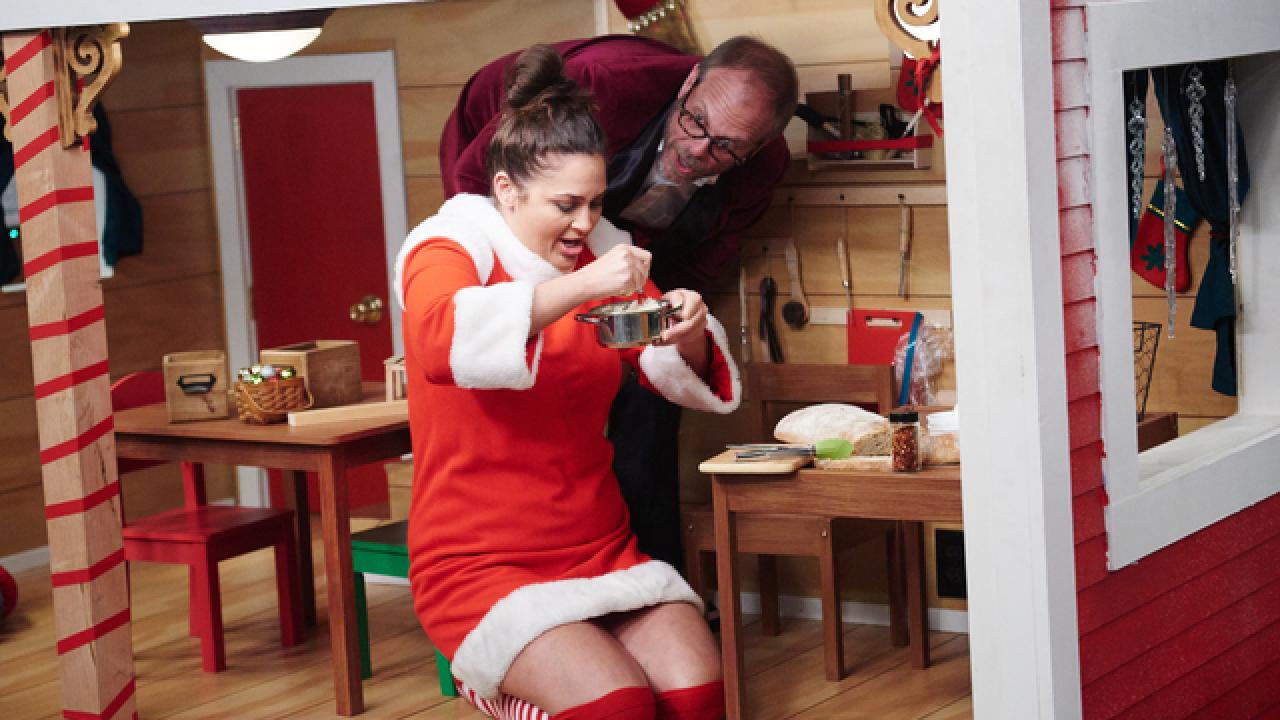 In tonight's brand-new seasonal special, host Alton Brown decked the diabolical halls of the Cutthroat Kitchen arena with a holiday-themed Naughty vs. Nice battle. Of course no celebration of the season is complete without Santa Claus — and with that, a peek inside Santa's workshop. Chef Jackie got an up-close and personal look at this miniature house when forced to make a snack for Santa, and so too did judge Antonia Lofaso when Alton challenged her to make a dip in the same space on the After-Show. The catch for Antonia? She had to harvest all of her ingredients from the doors of an advent calendar, which Chef Jackie also had to do, thanks to a double sabotage in Round 3.
It didn't take long for Chef Antonia to realize the limitations — and potential hazards — of Santa's tiny workshop. "I'm totally going to hit my head — ow!" she exclaimed. After discovering the first set of ingredients, which included mascarpone and ciabatta, in doors one through five, Antonia got to work on a crostini-and-dip plate; ultimately she made do with little else, as many of the remaining doors provided her with seemingly useless goods, like fortune cookies and pineapples. "I'm feeling good about this now," Antonia said as she kneeled down in the prep area of the workshop and got to work.
Click the play button on the video above to see Antonia's finished dish up close, and get an insider's look at Santa's mischievous workshop.