Ted Allen Is Working Late on Cutthroat Kitchen — Alton's After-Show
Watch Food Network's Cutthroat Kitchen: Alton's After-Show hosted by Alton Brown.
We're sorry, there seems to be an issue playing this video. Please refresh the page or try again in a moment. If you continue to have issues, please contact us here.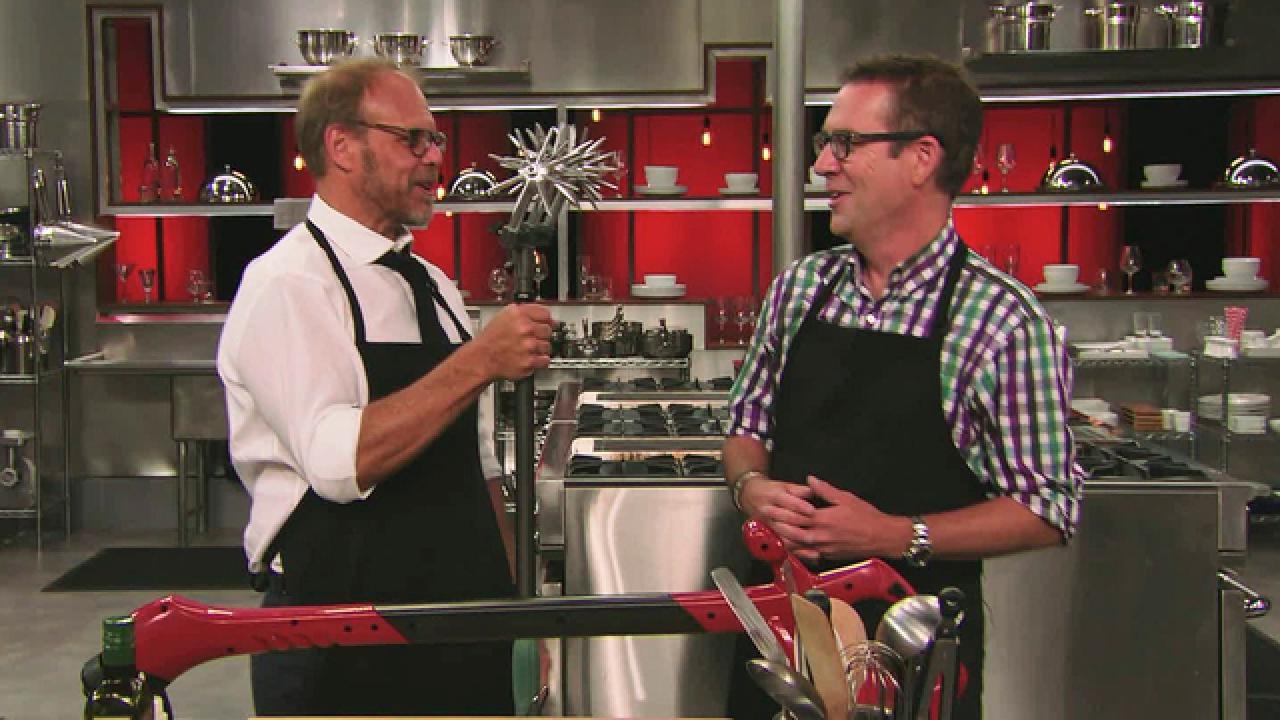 Fresh off the chopping block, Ted Allen joined the ranks of eviliciousness tonight when he stopped by for his first-ever turn as a Cutthroat Kitchen guest judge. The Chopped judge is used to watching chef competitors try their hands at downright oddball ingredients in their mystery baskets, but on Cutthroat Kitchen, he had no knowledge of chefs' struggles with sabotages — until he experienced them for himself on the After-Show.
Alton Brown and Ted faced off in prepping — what else but — a chopped salad, which was the Round 1 dish of the day. And in true evilicious fashion, they could use only garden tools for their utensils. "Oh, no. Oh, no," Ted said as he learned of the sabotage. He ultimately chose to work with the weed whacker in his mini battle with Alton, who was left to use a tiller to prep his salad. "Look at that. That's gorgeous," Ted proclaimed after successfully shredding lettuce with the weed whacker, though he found out later that the device "doesn't work as well on the cucumber." He admitted, "I don't think I'm going to get an A+ in weed-whacker knife skills on that one." Though Alton appeared to struggle a bit when it came time to chop a red pepper, he managed to serve a completed salad to a Bob, all while Ted was still working his way through ingredients.
"Am I taking too long?" Ted wondered. "I'm still in prep work." It turns out that Ted indeed exceeded the allotted time to finish his salad, as he was soon left alone in the dark kitchen at the end of the day. "Dude, are you still here? We shut down awhile go," Alton told him.
Click the play button on the video above to watch Ted and Alton's salad escapades unfold, and see what happened when Ted was caught working late.