One-on-One with the Latest Recruit Eliminated from the Blue Team — Worst Cooks in America
Find out which recruit was eliminated from the Blue Team on Worst Cooks in America, Season 8.
This season on Worst Cooks in America, 14 new hapless home cooks have joined the ranks to be mentored by chefs Tyler Florence and Anne Burrell. Split into the Blue Team and the Red Team, the recruits face new cooking challenges every week, gathering new cooking skills until just two finalists remain to face off in the last cook-off. That winner will walk away with $25,000 in cash, and his or her mentor will win bragging rights. Unfortunately, every week the two lowest-scoring recruits will be kicked out of Boot Camp. They lose the chance to win the prize money, but they leave with new skills learned from their mentors.
Every Sunday night, FN Dish has the exclusive interviews with the eliminated recruits, one from the Red Team and one from the Blue Team.
With the competition down to just two recruits per team, it was up to each mentor to make the decision of which one to keep for the finale. But first a few challenges would further test the recruits' viability. In this week's Skill Drill challenge, the recruits had to work with their teammates on a recipe reversal, cooking without a recipe. On the Blue Team, Ginny and her false confidence may have led to her and Lawrence missing a few very important details in the dish, and Tyler didn't hold back on berating Ginny for it. For the Main Dish challenge the recruits were surprised by visits from their loved ones, who were on hand to blind-judge the dishes. Although Ginny's paella looked successful, she did not successfully cook the rice in time. And at elimination time, Tyler decided to move forward with Lawrence, sending Ginny home.
Why did you decide to sign up for Boot Camp, and what did it mean for you to come here?
Ginny Meerman: Well, for me, signing up for Boot Camp wasn't entirely my idea. It started with my sons and my boyfriend. ... I always thought I could cook pretty good ... but apparently I can't, or I couldn't. So I guess, you know, my son and Rich put it out there, "Hey, you know, why don't you go on this show?" And I'm thinking: "OK, I mean, what could be the worst thing that could happen? I could learn how to cook." ... So, I just came here, sort of raw, wanting to learn how to cook, because there are two reasons. You know, I'm 50 years old. I'm sort of beginning the second half of my life, supposed to be the best part. I'm divorced now two years, and I had this dream of sort of being independent and doing things for myself, and I wanted something, like a little cafe. ... Well, my sons are like, "Nobody's going to come to that." ... All joking aside, I really wanted to get better at cooking and learn how to really be the best that I could be, so that I could have my dream of that cafe and also have Sunday dinners for my family. My family is everything to me.
Thinking back to the reverse recipe Skill Drill challenge, what were the biggest difficulties for you?
GM: Oh, my gosh, I've never done something like that. ... Now there was what I thought was a yellow onion in that thing, and it was not. ... I had no clue. I hadn't seen [fennel] so far in Boot Camp. ... But it was sort of fun, believe it or not, to sort of dissect that dish backwards and try to figure out how to cook it and re-create it based on what we've learned so far.
How was making the paella in the Main Dish challenge? You were running back and forth to the oven quite a few times.
GM: There was a big issue with that oven. The oven was supposed to be set at 350 degrees. I was told it was 350 degrees. ... It would not go past 325, and so, in my mind at that point, [I was] screwed ... because my rice [wasn't] going to cook. ... You know, it is what it is. I don't know what else I could have done, except maybe stick it in Lawrence's 500-degree oven, but then I was afraid that would ruin it and burn it. ... I replicated that dish exactly the way [Tyler] did it. Exactly. And I know that if that oven would have cooked it properly, then my dish would have been perfect. So, it sucks for me.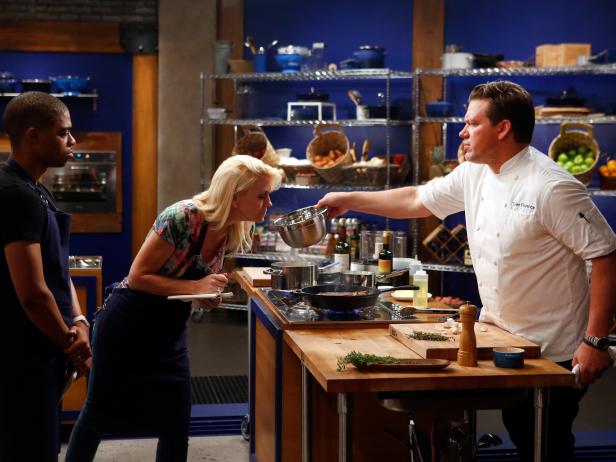 Host Tyler Florence demonstrates his Pan Seared Chicken Thighs with Mexican Rice Paella Style with Avocado and Green Olives dish for blue team recruit Ginny Meerman and his Pan Seared Rib Eye with French Onion Confit and Pomme Aligot dish for recruit Lawrence Crawford before the elimination challenge as seen on Food Network's Worst Cooks in America, Season 8.
Jason DeCrow, 2015, Television Food Network, G.P. All Rights Reserved
How was it working with Tyler?
GM: I love Chef Tyler. That's why I wanted so bad to be in the finale. I [wanted] to win for him. ... He is amazing. He's giving 100 percent of himself when he's standing there teaching you, and for me, you know, as he's giving me 100 percent, I'm giving it back to him, and I want to please him. ... I don't want him to be disappointed in me. ... This is a once-in-a-lifetime opportunity. People would kill to be here. I mean, I recognize that I have been given an opportunity that not everybody is going to get, and I am just so thankful and appreciative of being here — truly.
Are there some techniques or skills that you learned from Tyler that you'll use when you go home?
GM: Deep-frying. ... I am definitely going to do fish and chips when I go home. My boyfriend loves fish and chips. So, that's going to be one thing I'm going to go right out and do it. And ... butchering a chicken. ... There's so many. I can't just pick one or two, but it's definitely ... been incredible for me. There's so much that I'm going to take home.
What will your kids say when they see you cooking in the kitchen?
GM: I think my kids are going to be shocked. They're going to say, "Who is this woman?" And I think that they'll be pleasantly surprised, when they actually dig in, that I not only now look like I know what I'm doing, but I do know what I'm doing, and they're going to be very, very happy, I think.
How was it having your boyfriend, Rich, taste your cooking today?
GM: It was overwhelming. ... I hold everything in. When there's chaos around me, you will never know it by what I present to you. So, for me to be touched by the heart ... that's when you'll see me break down a little bit, and for him to actually taste something that I made, and say it tasted really good, that touched my heart. And it was sort of like a release of a long time of hoping that somebody would recognize the love that I put into what I make.
Summing up this overall experience, how would you describe just being here?
GM: This overall experience is a dream come true. It is surreal, and I recognize that I have been blessed with an opportunity to not only better myself in the kitchen, but I have now become a better person for that little bit of confidence boost that I got, too, from this whole experience.