One-on-One with the Runner-Up of Worst Cooks in America, Season 8
Get the exclusive interview with the runner-up of Worst Cooks in America, Season 8.
Commissioned Photographer, 2015, Television Food Network, G.P. All Rights Reserved
Seven weeks ago, 14 of the worst cooks in the nation entered Worst Cooks in America, hoping to learn new cooking skills that would break their awful ways in the kitchen. Week by week, some recruits had their journeys in Boot Camp come to a conclusion, but others rose to the challenges, learning techniques and honing their culinary knowledge. By the finale only two recruits remained: Nick on Chef Anne's team and Lawrence on Chef Tyler's. Only one could win the competition and the $25,000 prize, but first they had to cook a restaurant-quality meal to be judged by a panel of industry experts. Tonight one recruit walked away the winner of the cash prize; the remaining cook, although empty-handed, gained a new set of skills that has him set for life.
When it came to the final cook, both Nick and Lawrence were nervous, but after a slow start, both guys found their rhythm. Lawrence's appetizer of deviled eggs was found to be very successful, but a little heavy on the bearnaise sauce. The judges loved his fried chicken — Madison Cowan couldn't put it down — and Lawrence's ratatouille side dish was also praised. Unfortunately, Lawrence saw his troubles creep up with his dessert. The clock got the better of him, and with just a few minutes left, he unmolded his peach upside-down cakes only to find they were still raw. With Tyler's coaching, Lawrence served his basil ice cream with fresh peach slices. The judges couldn't help but comment on the fact that nothing was done to the peach to elevate it. After much deliberation they announced Nick was the winner.
Taking it back to yesterday at the practice cook, how did everything go for you, getting all the recipes done with Chef Tyler?
Lawrence Crawford: Oh, man, it was moving like butter, you know?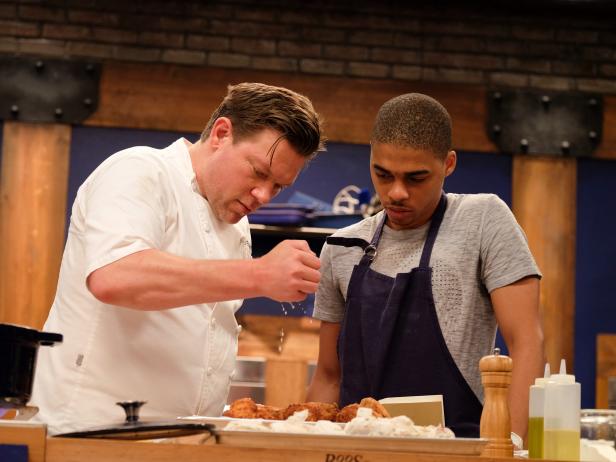 Host Tyler Florence works with finalist, Lawrence Crawford on a menu of béarnaise deviled eggs, osetra caviar, crispy shallots and tarragon; fried chicken, oven roasted ratatouille, and summer corn purée; peach upside down cake with basil ice cream and pistachio cookie crumble, as seen on Food Network's Worst Cooks In America, Season 8.
Commissioned Photographer, 2015, Television Food Network, G.P. All Rights Reserved
Was there anything that you had trouble with or any dishes that you had second thoughts about?
LC: The only thing I had trouble with was cutting the chicken.
Going into the final competition this morning, how was your mindset?
LC: It was pretty good, you know. Smooth.
How did the final cook go for you, in your own opinion?
LC: Oh, man, the cook was awesome, you know. ... Nick was an awesome competitor. ... He got everything he deserved. ... He put his all out there, and it definitely showed. You know, it showed to the judges. So, congratulations to him, man. He deserves it.
Commissioned Photographer, 2015, Television Food Network, G.P. All Rights Reserved
How was it working with Tyler all this time?
LC: Oh, man, it was awesome. Loved every minute. I learned so much.
Is there something in particular that you learned from him that you'll take away from the competition?
LC: What didn't I learn? That's the question.
When you're back home, do you think you'll cook more, or will you try cooking any of the dishes that you learned here at Boot Camp?
LC: Oh, yeah, plenty of dishes. I already know.
How has your time been on the show? How would you sum up the experience?
Commissioned Photographer, 2015, Television Food Network, G.P. All Rights Reserved
Did you ever think you'd get this far in the competition, making it all the way to the finale?
When you first signed up for Boot Camp, what did you hope to get out of the competition?
LC: Just a learning experience. You know, the money was a plus.
Do you feel let down that you got this far and didn't leave as the winner?
LC: Oh, yeah. Who's not going to feel a little down, you know? ... Did I want to win? Of course, but you know, I did my best. ... You know, there's no shame in that whatsoever.