The "Shock-Shuka" of a Sabotage — Alton's After-Show
Watch Food Network's Cutthroat Kitchen: Alton's After-Show hosted by Alton Brown.
We're sorry, there seems to be an issue playing this video. Please refresh the page or try again in a moment. If you continue to have issues, please contact us here.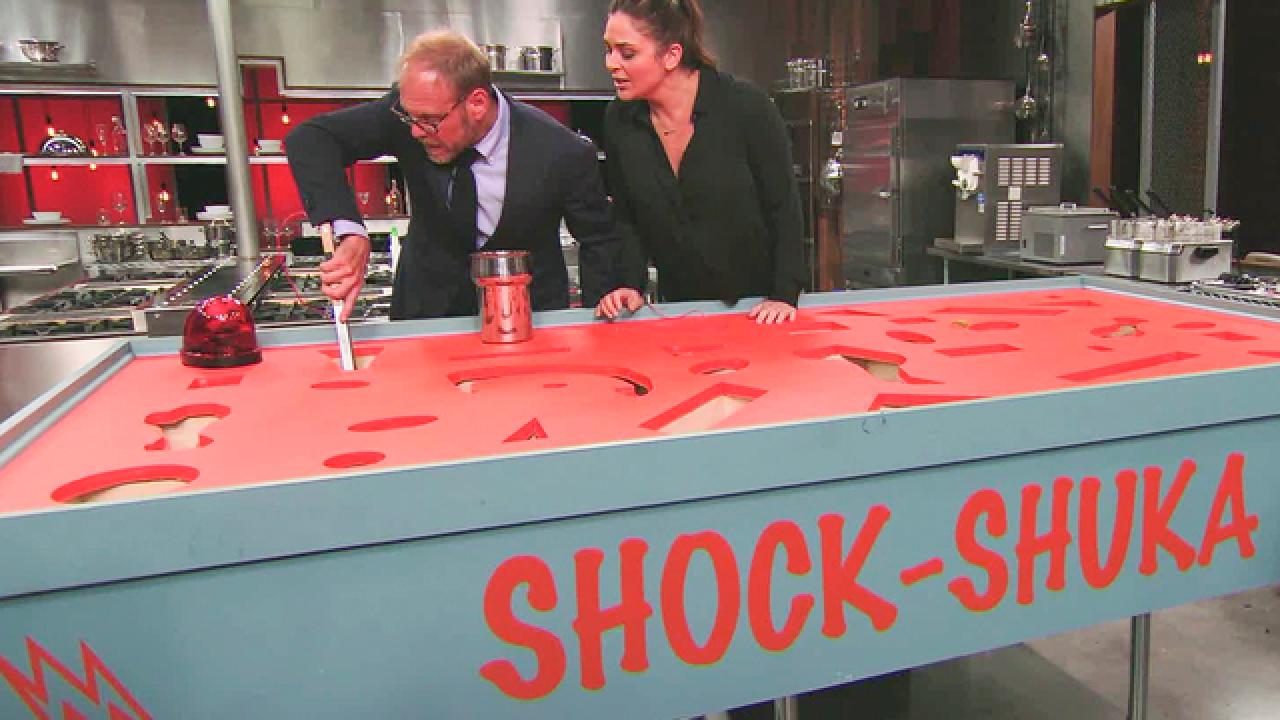 It's the name of the Cutthroat Kitchen game: Chefs don't know which sabotages in particular will befall them in any given round of competition. But two contestants on tonight's episode were in for perhaps the ultimate shock when host Alton Brown unveiled the "shock-shuka" challenge.
According to Alton this doozy of a task was his "favorite sabotage of the day." Not only was it visually stunning — an oversize board-type game all but demanded chef players climb on top of it — but it also "buzzed" contestants each time they slipped while fishing for their shakshuka ingredients. In true Cutthroat fashion, the day's judge, Antonia Lofaso, took her place alongside Alton at the board during the After-Show, and together they attempted to outplay each other with careful focus and steady hands as they used tongs to grab fixings for their would-be shakshukas. "Don't rush me," Antonia implored the host. "This isn't about speed. It's about precision." Sure enough, she paid close attention to the challenge at hand and successfully maneuvered a lime out of the minuscule opening while avoiding the "buzz" of the perimeter. "This isn't that hard," she admitted. But it was only a matter of time until both she and Alton heard the sting of the ring when the tongs touched the board.
Click the play button on the video above to watch Alton and Antonia play "shock-shuka," and find out who managed to collect the most ingredients in his or her basket.