When the 1960s Take an Evilicious Turn — Alton's After-Show
Watch Food Network's Cutthroat Kitchen: Alton's After-Show hosted by Alton Brown.
We're sorry, there seems to be an issue playing this video. Please refresh the page or try again in a moment. If you continue to have issues, please contact us here.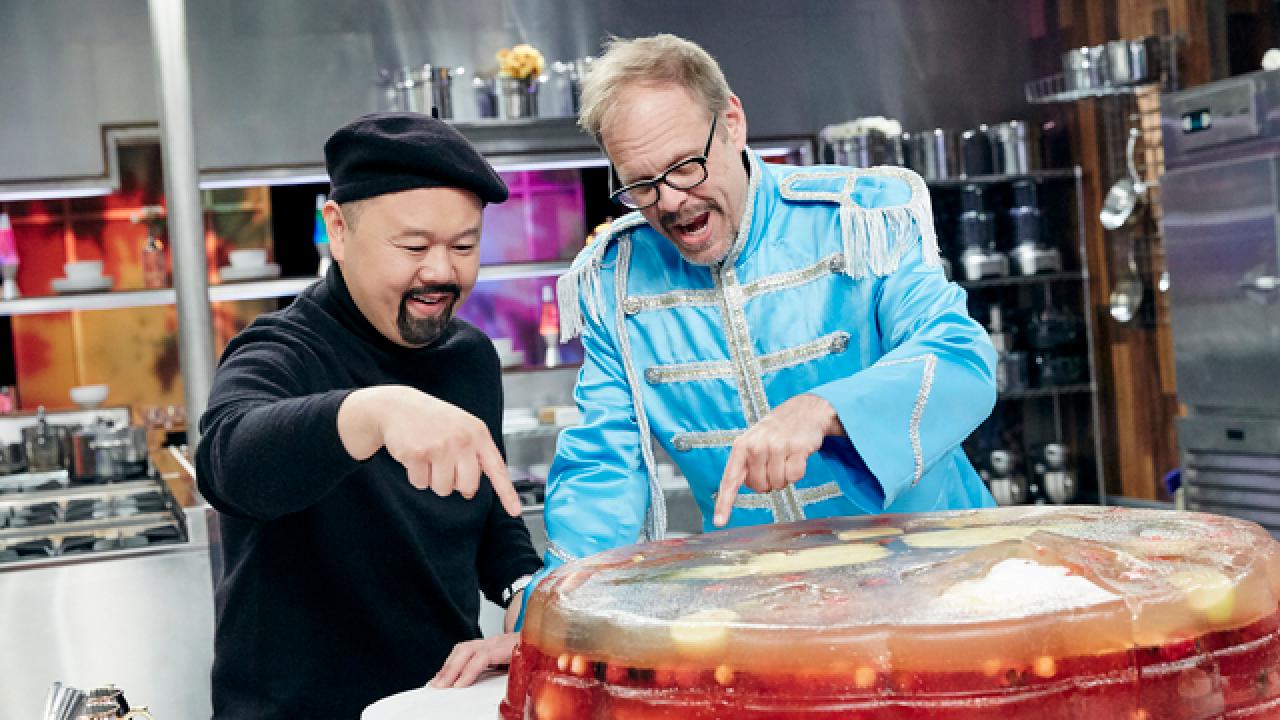 In Heat 2 of his Cutthroat Kitchen: Time Warp Tournament, Alton Brown, aka "Sgt. Pepper" this week, and the judge of the day, Mr. Jet "The Beat" Tila, traveled back in time with the four hungry chef competitors for a taste of sabotages a la the 1960s. During the After-Show, they rolled into the arena not in a yellow submarine, but in the SS Mustard submarine, in which three of the four Round 1 chefs were forced to prep their joint party-punch and party-snack offerings. And when it came time to put their own spins on a punch, they were met with yet another of the day's sabotages: the now-infamous oversize gelatin mold.
"You might want to take off your watch," Alton advised the judge, who quickly knew what he was in for. Alton devised a plan for the guys in which he explained: "You take your side. I'll take my side. And we'll just go for it." Indeed they went for it, as within seconds they managed to strip away the top layer of the mold and pick out necessary and not-so-necessary ingredients to craft their punches. Unfortunately for Jet, he happened to grab a jar of preserved tuna, and Alton reminded him, "If you got it, you have to use it." The judge, ever the good sport, realized his fate and put the smallest spoonfuls of tuna into his smoothie. Let's just say the results were such that it's a good thing Smell-O-Vision isn't still around.
Click the play button on the video above to watch what happened when Alton and Jet tasted the judge's tuna-fruit mixture, and see both guys in '60s-era getups.