"If This Doesn't Move, This Isn't That Bad" — Alton's After-Show
Watch Food Network's Cutthroat Kitchen: Alton's After-Show hosted by Alton Brown.
We're sorry, there seems to be an issue playing this video. Please refresh the page or try again in a moment. If you continue to have issues, please contact us here.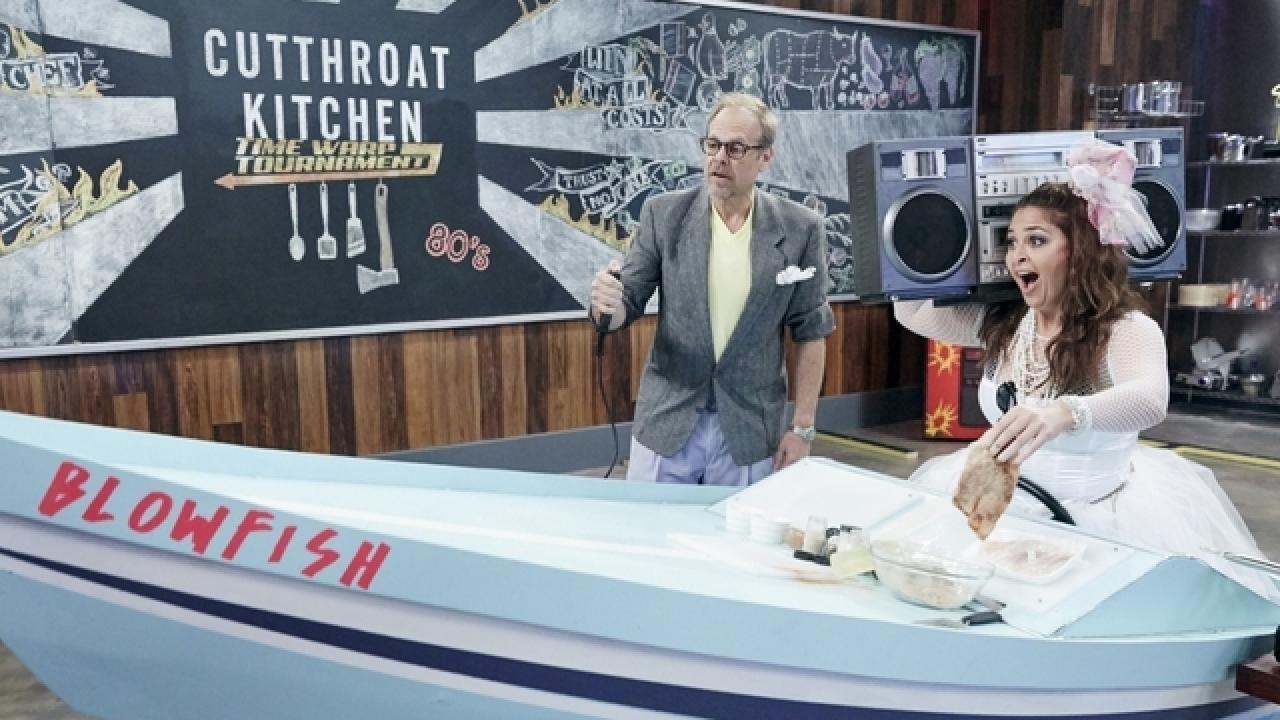 Oh, if only that were all there was.
In the After-Show following tonight's new episode of Cutthroat Kitchen, the fourth and final preliminary heat of the Time Warp Tournament, host Alton Brown unveiled a roster of totally righteous sabotages in keeping with the 1980s theme of the battle — and judge Antonia Lofaso was on hand to experience some of the best of them. The Miami Vice-style boat, which made its debut in Round 2's blackened-fish challenge, looked innocent enough to the judge as she took her seat at the wheel. After all, she had a space to prep and she had a heat source within arm's reach. "If this doesn't move," Antonia noted, "this isn't that bad." But of course it did move — and that was only part of what she'd have to endure.
Just like Chef Guy, who was saddled with this sabotage in the competition, Antonia had to contend with the choppy waters that surrounded her in the boat while she worked on her fish, and she also had to use one hand to hold a heavy, cumbersome boom box atop her shoulder. And as if that weren't enough, no sooner did Antonia start to cook her fish fillet than she faced yet another unfortunate byproduct of cooking on the open water on Cutthroat Kitchen. "I forgot to tell you that there's spray," Alton mentioned to Antonia, who was being spritzed with water by a smiling Bob on set.
Click the play button on the video above to watch what went down, and catch Antonia rocking the ultimate Madonna-look-alike getup in honor of the decade.