"This Is Like a Ballet of Pain" — Alton's After-Show
Watch Food Network's Cutthroat Kitchen: Alton's After-Show hosted by Alton Brown.
We're sorry, there seems to be an issue playing this video. Please refresh the page or try again in a moment. If you continue to have issues, please contact us here.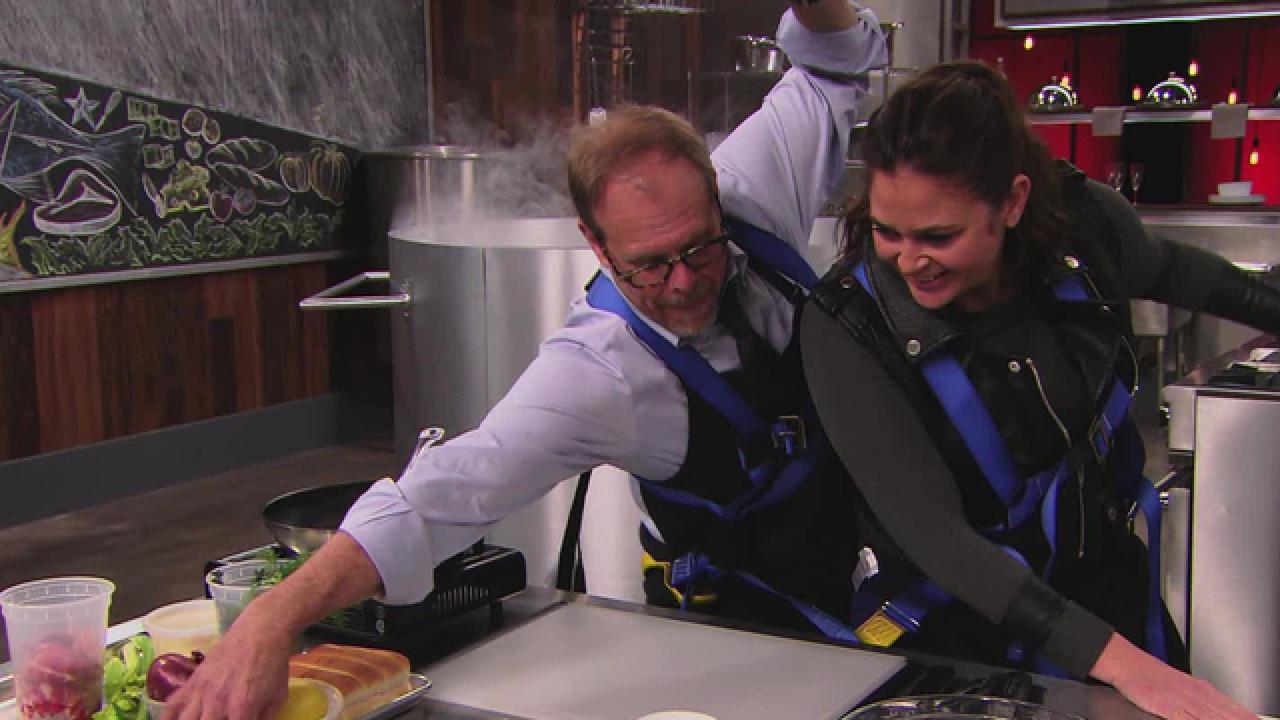 It's not often that that Cutthroat Kitchen judges get to choose their own poison, so to speak, when they drop by Alton's After-Show (usually that's host Alton Brown's job). But tonight Antonia Lofaso enjoyed the freedom to select which sabotage she'd be saddled with. Alton explained that they'd be prepping lobster rolls together — literally, that is — and it was up to her to opt to do so in a giant stockpot alongside Alton or in a harness tethered to him. Ultimately she chose the harness, and we're glad she did, because what resulted as they both put signature spins on lobster rolls was diabolically hilarious — not to mention downright delicious.
Antonia and Alton agreed that the Connecticut-style lobster roll preparation, which features butter instead of mayo as the binder, is the way to go, but tonight Alton opted for mayonnaise "to contrast," he explained. After Antonia toasted her bun, Alton oh so gingerly scooted the duo over to his station to work on his lobster. Sure enough, no sooner did Alton get a handle on his prep did Antonia shimmy them back to her table. "This is like a ballet of pain," Alton noted as they did an impromptu two-step in the kitchen. After what Alton called "a completely neutral Bob" joined them for tasting, the Bob wordlessly deemed Alton's to be the best of the day — which didn't actually come as a surprise to Antonia. "It's true. It's the mayonnaise. I didn't put any salt. I'm a failure," she proclaimed in a series of heartbreaking culinary admissions. And for Alton, that was music to his ears. "Best day ever," he said.
Click the play button on the video above to watch Alton and Antonia prep in a harness, and get an up-close look at their lobster rolls.