Superhero Chefs Take On Sabotages — Alton's After-Show
Watch Food Network's Cutthroat Kitchen: Alton's After-Show hosted by Alton Brown.
We're sorry, there seems to be an issue playing this video. Please refresh the page or try again in a moment. If you continue to have issues, please contact us here.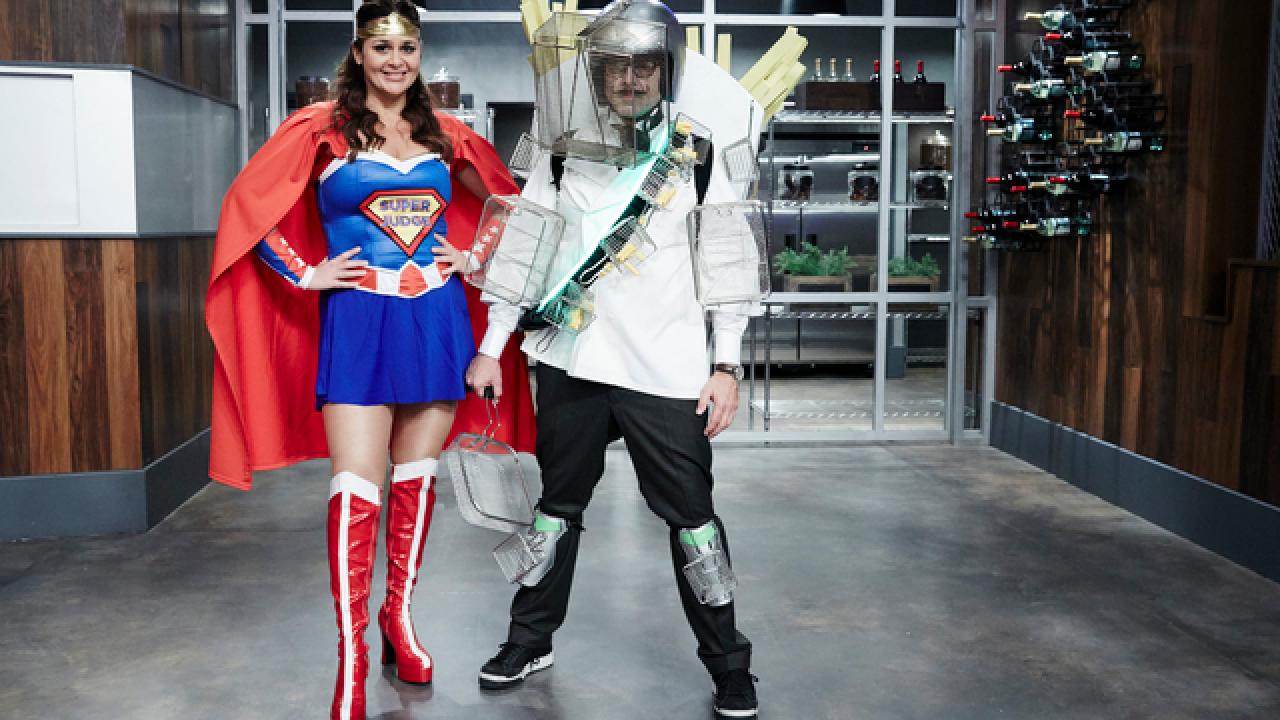 Well, we've reached a new dawn in the land of Cutthroat Kitchen. On tonight's special-edition superhero installment of Alton's After-Show, host Alton Brown and judge Antonia Lofaso abandoned their earthly bodies and became Fry-der Man and Super Judge, respectively. For Alton, his impersonation involved none other than a jetpack-like backpack of oversize french fries, as well as a mask and hand made out of fry baskets; Antonia found herself flying (that is, hanging) in the air parallel to the floor, at the mercy of what Alton called "the four winds," aka the Bobs. "It's not my fault. I'm not in charge of them," Alton explained to Antonia as she attempted to comprehend the predicament in which she found herself.
For this After-Show challenge, both Fry-der Man and Super Judge were tasked with putting their superhero spins on a classic hero sandwich, a simple task to be sure — or so it seemed. "I can't even reach my olive oil," Antonia declared at the outset, stretching her arms from the sling in an attempt to grab the bottle. Meanwhile, Alton was dealing with a struggle of his own. Thanks to the fry basket he was forced to carry in one hand, his chopping abilities were severely lacking, so much so that he resorted to simply smashing a lead of lettuce and a few olives for his sandwich. "That is unnecessary," Antonia noted of the whacking going down on the station beside her. Both managed to put forth sandwiches, but ultimately only Antonia was able to experience the magic of superhero flight as the Bobs swept her around the kitchen to pick up plates.
Click the play button on the video above to watch the super face-off go down.