Master Saboteur Alton Brown Previews the Cutthroat Kitchen: Tournament of Terror
Hear from Alton as he dishes on what to expect from the upcoming Cutthroat Kitchen: Tournament of Terror.
Fresh off a whirlwind (and wild) summer at Camp Cutthroat, Alton Brown is heading back to the evilicious arena tomorrow night, but what awaits isn't his usual lot of diabolical escapades. Instead, he's set to kick off a five-part Tournament of Terror (Wednesdays at 11|10c), complete with all manner of ghastly, horrific and simply scary-good sabotages, just in time for the upcoming Halloween holiday. The 16 chefs that will face off in four preliminary heats and one over-the-top finale know to anticipate competitive rivals, trying challenges and judges' commentary. But nothing can prepare them for the fear that Alton will instill.
We caught up with Alton about the new tournament in an exclusive interview, and he previewed the kinds of next-level Halloween shenanigans on deck for the Tournament of Terror. "Cuddles the Clown," is one particularly incredible costume he'll debut, he noted. Read on below to hear more from Alton and find out his take on homemade Halloween candy.
You've done Halloween-themed Cutthroat Kitchen episodes before but never a full tournament like this. What can fans except to see?
Alton Brown: We've built five shows that are essentially a bunch of love letters to Halloween. We've taken every scary movie trope and tactic and twisted them into sabotages. Oh, and they can also expect a lot of costumes.
We've seen a sneak peek of some of the costumes you wear in Tournament of Terror, and they're pretty extravagant (and amazing). Do you have a favorite?
AB: Three words: Cuddles the Clown.
What was it like getting transformed in makeup and wardrobe each day? How long did it take you to get ready?
AB: Some of it was intense. My take on Beetlejuice was the longest. That makeup took about an hour and a half. The moss was tricky.
The judges, too, dress up in some over-the-top costumes, for this tournament and others. Do they ever question the crazy getups you ask them to wear?
AB: No. But they should. Richard Blais is way too ... eager, to put on girl shoes. But, hey, he's got the legs for them.
Does the fact that Halloween is an evilicious holiday all its own give you more of an excuse to up the fear factor in the tournament sabotages?
AB: I have no idea what you mean. [Alton grins and walks away.]
What's the most-memorable Halloween costume you ever wore as a kid (or an adult)?
AB: My favorite show when I was a kid was Voyage to the Bottom of the Sea, and there was a monster on the show that was essentially a man made of seaweed. One year, my mom and dad actually made a costume of it for me. It took them forever — sewing all these different strips of green fabric. It was spectacular.
What's your favorite Halloween treat, candy or otherwise?
AB: Anything sticky enough to pull my teeth out
Homemade Halloween candy: yay or nay? Please explain. If homemade, do you have a favorite recipe?
AB: Absolutely yay. I make a pretty awesome popcorn ball. Sometimes I hide garlic in the middle as a "trick."
What's your favorite theme/holiday to celebrate in the Cutthroat Kitchen arena? Please explain.
AB: Definitely Halloween. Cutthroat Kitchen should be the official culinary show of Halloween.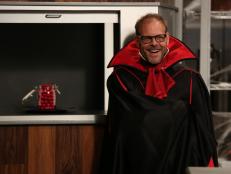 Hear from Food Network's Alton Brown in an exclusive interview.