Ina's Back in the White House: Exclusive Interview About Her Barefoot in Washington Special Visit
Ina Garten chats about her visit to Washington, D.C. and the White House in her new special Barefoot in Washington, premiering on Saturday, Nov. 5 at 1|12c.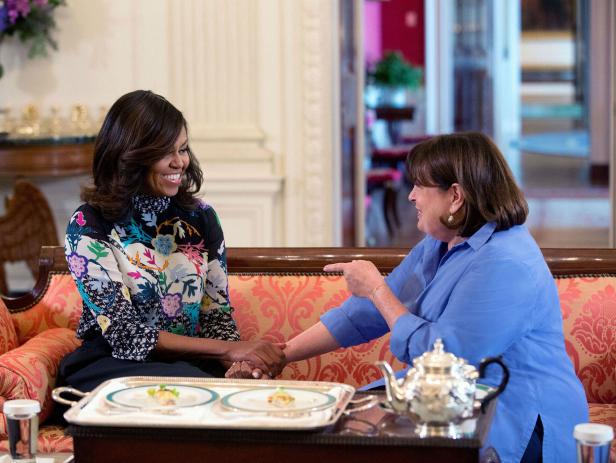 First Lady Michelle Obama and Ina Garten, chef, author and host of the Food Network's program "Barefoot Contessa," participate in a conversation regarding the "Let's Move!" initiative and the White House Kitchen Garden dedication, in the State Dining Room of the White House, Oct. 5, 2015. (Official White House Photo by Amanda Lucidon)
Amanda Lucidon, The White House
When Ina Garten worked in Washington, D.C., little did she know she'd end up in a completely different career, first operating a specialty foods store in Long Island and then writing cookbooks and hosting a very successful cooking show on Food Network. Now, years later, Ina returns to the nation's capital in the special Barefoot in Washington, premiering on Saturday, Nov. 5 at 1|12c. After making various stops in the city to see how the culinary scene has transformed, and to reconnect and cook with longtime friends, Ina makes one last stop at the White House to see how the gardens and the kitchen supply food for state dinners as well as the wider community. And before she leaves, Ina sits down to tea with Mrs. Obama.
FN Dish recently sat down with Ina to chat about the special.
Looking back at your days in Washington, D.C., did you ever think you would be where you are today in life?
Ina Garten: No. That's a real easy answer. You know, I left there not knowing what was going to become of me. I left a perfectly good job in the White House to buy a grocery store — what my parents thought of as a grocery store — and it turned out better than I could have imagined.
What was it like being back in D.C.? What was most different now compared to when you lived there?
IG: Part of me felt like it never changed, but when I started looking at the food in Washington, I realized it had changed dramatically, because when I was there, I mean, you couldn't even buy a loaf of bread. It was like a wasteland. So, in some ways it hadn't changed, and in some ways it changed a lot.
Not only did you visit the White House, but you did some culinary sightseeing. What impression do you think viewers will get of the capital?
IG: I think that Washington has been transformed over the past 30 years from kind of a small town to a very sophisticated food town. So, I did a lot more than just go to the White House. I went to some really interesting food things and think that's really pretty impressive that it's now one of the top food places in the country.
What impressed you most or surprised you most about the kitchen at the White House?
IG: You can't believe how small it is. You just can't believe that Cris Comerford can serve 400 people for a formal state dinner from a kitchen that's smaller than the one I have in my barn. It's amazing. It's just amazing. And I was really impressed, because I felt like the food is like, really good. I mean, it's elegant, but it's very good home cooking. It's not overly fancy and overly fussy. I was so impressed with what she's doing there.
Do you think the way the White House cooks for the president now is a lot different than in the past?
IG: I mean, I think each president has their own style, and I think the Obamas' is very, very warm and welcoming, and so I think the food reflects that.
One of the things the Obamas did differently from any of the more recent administrations was start the kitchen garden. What was your impression of that operation?
IG: Well, it's fabulous. It's just an extraordinary garden with extraordinary varieties of vegetables, and there's some fruit trees, but it certainly has influenced what the kitchen produces. They use it for family meals, but they also use it for state dinners, and they actually give some to shelters.
Did you take any inspiration for doing something in your own garden in Long Island?
IG: I did take a picture of a purple tomato that looked really appealing. I kept saying it's much more beautiful than mine, because they have an entire team of people from the agriculture department that takes care of it. So, it is gorgeous, absolutely gorgeous.
What was your favorite moment of being in Washington?
IG: Sitting with Mrs. Obama. It's pretty hard to beat that. … It's just one of the experiences I'll never forget for the rest of my life. She's so warm and so lovely and so smart and so both feminine in her way, but incredibly strong and intelligent. It's just no wonder she's such a role model for women in this country … .
Tune in to Barefoot in Washington, premiering on Saturday, Nov. 5 at 1|12c.
Ina Garten is heading back to where her career began, Washington, D.C., for an unforgettable trip that ends in a once-in-a-lifetime visit with First Lady Michelle Obama in the one-hour special Barefoot in Washington.