Winging It in the Kitchen — Chopped After Hours
Watch a new episode of Chopped After Hours to see what judges Scott , Marc and Geoffrey cook from a basket that includes turkey wings and quinoa whiskey.
We're sorry, there seems to be an issue playing this video. Please refresh the page or try again in a moment. If you continue to have issues, please contact us here.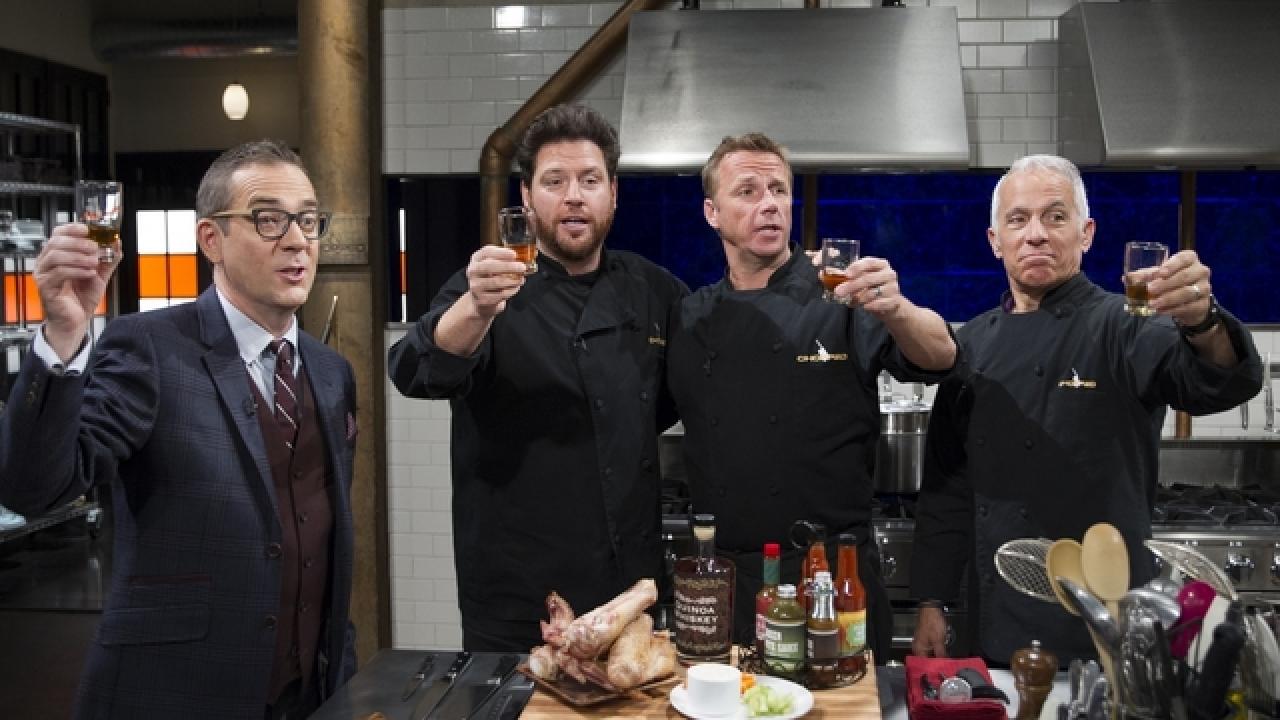 On Chopped, competitors are expected to create transformative dishes out of the mystery basket ingredients, but, if you really think about it, much of that creativity must include some winging it. That's exactly what Scott Conant, Marc Murphy and Geoffrey Zakarian do in this episode of After Hours, cooking terrific meals on the fly all while having a lot of fun — including a prank at Scott's expense. Using the entree basket from the Whiskey and Wings episode, they have to cook with turkey wings; a caddy of hot sauces; carrots, celery and blue cheese; and quinoa whiskey. But first they need a celebratory shot to start things off.
"Let's wing it," announces Geoffrey as the guys take shots of the whiskey. "Did that put hair on your chest?" Marc asks Scott after seeing him throw back the entire shot. "Too late for that," says Scott. "Thirty minutes to drink as much whiskey as possible and perhaps make some dishes while you're at it," Ted announces as the clock starts the 30-minute round.
In just that short amount of time, all three judges manage to infuse lots of flavor into their dishes. Geoffrey not only uses the required hot sauces in his turkey wing chili, but he also toasted and reconstituted dry chiles to add depth. To break up the heat, he serves it with a blue cheese pico de gallo. "It makes the whole dish," Scott says of the pico. Scott makes a turkey wing soup with mushrooms and blue cheese dumplings. "You would think this broth had been cooking for hours," Marc says of Scott's success in extracting so much flavor. And Marc himself manages to create a whiskey-based pasta sauce, which he made by simmering a thick broth and reducing it. "This reminds me of penne alla vodka," says Geoffrey. "I used a lot of whiskey," admits Marc. "You practically blew up the kitchen," Ted adds.
Click the play button on the video above to watch the entire After Hours episode and see the dishes Scott, Marc and Geoffrey created. Then browse behind-the-scenes images for an insider's look at the cooking.
Start a conversation with fellow fans and tell FN Dish in the comments below how you would have approached this basket: What would you make out of turkey wings; a caddy of hot sauces; carrots, celery and blue cheese; and quinoa whiskey?
Catch up on past Chopped After Hours episodes by watching all the web-exclusive battles online.