Chatting with the Winner of Spring Baking Championship, Season 3
Nine bakers entered the competition in this season of Spring Baking Championship, but by the finale, only three remained to battle it out for the champion title and $50,000. Home baker Daniela, pastry chef Jordan and bakery owner Adam had their fair share of ups and downs during the competition, but in the finale, all three brought their best baking game. By the end of the final challenge, the judges saw that any one of them could take the win — that's how close the race had become.
After winning his first Pre Heat in the season, Jordan's upward climb continued into the Main Heat, where he made an American flag cake that the judges had no doubt was truly the ideal representation of the nation — and the banana pound cake with Swiss buttercream and caramelized bananas tasted amazing. All the hard work through seven episodes paid off, and Jordan was proclaimed the champion. FN Dish caught up with the winner recently to chat about his time on the show, how he got into baking and what his plans for the future are.
Coming into this competition, did you ever think you'd make it all the way to the end, or did you feel you might even win it all?
Jordan Pilarski: It's funny, because from the beginning, coming in as the youngest competitor I felt like I had something to prove. So, in the back of my mind I always thought, "I want to win this, it's definitely something that I want to do … ." As time progressed, you start to see how all the other competitors are. I was in the bottom two at one point. So, I had all those different thoughts in my mind, but I always had an end goal. I just wanted to win. I am a competitive person at heart, because I played sports all my life, so I don't think there was any doubt in my mind that that's something I wanted to do, and I'm really happy I accomplished that.
Throughout the competition, everyone kept ribbing you for being the young guy. Did that make you want to work harder?
JP: Yeah. There was definitely something that made me want to work a little harder. Even the judges. I could tell, because I was the youngest – I had a rollercoaster of a ride the whole season. They liked something, they didn't like something at all, they liked something a lot. It was just up and down, and I think that made me want to prove myself even more.
You worked alongside experienced pastry chefs and home bakers. Did you learn a few new things from them, like baking skills or even something about yourself? We saw you formed strong relationships with many of the competitors, like Adam and John.
JP: Again, as you go through the season, you start to see everybody's strengths and how they work in the kitchen. … I started to figure out Adam's criteria of who he is as a young 30-year-old. That's someone who I want to be in the future. He's very accomplished; he's very knowledgeable. John as well. He's baked his whole life, so that's even another person to look at. And then you have Daniela who's a home baker. Off the set she wasn't so confident in her abilities, because she was like, "Oh I'm a home baker, I don't even know these French names." It was a funny thing, but she showed her true colors, and she was a very good competitor. She was hard to beat to be honest, and it goes to show who the three people were in the finale and the really different skills of each of us.
What made you decide to become a baker?
JP: It's the same story, but I think it's a good story. I wanted to be an architect forever. My grandfather was a self-made architect. He graduated high school, didn't go to college, opened up some firm – he started in his basement – and I always was around. So I always was working with my hands with my grandfather, and back then it was all drawing, so it was really the drafting part of architecture. And going through high school that's what I learned, but as technology came up, it all started to go to computers. So, it really wasn't hard for me anymore, it wasn't as complicated, because I wasn't working with my hands anymore. I was doing everything on the computer.
Then I started watching Food Network – as funny as that sounds — and I started to just love food in general. I didn't really know what I wanted to go to college for … and I went on vacation – I want to say my sophomore year of high school – to Orlando. I stayed at the JW Marriot, which is attached to the Ritz Carlton down here, and … I did a two-day culinary, baking, Thanksgiving thing with the Ritz Carlton chefs, and I was only able to do the cooking part of it … but the next day [the executive sous chef at the time, who is actually the executive chef at the hotel I work at now] sent me a huge cookie jar of everything they baked that day, because I missed it. And he knew that I was interested in it, and I think that kind of tipped me off a little bit, and that's something I wanted to do. I went full force into baking. I applied to one school, and the rest is kind of history, but I think, it's my architectural mind, it's the precise, the numbers, the creating, working with your hands in just a different medium. And I really enjoy what I do now.
You talked earlier about the up-and-down journey of the competition, the judges having both positive and negative comments. In Episode 3 you had to make a Kentucky Derby dessert and you presented a siphon cake, which the judges didn't care for at all. But then you won the Main Heat. You came back with a vengeance and won over the judges with your cookie garland. What was that day like for you?
JP: The day was a rollercoaster like I said, but I want to say I stayed true to who I am as a pastry chef. When we were able to make a mint julep dessert, and you could make anything, I wanted to showcase who I am. So, I wasn't going to bake a brownie or something simple. I wanted to do something out of the box, completely random, and that's kind of what I did. No matter if the judges liked it or not, as you can tell I think through the whole season, I was extremely positive. I wasn't very down. I never got really upset. I took the constructive criticism, and I ran with it.
Being in sports, I got yelled at 24/7 no matter what I was doing, so I'm used to taking the negative comments and the constructive criticism, but what sets me apart is I really took that in, and with the cookie garland, I took all the negative comments in and was like "Jordan this is your heat. Do what you do best. Bake and make it look pretty." So, the negative comments, it's just something that went in one ear, out the other, but I took in all the constructive criticism, and I showed up when it counted.
In Episode 5 you got to show off your modern side again when you made a lemon meringue pie for the vintage dessert makeover challenge. After tasting it, Lorraine said, "I want to know where the person who made this has been hiding." Did you feel that that was a turning point for you and the judges, where they saw you in a different light?
JP: I think they started to really understand where I was coming from, who I was as a pastry chef. They didn't look at me as a young kid on the show anymore. They looked at me as someone who has knowledge, has gone to school for it and does it really well, and I think I showed up in that heat, and I really thought they understood who I was and they got where I was going, and I think it was the perfect challenge to show that, especially for me.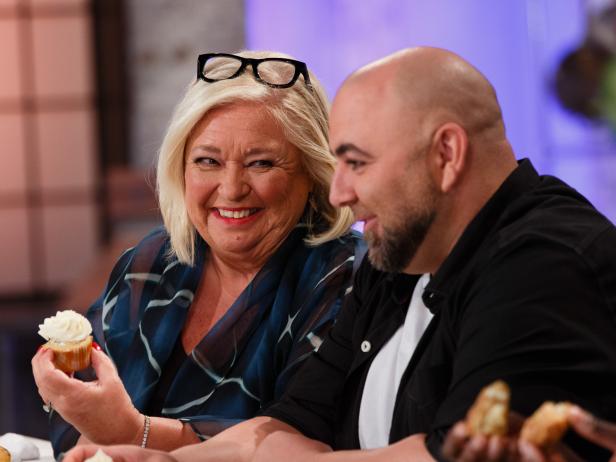 Judges Duff Goldman (r.) and Nancy Fuller (l.) interact with one another as they critique a sweet-and-savory-themed trio of desserts including bacon jalapeno cornbread, apple pie cupcakes, and salted caramel white chocolate blondie prepared by Daniela Copenhaver during the pre-heat challenge as seen on Food Network's Spring Baking Championship, Season 3.
Thinking about the finale, in the Pre-Heat you and Daniela pretty much baked the same treats – cupcakes, blondies, cornbread. How did that happen? Obviously you two weren't discussing the ideas together, but it was funny when it came time to judging. The judges were literally comparing each one to the other. How was that for you?
JP: It was a Memorial Day picnic basket. When I think of that, I think of handheld foods, handheld pastries. So, throughout the whole competition, I did not make a blondie, cupcakes or cornbread. I didn't make either of those. So, my mindset was, make something that you haven't made before. So, I didn't want to go comfortable, like I made a brownie, so I'm going to make another one, because they liked the way it tasted. I wanted to showcase more knowledge of pastry, so I think I just wanted to fill my basket with things that I knew were going to fill it. So, it was kind of a little strategic, as well as I wanted to showcase other skills on other pastries.
For the Main Heat, you baked a flag cake, going all out on the decoration. You mentioned that you were baking it for your brother who's in the Navy. What did it mean for you to be doing something so patriotic for that last challenge?
JP: It was for my bother, and he's the first person in my family ever to be in the military – my extended family, anything. My family tells him all the time how proud we are, and thank [him] for everything he does for us, but words are just words sometimes and it's very hard to explain how much you care, and how much it really means to me. He's my older brother, so I look up to him, and baking something – my profession – doing something that I care about, I think it really motivated me to do the best I could, because I follow my brother, obviously, because he's my older brother, and what I learned from him is whatever you do, try to be the best at it. Persevere through anything, push yourself, and just do the best job you can within everything you do, and that's what he does in the Navy. He was top of his class when he graduated. He's the best at what he does, and that motivated me to be the best at what I am and to put out the best product, especially in the Main Heat, and it was for him. It worked out and it was very emotional.
Speaking of emotional, when Jesse announced that you won, you had a really big reaction. What was going through your mind? What were you feeling? How was everything coming together for you in that moment?
JP: Doing it for my brother, number one, and then I was thinking about my family, my support system, everybody who supported me through everything I've done – making the jump to pastry because nobody ever thought I would be a pastry chef, but my parents supported me throughout everything. I wouldn't have been able to have done what I've done so far if it wasn't for my mother and my father. Sending me to France, having opportunities I don't think I ever would. It was just all that in one. Also, you think about the people that put you down, told you you maybe weren't as good or you'd never do this or be that, and winning this competition brought all those emotions to life, and I think that's more of a blur than anything. I still feel like I'm in a dream.
What does it mean for you professionally to walk away as the champion?
JP: It proves to people that I am serious about what I do. A lot of people look at me and say you're the pretty face, the young kid, and for me, I'm serious about my career, I'm serious about my job, I'm serious about my craft. I read books all the time, I look up things to do, I practice all the time, so for me it gives myself confidence, it humbles me a little bit, and it proves to people that I am serious about what I do, and even as a 22-year-old, I have some skill.
Do you have any plans for the money? Anything professionally or just for fun?
JP: I don't really know yet. In the last episode I said I was going to buy my mother something, so I now have to. I promised it on live television, so now I'm thinking about that. Other than that, I think I just want to … be smart with it.
You said in the finale that you competed in honor of your grandfather, and you mentioned earlier that you worked alongside him, learning about architecture. We saw a lot of that type of precision come through in all the desserts you baked. What did it mean to honor him on the show, using his lessons to apply yourself to all the things you do in your career?
JP: I just know that he's looking down from up there, and he's just very, very happy. Maybe I wasn't the architect he wanted me to be, but I know that he knows that I am an architect, but I'm an architect in my career, and I just know he's very proud of me, and I'm forever grateful for what he's given me and what lessons he's taught me, especially to be diligent …, be grateful for everything you have, don't expect things; you work for everything you've got. That's definitely what I've been doing and what I've been following. Taking risks, because if you don't take many risks I don't think you have many rewards. That's all from him. I know he's smiling up there.