Chopped Star Power: Exclusive Interview with the Part 2, Sports Stars Winner
After triumphing in three rounds of mystery baskets, a single sports star rose to the top in the second part of the Chopped Star Power tournament. Find out who won.
In this all-new Chopped tournament, 16 stars from the web, sports, comedy and Hollywood have converged to prove their star power. In the second episode, athletes Mariel Zagunis, LaMarr Woodley, Dorothy Hamill and Paige VanZant brought the ultimate competitiveness to the cooking arena. They've fought in real battles, performed in front of millions and earned medals in Olympic games, but nothing prepared them for the Chopped kitchen. After surviving three rounds of mystery baskets, one of these stars came out victorious. Find out who earned the right to return to compete in the finale on April 25.
Appetizer: wagyu ground beef, Swiss chard, eggplant rollatini, ranch dressing soda
Entree: lamb noisette roast, avocados, za'atar bread, frozen mint lemonade
Dessert: rice pudding-stuffed brioche, blood oranges, protein powder balls, strawberry rock candy
First round: LaMarr Woodley
Second round: Mariel Zagunis
Final round: Dorothy Hamill
Judges: Scott Conant, Alex Guarnaschelli, Eddie Jackson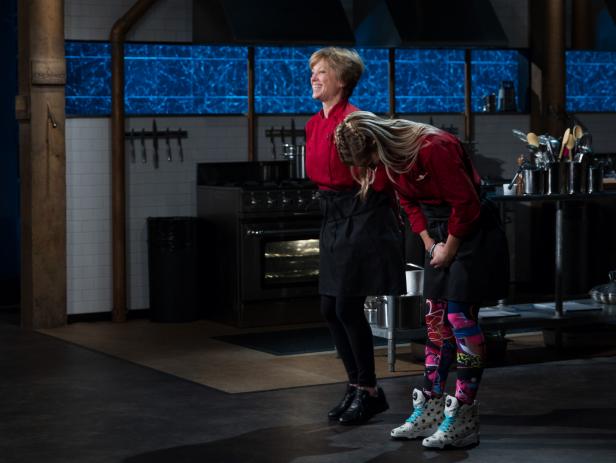 Judges Scott Conant (L), Alex Guarnaschelli, Eddie Jackson and Host Ted Allen with Celebrity contestants Dorothy Hamill and Paige VanZant react as Dorothy Hamill is Chopped and Paige VanZant is the winner during the judging of the dessert round during the Star Power Tournament, as seen on Food Network's Chopped, Season 33.
All four sports stars entered the rounds with the utmost enthusiasm, putting everything on the line for their charities. Even though they may not be professional cooks, each one created flavors that impressed the judges. But MMA fighter Paige VanZant earned the victory in the end. Her meatball appetizer showed the judges she had cooking instinct. With her entree, Paige put a bit of herself on the plate, making tacos that the judges praised. Finally, she pulled out all the stops in the dessert round, making apple pie and ice cream. She earned the second spot in the finale, where she'll compete against three other champions for the chance to win $50,000 for her charity, Cancer Train. Read on to find out what's her strategy for winning.
How are you feeling after having won?
Paige VanZant: This competition is a lot harder than I thought it would be, so it feels amazing to win.
Comparing this to a fight, what's it like being in the Chopped kitchen? Do you get that same adrenaline rush?
PV: I definitely got the same adrenaline rush in the Chopped kitchen as I do in a fight. I love to win, and I put a lot of pressure on myself, being an athlete, so I wanted to do everything I could to be the best competitor I could be.
During the appetizer round, you told the judges it's always been a dream of yours to be on this show. Did being a fan help you out, and did you practice at all before coming on?
PV: Being a fan of Chopped definitely helped me out throughout this competition. I watch a lot of Food Network. I watch a lot of Chopped. I didn't necessarily actually practice for this competition. I came right out of a fight camp and was on a victory tour, so I didn't get a lot of time to actually practice, but I've been cooking for a few years, and I think that should carry over.
There was a point in the appetizer round when you helped out Dorothy. Why were you so generous instead of being more cutthroat?
PV: We're all on this to raise money for charity, and I think girls need to be more empowering of each other, and being someone who came from a bullied past, that's a message I want to spread. We need to lift each other up, especially being women athletes, we need to build each other up, and this is for charity, it's not for competition. We're competing with each other.
Thinking of all the baskets today, was there one that was the most difficult for you or one that made it hard for you to come up with a concept?
PV: I would say the appetizer round. I had a great concept, but I definitely feel like that's the round where I fell the hardest. I definitely wasn't able to conceptualize my dish as much as I wanted to.
You mentioned that you learned a lot of the recipes and cooking skills from your grandma. Did you channel any of her lessons today? Did any of them come to mind throughout the day?
PV: I love to cook for my family, and that's something that I learned from my grandma is just cook from your heart and cook for your family. That's what I definitely tried to do. I cooked the meals my family loves, it's Mexican food, and food that may not be the healthiest for you, but I just cooked the meals that I would cook for my family.
You received pretty good comments from the judges throughout the day regarding your flavors, but they gave you the most critiques on execution. Were you surprised by the positive feedback? What were you expecting to hear from them?
PV: I didn't know what to expect at all, so I just tried to make food that tasted good that I would like to eat and hopefully it translated well and they liked it too. I tried not to overthink it … .
What was your favorite dish today? It looked like you were really having fun with dessert.
PV: I definitely was the most nervous going into the dessert round. That's not something I actually do very often. I don't cook desserts. I feel like my favorite dish was my entree, the taco, just because I love Mexican food, and that's what I cook for my family, and it's a dish I've made for them before — a little bit different, I don't use lamb. I make it with pork carnitas, but it was the same idea.
Going into the dessert round, did you plan on making apple pie and ice cream? How did you come up with that idea?
PV: I had no idea what I was going to make going into the dessert round. I have a few recipes in my head, but they don't have the ingredients in the pantry that I need, so I was just hoping that we had some good ingredients in the basket that would give me some inspiration, and that's kind of what carried me through.
Alex pointed out that you need to focus more on the baskets next time. She mentioned it in the entree round, and again in the dessert round, disappointed that you didn't take her advice initially. How do you take that criticism?
PV: I will try to implement that criticism. I feel like I cooked with all the talent that I could, so I made dishes that I like to eat and I implemented the basket ingredients and made them taste really good in a dessert and an appetizer and an entrée. I definitely will try to work on that, but at the same time I'm going to cook food that I like to eat and that tastes good, so if I'm given an ingredient I don't necessarily like, I'm going to make it into something that tastes really good instead of making something gross the star of a dish.
Will that be your strategy in the next round?
PV: I don't know. I'm kind of winging it. Whatever's in the basket is what's going to inspire my dishes.
Does it make you nervous that you're going up against three other people who've competed, gotten this far and have this experience under their belt?
PV: I'm in the same position at the same time, so I'm going to go in there and treat it exactly like this round. I feel like being on the show was an accomplishment. I'm not necessarily in it to win, I'm in it to gain awareness for my charity and win money for my charity, so it's not about making it to the end … .
Personally, what would it mean for you to win and also to win for your charity?
PV: Personally, it would mean the world. ... I feel like I've been given this platform as an athlete for a purpose, and that's to give back and to raise awareness. ... That's the ultimate goal.
Tune in for the next installment of the Chopped Star Power tournament on Tuesday, April 11 at 10|9c, and come back to FN Dish for the interview with the winner.