One-on-One with the Latest Iron Chef Gauntlet Challenger to Go Home
Hear from Chef Gulotta, the third chef eliminated from Food Network's Iron Chef Gauntlet competition.
With the title of Iron Chef on the line, the stakes for the seven Iron Chef Gauntlet challengers couldn't be higher. Of course each of them craves the opportunity to run the gauntlet against a trio of revered Iron Chefs, but ultimately six will fall in their quest to do so. After each week's new episode, check back here to find an exclusive exit interview with the chef most recently eliminated. Today, we're set to break down the latest episode, so if you haven't watched it yet, don't read on until you do.
After a grueling sweet-savory Chairman's Challenge landed Chef Gulotta in the Secret Ingredient Showdown, it was up to Chef Grueneberg, who earned her second Round 1 win this week, to select his challenger. Enter: Chef Nakajima. He's no stranger to the Secret Ingredient Showdown, as just last week he battled and bested Chef Sawyer in a banana face-off. This time, though, the Secret Ingredient was something with a few more legs.
Battle Octopus kicked off, and both Chef Gulotta and Chef Nakajima were quick to utilize a variety of octopus types. Both Iron Chef Marc Forgione and Giada De Laurentiis, who judged this week's Secret Ingredient Showdown, were impressed with elements of Chef Gulotta's offerings. Giada, in fact, declared, "All three of them had a wow-factor." Ultimately, however, they noted that this menu didn't showcase octopus as much as it could have, and that was later reflected in the scoring. Chef Gulotta fell to rival Chef Nakajima by five points and was forced to say goodbye to the competition.
We caught up with the ousted challenger to get his take on what went down. Read on below for an exclusive interview.
What was going through your mind when you found out that you were in fact leaving the competition?
Michael Gulotta: At the time, I was oddly accepting of it. The energy drain of coming from opening a new restaurant left me a bit out of sorts and unfocused. I was not feeling overly confident, and I believe I set myself up mentally to fail. Of course, these are all just words; ultimately, I was not the better cook in those 60 minutes, so home I went.
Tell us about your approach to your final Secret Ingredient Showdown. What was your plan for using the octopus, and do you feel you accomplished your goal?
MG: I think I accomplished the goal of putting up delicious food; I failed in the goal of showcasing the ingredient. A few simple changes probably would have rectified the problem, but what's done is done, and I didn't put up anything inedible, so that's a win.
Host Alton Brown with Iron Chef Marc Forgione and Co-Judge Giada De Laurentiis judging Chef Mike Gulotta's dishes, Soy Sauce Octopus Salad with Fresh Tomato Curry with Fried and Grilled Avocado, Charred Octopus with Crispy Potatoes Chorizo Squid Ink Aioli with Tomato Olive Citrus Marmalade, and Paella Negro Risotto, for the Secret Ingredient Showdown, as seen on Iron Chef Gauntlet, Season 1
Do you agree with the judges' feedback about your dishes? Do you stand by the offerings you provided?
MG: I stand by the premise of each dish, but I should have taken more of the extraneous ingredients out and focused more on the octopus. I agree 100 percent with that critique.
Which of your octopus dishes, or which element of one offering, did you struggle with the most?
MG: I struggled with finding a third preparation for the octopus, away from grilling or poaching. I wish I would have thrown a quick octopus sausage/meatball together to go with the tomato curry, but I feared the time constraint.
What elements of these battles were you least expecting — be it something positive or negative?
MG: I least expected the stress of handing the food over to the judges for immediate critique. In a restaurant, a dish can be tinkered with until it is ready for the guest. Here it's all-or-nothing, and mistakes are impossible to change.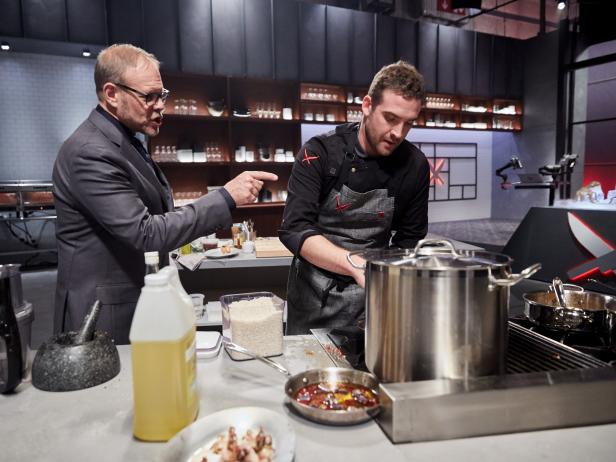 Host Alton Brown watches Chef Mike Gulotta prepares his dishes, Soy Sauce Octopus Salad with Fresh Tomato Curry with Fried and Grilled Avocado, Charred Octopus with Crispy Potatoes Chorizo Squid Ink Aioli with Tomato Olive Citrus Marmalade, and Paella Negro Risotto, for the Secret Ingredient Showdown, as seen on Iron Chef Gauntlet, Season 1
What was your greatest challenge in this competition — perhaps a fellow competitor, a Secret Ingredient, the unfamiliarity of the kitchen or the time limitation?
MG: My greatest challenge was focusing on the Secret Ingredient and the set challenges. I kept going off on my own and making food I was excited about, rather then trying to please those I had to win over, and it kept throwing me off.
What was your proudest moment of this competition?
MG: Hmm, I don't really have one. I put up food that I thought tasted, looked and sounded delicious, so we will go with that.
If you've participated in culinary competitions before, where does Iron Chef Gauntlet fall in difficulty level, and how is this contest different from others?
MG: I have only ever competed on Iron Chef Gauntlet, and it was surprisingly difficult. The tricky part is trying to nail the simplicity of a great dish while making it original enough to beat out your competitors. I believe my failure was due to overcomplicating dishes in a bid to wow the judges
What do you want fans to remember most about you and your approach to cooking, both in this competition and beyond?
MG: That most of all I want my food to taste delicious and for people to truly enjoy eating it, because I truly enjoy preparing it. Every time I work the line during a busy service, I think about how much fun it is to be producing exciting food.
There's a lot of down time between takes on set — how would you spend your time behind the scenes?
MG: Stressing about the next competition? Or talking about food culture with the other chefs and learning about their personal stories and individual approaches to cuisine. And getting my ass whooped in cards by Chef Izard.
Any fun outtakes or behind-the-scenes moments with your fellow competitors you can share?
MG: Stephanie Izard is a card shark. Shota intentionally tries to make his hair look like an Anime character. Chef Dady is completely in love with his kids. Chef Sawyer knows freaking everything about food and can geek out for hours about it. Nyesha is a classical French bad-ass, and Chef Sarah is the most infectiously positive person I have ever met.