Food Network stars name their top burger spots.
Michael Symon: Ray's Place
"It's an hour from my house, but sometimes I get a craving and drive there, just to eat a Mo-Fo burger."
$7.50; 153 Franklin Ave., Kent, OH; 330-673-2233


Tyler Florence: Perry's
"It's the classic West Coast burger, made with Painted Hills ranch beef and local vegetables."
$11; 1944 Union St., San Francisco; 415-922-9022
Sunny Anderson: National Coney Island
"During cold Detroit winters, I'd go here for chili and burgers, which were always perfectly cooked."
$6.70; 9019 Mack Ave., Detroit; 313-881-5509
Bobby Flay: JG Melon
"I grew up down the block from this place – it's been there since 1972. Whenever I'm in my old neighborhood, I grab one of their cheeseburgers."
$8.75; 1291 Third Ave., New York City; 212-744-0585
Duff Goldman: Grace
"The chef understands meat. But the burger's not on the menu – it's served only on Sunday."
$16; 7360 Beverly Blvd., Los Angeles; 323-934-4400
Cat Cora: BLT Burger
"They use local farm-to-table ingredients, which is how I prefer to cook and eat myself."
$11; 470 Sixth Ave., New York City; 212-243-8226
Adam Gertler: Father's Office
"A friend told me about the burger here, and I was instantly hooked! It's made with dry-aged beef and served on a toasted French bread bun."
$12; 3229 Helms Ave., Los Angeles; 310-736-2224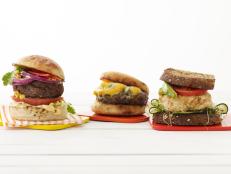 Fire up the grill! Food Network Magazine created 50 sizzling burgers — enough to keep you satisfied all season long!