Happy Pairing of Wine and Hot Dogs
Given my passion for both hot dogs and wine, it's only right that I reveal how the two can get along for a summer barbecue.
If we're talking the basic New York-style frankfurter, with mustard and maybe a tangle of sauerkraut, you can't do better than a nice dry rosé. Typically medium-bodied, redolent of red fruits, refreshingly crisp and affordable, it has never met a frankfurter it didn't like. Similarly, Pinot Noir's light-to-medium weight and juicy berry profile is universally dog-friendly.

Moving west, we find the Chicago hot dog, with its trademark sport peppers, pickles and celery salt, all of which cry out for a light-to-medium-weight wine with substantial crispness to match the acidity and salt of its toppings. A Sauvignon Blanc or Australian Riesling — both of which are dry and quite tangy — would more than give a Chi-town dog its day. Sauvignon Blanc has the added benefit of a green, grassy element that complements the pickles and peppers.

Heading south to Texas and its decadent chili dog, we are scouting for a pour that can stand up to the outsized flavors of chili sauce, onions and cheese. A full-bodied Shiraz from Australia or a Zinfandel from the States fit the bill; even better if it is in a style that has low tannins and a bit of sweet-seeming oakiness to cool down any spice or sliced jalapeños that are on the scene.

Finally, we return east to my native Jersey for the Ripper — that is, a hot dog that rips when it is deep-fried. What we have here, besides being a cardiologist's nightmare, is a generous helping of meat and grease swaddled in a long bun. A simple bubbly, such as Cava, Prosecco or American sparkling wine, is just what the doctor ordered. Its bubbles and citric zip neutralize the naughtiness in your mouth and prime you for the next, hedonistic bite.



Mark Oldman is a wine expert, acclaimed author and lead judge of the series The Winemakers. He shares with readers the basics of wine, while making it fun and practical.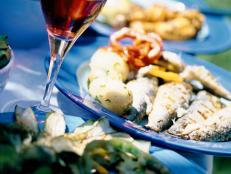 The aromatherapy of summer is the sweet perfume of a fired-up grill, accompanied by wine that complements whatever happens to be sizzling and smoking above the coals.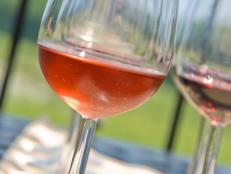 The serving temperature of wine is like the weather conditions in a city: Small differences can vastly change your attitude about what's in front of you. The following guidelines will cast your wine in the most flattering light.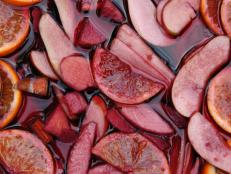 Sangria, a mixture of wine, fruit, sweetener and sometimes liquor, is capable of bringing such happiness that science should consider classifying it as an antidepressant. Here are some guidelines to make sangria as uplifting as it can be.