Regional Barbecue Road Trip: Carolinas

Here are 5 must-try spots for an ultimate Carolina barbecue tour, plus where to find great Carolina 'cue outside of the Carolinas.
Best known for: pork (pulled pork, pork ribs, pork shoulder, whole hog)

Wood choice: (mostly) hickory and oak woods

Sauce style: vinegar-based and peppery (east), tomato-based using ketchup (west), with spice, sweetness, and tang

Expert take: Carolina barbecue is traditionally made with pork, no doubt due in part to the many pig farms in the area, and people use the widely grown hickory wood. But the style of sauce varies by region. "There's just something about barbecue that intrigues people," says Wilber Shirley, who's owned his namesake restaurant for over 50 years and should know. He explains the difference in the Carolina style and notes that the styles are all based on where you're from. According to Shirley, barbecue west of Raleigh is considered western-style and the barbecue on the Carolina coast is eastern-style. In the west, they use tomato-based sauce, and Wilber's is decidedly eastern: "We use a vinegar-based sauce with crushed ground pepper." Wilber Shirley, Owner, Wilber's in Goldsboro, N.C.

Wilber's
Since 1962, Wilber Shirley and his staff have been cooking up whole-hog barbecue in true eastern Carolina tradition, making their mark as one of the best BBQ joints in the country. Out back in their Goldsboro location, diners will find an open fire where hogs are turned for 12 hours, later to be pulled apart by hand, chopped and seasoned with apple cider vinegar and red chili flakes. While the barbecued pork is the highlight, also not to be missed is Wilber's fried chicken and hush puppies — a perfect Southern combination if ever there was one.
Wilber's, 4172 U.S. 70 East, Goldsboro, NC; (919) 778-5218

Scott's Bar-B-Que
Steeped in family tradition, the Scott family has been slow-cooking their hogs in the same Carolina tradition since 1972, and not much has changed over the years. Rodney, the son, is now at the helm as pit master, and he cooks his barbecued pork slowly over the wood-burning pit, with a mix of hickory, oak and pecan that he likely chopped himself. Yes, the pulled pork sandwiches are the star here, but the ribs, chicken leg quarters and sausage links are also popular — as is the cult favorite, a side of fried skins.
Scott's Bar-B-Que, 2734 Hemingway Hwy., Hemingway, SC; (843) 558-0134

Ole Time Barbecue
Ole Time's signature eastern Carolina-style barbecued pulled pork clocks many hours in the smoker before it's served, giving it the tenderness that has made it a favorite of locals and tourists (the Neelys included). Their homemade hot sauce is made the eastern way as well — with only vinegar and spices, giving it a kick without too much heat — but their barbecue sauce is made western-style and has the all the requisite tangy sweetness. Fried chicken, barbecued chicken, ribs and country-fried steak are also favorites, and the sides of deep-fried apple sticks are a sweet ending.
Ole Time Barbecue, 6309 Hillsborough St., Raleigh, NC; (919) 859-2544

Lexington Barbecue
Those in the know order Lexington Barbecue's chopped barbecue pulled-pork sandwich with "outside brown meat": little browned bits of pork shoulder, topped with vinegary cole slaw. In this barbecue capital (or one of them), the pork shoulders are smoked in the western style of Carolina barbecue, over hickory wood in brick pits for about 10 hours, and later topped with western-style sauce (with a distinct ketchup/vinegar taste) — a tradition that hasn't changed in this family-run business since 1962.
Lexington Barbecue, 100 Smokehouse La., Lexington, NC; (336) 249-9814
Skylight Inn
The Jones family has been running Skylight Inn in Ayden since 1947, but the family's history in barbecue dates back even further — to the early 1800s. Not much has changed in the Joneses' approach to cooking whole hogs. Their chopped pork sandwich, served with slaw and crispy skin, garnished with vinegar and salt, and topped with cornbread, is the signature here, and the limited menu is devoid of ribs and brisket (not that it matters).
Skylight Inn, 4618 S. Lee St., Ayden, NC; (252) 746-4113

Plus: Where to Find Carolina-Style BBQ Outside of the Carolinas

A fine-dining chef turned champion barbecue pit master, Charlie McKenna, is the force behind Carolina-style Lillie's Q in Chicago. His signature dish (baby back ribs) is prepared with a secret "Carolina dirt" spice rub. McKenna's slow-and-low barbecued meats (his ribs, of course, but also pork shoulder and chicken) are prepared in specialty smokers. Most of his sauces are rooted in the Carolina tradition (McKenna draws from flavors originating in South Carolina, western Carolina and eastern Carolina), but are also inspired by the spices and flavors of Memphis (all available online).
Lillie's Q, 1856 W. North Ave., Chicago, IL; (773) 772-5500

Continue the road trip: Check out Memphis, Texas and Kansas City 'cue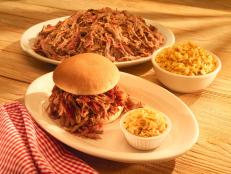 Regional Barbecue Road Trip: Memphis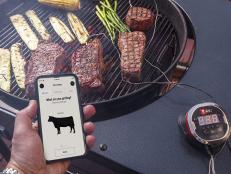 Ready to make the move from basic grilling tools to serious grill-master gear? We've got your back. Check out these next-level grill accessories.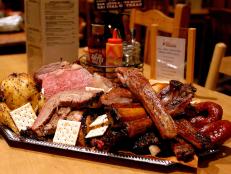 Here are 6 must-try spots for an ultimate Texas barbecue tour, plus where to find great Texas 'cue outside of the Lone Star State.