Grilling Main Inline Player
Cooking Fruit on the Grill 03:16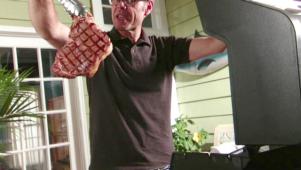 Now Playing
Grilling: Keep a Clean Machine 02:23
Alton shares his top secret to great grilling: keeping a clean machine.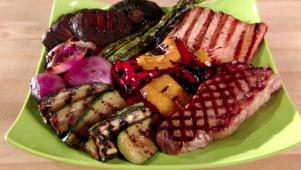 Now Playing
Alton Brown Teaches How to Grill Without a Grill 02:52
Alton Brown teaches us how to grill without a grill. He recommends a cast-iron grill pan with low sides. The parallel raised ribs hold the food off the bottom of the pan, focusing all the thermal energy into what the raised ribs are touching, making grill marks. He recommends heating the pan for five minutes on medium high before adding the food. To create grill hatch marks, cook food until brown, rotate it 90 degrees, cook until the sears match in intensity, then flip the food over and repeat. To add a genuine grill smoke flavor, Alton brushes the food with Liquid Smoke and adds some salt about an hour before cooking. He lets the food dry completely and repeats the process up to three times. He also recommends Danish smoked salts or paprika to add a smoky flavor to the food. Another way to add a grilled flavor to food is to broil it. Alton recommends moving a rack into the very top position and placing the food directly on the rack once the oven is heated. You will need a pan on the rack below to catch the drippings. When broiling food for a grilled flavor, lightly brush it with oil and don't close the oven door completely. Block the door from closing all the way with a small wad of aluminum foil.