Not all foods at the deli are created equal. Check out some healthier and safer options to order up next time you're at the counter.
Not all foods at the deli are created equal. Check out some healthier and safer options to order up next time you're at the counter.
Not all deli "meats" are straight from the cow (so to speak). Here's the breakdown on where all the deli goodies come from.
Whole cuts: A part of the meat or poultry is cooked and sometimes flavored with spices, sugar or salt. It's then sliced and sold by the pound. These cuts tend to be pricier.
Sections and formed meat products: Parts of meats or poultry are "glued" together to create a single, larger piece (like cooked ham). These are typically cheaper than whole cuts.
Processed meat (or sausages): These include liverwurst, bologna, knockwurst, salami and other such products. The meat can come from pork, poultry, beef, mutton and veal. Byproducts like heart, kidney, liver, lips and pork stomach are often tossed into the mix.
Deli meats have been linked to bacteria called listeria. About 85 percent of those diagnosed with listeria monocytogenes (the illness caused by the bacteria listeria) have been traced back to deli meat or cold cuts. This illness affects the very young and very old. It can also cause pregnant women to have a miscarriage in the third trimester. The CDC (Centers for Disease Control and Prevention) advises folks to reheat deli meats to 165 degrees Fahrenheit in order to destroy any listeria that may be lurking. They also suggest discarding open packages of deli meat after 5 days. If the deli meat was freshly sliced at the counter, then keep it for no more than 3 days from purchase.
Sodium nitrite is added to most deli meats to help add color and flavor and to prevent the growth of bacteria. During processing this chemical is converted into cancer-causing nitrosamines, which has been linked to cancer of the mouth, bladder, esophagus, stomach and brain. The addition of vitamin A and vitamin E to these products can help prevent the formation of the cancer-causing nitrosamines. So check the label before purchasing. Nitrite-free products are also available, but be warned that they won't be as bright and shiny in color (those nitrites really make deli meats look good!).
If you're in the mood for deli fare, choose leaner meats like turkey, chicken breast, and lean cuts of roast beef or ham. Low-sodium options are often available, so be sure to ask. Order enough so that it can only last for a few days-- remember, you don't want to store deli meat longer than 3 days. This will keep both food safety and your waistline under control.
TELL US: What do you order at the deli counter?
Toby Amidor, MS, RD, CDN, is a registered dietitian and consultant who specializes in food safety and culinary nutrition. See Toby's full bio »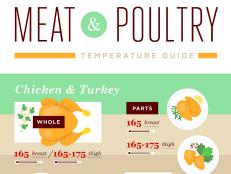 Use our internal-temperature chart to serve perfectly cooked meat every time.