Ricotta "Sundaes" With Gluten-Free Granola
Instead of curling up with a pint of ice cream, make a lighter "sundae" instead: use creamy low-fat ricotta and your favorite sundae toppings, like dried fruit and chocolate chips.
Instead of curling up with a pint of ice cream while watching a romantic comedy on Valentine's Day, try a lower fat ice cream-alternative instead. This special sundae recipe uses low-fat ricotta cheese to lessen up the calories, while maintaining a creamy taste. Top your "sundae" with crunchy add-ins like KIND Healthy Grains Clusters along with a sprinkle of dried fruit and coconut flakes for a fun, crispy texture. (Save any extra granola and fruit for snacks later on during the week with milk or on top of yogurt.) A sprinkle of dairy-free chocolate makes this sundae gleefully indulgent. So go ahead, dig in all you want.
Ricotta Sundae With Gluten-Free Granola
2 cups low-fat ricotta cheese
1 cup KIND Peanut Butter Gluten-Free Whole Grain Clusters
2 tablespoons. coconut flakes
1/4 cup gluten-free chocolate chips, such as Enjoy Life Foods Gluten-Free Chocolate Chips
Divide ricotta cheese evenly amongst two bowls. Top with granola, dried fruit and coconut flakes. Chill in the refrigerator until ready to serve.
Top with chocolate chips before serving.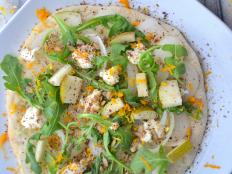 Make a pear, arugula and ricotta-topped pizza for a holiday appetizer or as a non-traditional holiday meal.