Too Many Apples? Make an Apple Tart
When life gives you lemons, you make lemonade. When life gives you apples, you make apple tart!
When life gives you lemons, you make lemonade. When life gives you apples, you make apple tart! Here's the back-story: I had a bushel of apples in my kitchen recently and thought, "I'm heading out of town, will my family really eat all these apples while I'm gone?" I didn't think so . . . since I hate wasting food, I decided to turn 6 of the apples into a tart. "A tart?" you say. "Too complicated", you huff. Actually, not complicated at all. And since there are just 5 ingredients, it's easier to prepare than most main dishes we conquer on a hectic weeknight. Read on and enjoy those apples. Oh, and by the way, you can also make the tart with sliced pears or peaches.
1 sheet frozen puff pastry, thawed according to package directions
6 Granny Smith apples, peeled and sliced
3 tablespoons granulated sugar
1/2 teaspoon ground cinnamon
2 tablespoons apricot preserves
Preheat the oven to 400 degrees.
Unroll the puff pastry onto a flat surface and roll out into an 11x15-inch rectangle. Arrange the apple slices on top of the puff pastry, slightly overlapping the apples to form decorative rows. Sprinkle the sugar over the apples and the sprinkle the cinnamon over top.
Bake for 30 to 40 minutes, until the tart is brown and the apples are tender.
Warm the apricot preserves in the microwave for 20 seconds on HIGH power. Brush the warm preserves over the apples to create a nice shine.
Cut the tart into 8 squares and serve warm or room temperature.
Nutrition Info Per Serving
Total Carbohydrate: 33 grams
Cholesterol: 0 milligrams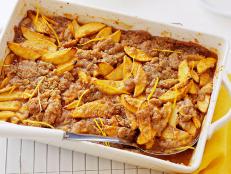 Take advantage of in-season apples by making one of Food Network's top-five apple crisp recipes.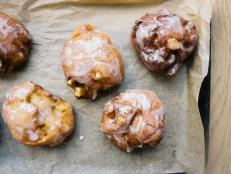 These light and crisp apple fritters get their gorgeous golden color from a quick trip into the fryer!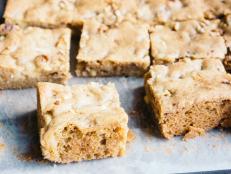 These sweet squares are a cross between a chewy, buttery blondie and a fragrant apple cake.