Market Watch: Green Tiger Zucchini
If zucchini is a seasonal staple in your kitchen, be on the lookout at farmers markets for tiger zucchini, a less common variety. Named for its pale green stripes, tiger zucchini is a European hybrid that is best when harvested young (on the smaller side). The flavor is sweet and nutty with a tender crunch.
One medium specimen of the summer squash has only 30 calories and 2 grams of each fiber and protein. And it's not so shabby in the vitamin and mineral department: Each tiger zucchini contains 56 percent of the daily recommendation for vitamin C, 4 percent iron and 15 to 20 percent of B vitamins folate, B6 and riboflavin.
Thanks to their good flavor, tiger zucchini can be used in any recipe that calls for conventional zucchini, including these: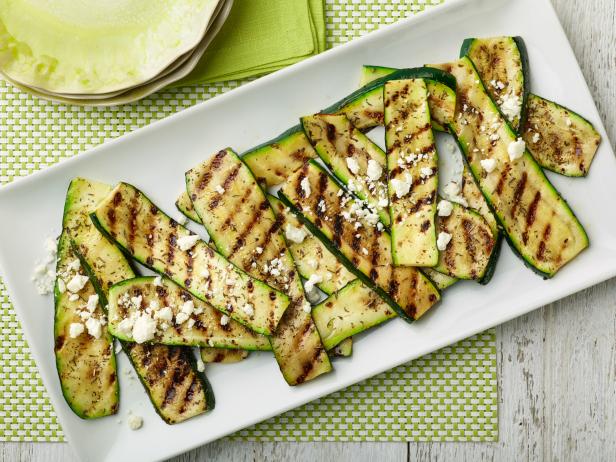 TrishaYearwood_GrilledZucchiniWithHerbSaltAndFeta _H
Chef Name: Trisha Yearwood Full Recipe Name: Grilled Zucchini with Herb Salt and Feta Talent Recipe: Trisha Yearwood's Grilled Zucchini with Herb Salt and Feta, as seen on Food Network's Tricia's Summer Kitchen FNK Recipe: Project: Foodnetwork.com, CINCO/SUMMER/FATHERSDAY Show Name: Tricia's Summer Kitchen
Renee Comet, 2013, Television Food Network, G.P. All Rights Reserved
Dana Angelo White, MS, RD, ATC, is a registered dietitian, certified athletic trainer and owner of Dana White Nutrition, Inc., which specializes in culinary and sports nutrition.