Salad of the Month: Bitter Green, Fennel and Apple
If there were ever a time to add fruit to your green salad, the fall season would be it. The unbeatable juicy, crisp texture and tart-sweet flavor of freshly picked apples is the perfect contrast to robust fall greens and shaved fennel.
Adding thyme, honey and toasted almonds gives an ambrosial element to the salad, setting it well apart from your average green salad. This is the kind of salad that encourages you to celebrate the colder weather and makes you forget about the summery salads you may be missing.
Bitter Green, Apple and Fennel Salad with Toasted Almonds
Serves 2
Ingredients:
Dressing:
2 teaspoons fresh lemon juice
2 teaspoons balsamic vinegar
2 teaspoons raw honey
1 teaspoon minced fresh thyme
Large pinch of flaky sea salt
1/4 cup extra virgin olive oil
Salad:
4oz mixed greens, arugula, mustard, baby kale, mitzuna
1/2 apple, cored and shaved
1/2 bulb fennel, shaved
2 tablespoons toasted almonds, roughly chopped
Directions:
For the dressing: In a small bowl, combine lemon juice, balsamic vinegar, honey and thyme; whisk to combine. Drizzle in oil and whisk again.
For the salad: Add salad greens to a salad bowl and top with shaved apple and fennel. Drizzle with dressing, toss to combine and top with toasted almonds. Serve immediately.
Photo Credit: Stephen Johnson.
Amy Chaplin is a chef and recipe developer in New York City. Her cookbook At Home in the Whole Food Kitchen is available this fall. She blogs at Coconut & Quinoa.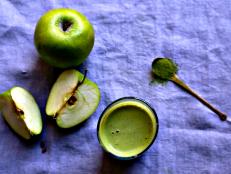 When made with warm apples, this smoothie is like having breakfast and a cup of tea in one.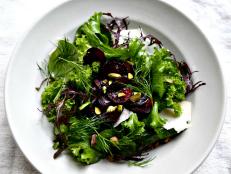 Whenever I want to add a layer of flavor, texture and some interest to a salad, I heat the oven and roast any vegetables I have on hand to toss with the greens.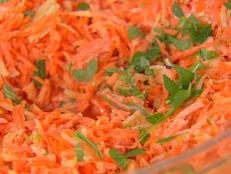 With less than 90 calories per serving and full of vitamin A (good for healthy eyes and hair), this easy carrot salad whips up in no time. Try it as a side for any sandwich or light dinner.