The Secret to a Happy Meal? Convenience
If I asked you to tell me the reasons why you eat what you eat, I already know some of the reasons you'd give: "tastes good," "grew up with it," "it's healthy" and so on. I bet that "convenience" is at the top of your justification list. I know it tops mine.
For example, I eat my oatmeal with a spoonful of almond butter, a handful of berries and coffee with a splash of almond milk many a morning because: it's convenient (the water boils while I'm making Maizy's lunch), it's delicious, it's familiar (I've made it a million times and could do it with my eyes closed), and it doesn't sit heavily in my stomach but gives me energy for my morning workout. Honestly, if it wasn't super-easy and available, I wouldn't even consider the deliciousness, familiarity or energy it provides.
Convenience trumps taste when running out the door. It overrules nutrition (yes, even for us nutrition peeps!) sometimes when faced with a cranky and starving kid. Let's face it. Our lives don't revolve around solely around our health, and cramming in all the work we need to do in our busy day requires cutting some corners. Convenience is paramount in our super-demanding and crazy multitasking world.
Don't fight it (you'll lose). Embrace it. The problem with convenience foods is that they're often less than nutritious. We know that Pop-Tarts fail miserably when compared to even a decadent homemade muffin that is loaded with fiber and ingredients from your pantry.
Why is that? Well, when I think of convenience foods, I think of packaging. When I think of packaging, I think of processing the ingredients to get them into that packaging. When I think of all of that, I think how much nutrition was lost to get me conveniently fed. Then I think I'll make my own darn muffins, which leads my brain to wander off to when I'll have an hour to shop, bake and clean up after these muffins … only to have my family gobble them up in seconds. Does this sound like you?
I've obviously thought a lot about this convenience conundrum. Here are my tips to use convenience to your advantage:
Honestly, nothing is faster or more convenient than fruit. Peel a banana, orange or clementine and it's good to go. If you're not excited about biting into an apple, slice it up in seconds. If you're a fan of containers or packaging, they make neat little banana shaped containers, apple slicers (so simple a child can use 'em) and fancy containers that keep your fruit from getting funky. If you're not stocked up, go do it now.
If you need to grab and go, do it. Just look for as few ingredients as possible on the ingredient list, which should be composed of ingredients that sound and look like they are found in nature (think whole oats rather than a candy-bar appearance). Nowadays there are so many single-serving packages of nutritious foods. I've seen olives, nut butters, pumpkin seeds, dried fruit, nuts and chia pouches. Thumbs up to these.
If you love having almonds as a snack but cringe at the price of convenient single-serving sizes, make your own. Flip on your Sonos and break out the baggies (or the adorable tiny Tupperware containers) and count out roughly 15 almonds to pair with your grab 'n' go piece of fruit or crudites. I swear, I actually find this exercise therapeutic. Do the same with high-fiber organic cereals, homemade trail mix, popcorn or even your tub o' hummus. Make a "snack basket" that sits on your counter (and one for the fridge) and replenish it when the rations get low.
Keep a rotation of three or four simple breakfasts that you love, and keep 'em interesting by changing flavors. For example, if a staple of yours is yogurt + flax meal + fruit, swap the flax for chia, almonds, nut butter or coconut flakes. All simple. One day you could use blueberries, the next try figs.
If you have prepped a bunch of hard-boiled eggs over the weekend, you could make those the star of breakfast by mashing one on your avocado toast. Another day those eggs could go down the hatch on top of a high-fiber cracker with a smear of goat cheese and a slice of tomato. The key is to have your few staple go-tos be the star of the meal. Mine are eggs, yogurt, avocado and Ezekiel bread.
Take Me Out to My House for Dinner
When it comes to dinnertime, who has the energy to peel butternut squash? Mince garlic? Wait 40 minutes for rice? How awesome would it be for all of us to have a personal prep chef? All I want is the comfort of a slow-cooked meal at the end of the day, but all I have are hungry kids, a pile of work and the breakfast dishes staring at me (sometimes, oops!). I take the help where I can get it!
Go ahead and buy the precut root veggies, stir-fry kit or chopped garlic. Use 'em right away, while they're fresh. Don't feel bad about stopping at the Asian restaurant for a container of brown rice — theirs is always better than mine, anyway. Bonus tip: Salad bars can be a great place to get ready-to-go veggies you can simply prep for a quick and delicious dinner.
Here is one of my favorite easy, convenient, cook-while-you-help-with-homework recipes that my kids gobble up.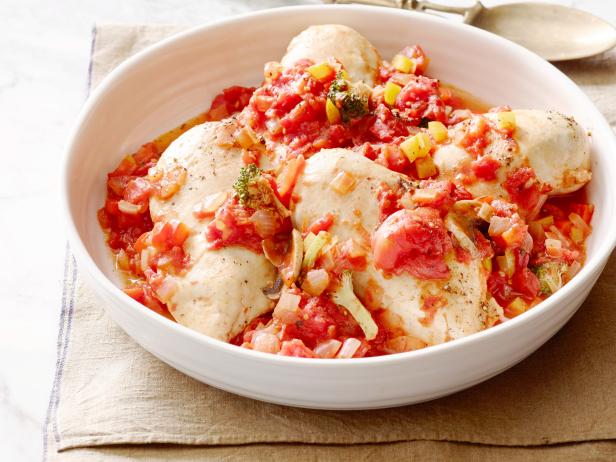 POACHED CHICKEN WITH VEGETABLES AND HERBSKeri GlassmanThe Food Network Blogpost Recipes/Convenience FromBreakfast to Snacks to Fast DinnersFood NetworkOnion, Whole Tomatoes, Salt and Pepper, Chicken Breasts, Red and Yellow Bell Pepper,Mushrooms, Broccoli, Bay Leaves, Thyme,POACHED CHICKEN WITH VEGETABLES AND HERBSKeri GlassmanThe Food Network Blogpost Recipes/Convenience FromBreakfast to Snacks to Fast DinnersFood NetworkOnion, Whole Tomatoes, Salt and Pepper, Chicken Breasts, Red and Yellow Bell Pepper,Mushrooms, Broccoli, Bay Leaves, Thyme
Matt Armendariz, 2014, Television Food Network, G.P. All Rights Reserved
Poached Chicken with Vegetables and Herbs
1/2 medium onion, chopped
1 1/2 (16-ounce) cans of whole tomatoes
4 skinless chicken breasts
1/3 cup red bell pepper, chopped
1/3 cup yellow bell pepper, chopped
1/3 cup mushrooms, sliced
1/2 cup broccoli, chopped
Directions: In a medium pan, saute the onion. Add tomatoes into the pan and squash them to form liquid. Reduce heat to simmer. Add the chicken breasts, red and yellow peppers, mushrooms, broccoli, bay leaves and thyme to the pan. Cook through and then season with salt and pepper to taste.
Keri Glassman is the founder and president of Keri Glassman, Nutritious Life and The Nutrition School. She is a contributing editor and advisory board member for Women's Health Magazine, the Health and Wellness partner for JW Marriott, was Lead Nutritionist for Turner's health and wellness entertainment brand, upwave and the Nutritionist and Judge on the healthy cooking competition show, "Cook Your Ass Off". She has authored four books and is regularly featured on The Today Show, Good Morning America, and Access Hollywood Live.